BLOG
Yogi Bare: The resilience behind yoga's biggest underdog brand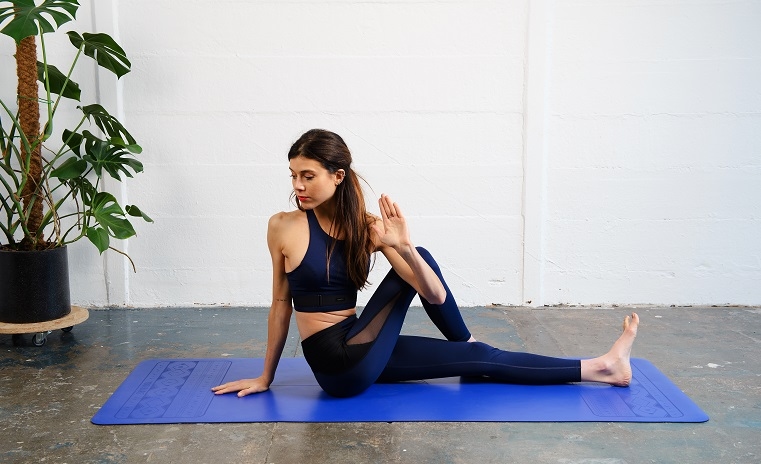 ---
Posted: Fri 16th Jun 2023
Social media has helped to create thousands of yoga fans. Go online and there's a cornucopia of lycra-clad beach shots and instructional videos.
Yogi Bare founder Kat Pither is the first to admit that her path into yoga was more unorthodox.
"I found yoga through rehab," she says. "My addiction was anxiety-based, the eating disorders and addiction were products of that.
"Rehab isn't like the movies – it's so boring. I found a book about yoga and didn't realise that it was going to kickstart this massive healing journey."
This journey led to the creation of Yogi Bare, a business that makes eco-friendly yoga mats and equipment.
Finding those "pinch me" moments
Yogi Bare started off as a side project, while Kat trained as a yoga teacher to help other people manage stress and anxiety. The name Yogi Bare made her laugh, which was important in a world where she wasn't always sure she belonged. She says:
"I was so in love with yoga, but I realised there was another side to the scene that was a bit more concerned about what you look like.

"It felt really inaccessible and elitist. I'm scrappy and like doing yoga to reggae, so that side made me uncomfortable."
The early days of Yogi Bare were a blur. As Kat explains, it can be difficult to find a chance to slow down when you're in the thick of it all. She likens starting her business to being at the theatre.
"You're so focused on building the set and designing the costumes that you don't really notice what other people are seeing."
There have been "pinch me" moments, where she's realised what other people see in Yogi Bare. One particular moment was a collaboration with the electronic band Above & Beyond, which she described as "mad".
Making tough decisions to survive
To cope with the challenges of running a business, Kat's learnt to be resilient. She explains:
"You can get caught up in the fairytale of it, but then a big challenge comes along. There's a big brand with a paw print in the logo. In the beginning, you want to stand up to them. But then you realise time and money are against you.

"You can either fight it and tank your business or do the hard thing and rebrand. That was the situation I was in. Sometimes your worst nightmare happens and you have to make tough decisions."
The rebranding process was hard because Kat put so much of her own personality into the brand. To get through it, she reminded herself why she started and tried to keep up her daily rituals. She says:
"Keeping your daily rituals can help you feel grounded and able to make better decisions."
Coping with the coronavirus crisis
We originally spoke to Kat before the UK went into lockdown because of the coronavirus outbreak. Kat says that those days were tough, but it was amazing to see the community coming together.
"Due to the increase in interest in home workouts and home yoga for physical and mental health, we had a bit of wind in our sails. Yet it didn't seem like something to celebrate when the people who truly built the brand were struggling."
Yogi Bare offered yoga teachers discount codes for students. Profits from the referrals were shared with the teacher to provide them with much-needed support.
Keeping your business authentic
During growth, it can become harder to hold on to everything that made your business unique in the first place.
When it comes to social media, it's easy to talk candidly when you have a few hundred followers. By the time you get into the thousands (Yogi Bare has 53,000 Instagram followers), posts tend to get progressively more polished. Kat's advice is to avoid following other accounts in the same industry.
"You are you. You don't want to be a carbon copy of someone else. People are buying into you, your purpose and your why. That's what builds a brand."
Initially, she was scared that the rebrand would result in Yogi Bare losing its identity. But then she realised that she'd built a community around her values and the company's why, not around how her business looked.
"It's okay to let your guard down and not be polished. We're so overexposed to the polished look, but a lot of it all looks the same. Engage people in the growing journey and let them feel included. People love an underdog story.

"As long as you have a why, you can get through anything. Don't start a business for the sake of it. Your why will keep you anchored and keep you going."
---
Join Enterprise Nation today and become part of an amazing community of small business owners.
Enterprise Nation has helped thousands of people start and grow their businesses. Led by founder, Emma Jones CBE, Enterprise Nation connects you to the resources and expertise to help you succeed.