BLOG
Working from home vs working in an office: Which is better for your business?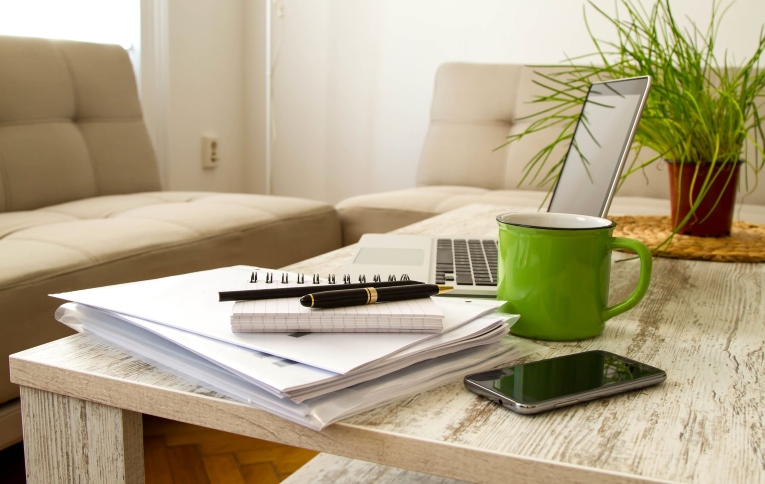 ---
Posted: Mon 7th Jan 2019
Over the past four years, the average number of locations that SME owners and employees work from has increased from 2.5 to 2.9 per business*. It seems that business owners are thinking - and working - outside of the box.
Enterprise Nation members Melanie Blane, founder of vegan and cruelty-free brand White Rabbit Skincare, and Jason Nichols, founder of the innovative coffee-bag retailer New Kings Coffee, both run their businesses from home and an office.
Carly Menken, head of trading at Direct Line for Business, interviewed the entrepreneurs about their experiences of flexible working.
The benefits of working from home
Here are some of the perks of running your business from home:
1. More flexibility
When you think about the benefits of working from home, flexibility is probably one of the first things that springs to mind.
Flexibility means different things to different people. For Jason, it's about family. "I have two young children, so working from home means I can still take them to school or dance classes."
Feeling empowered to choose her hours is a big pro for Melanie too: "When you work from home, you can go to appointments if you need to and schedule work around them."
With flexibility comes freedom. As Jason explains, "when I'm at home, I have the choice of when I work and when I don't. If I need a break, I can stop and do some jobs around the house, then go back to work when it suits me."
2. You can avoid the commute
As Melanie puts it, when you run a business from home, "you get up and you're ready to go". Not only is this cheaper than forking out for petrol, bus and train fares, it's also more convenient and saves time.
You can get up a little later and still start work at the same time you would in an office, or you can start working earlier and use what would usually be your travel time more productively.
3. You can save money
Running things from home can mean you don't have to pay for an office or a desk in a co-working space.
This can be particularly useful when you're starting out, as Jason notes: "I sell products and, luckily, I have the space at home to store them, so I can fulfil orders and work from there. It's cheaper at this stage of my business, as I'm not holding enough stock yet to justify paying for more space."
The pros of working in an office
With increased flexibility and the prospect of a better work/life balance, working from home may sound appealing. However, there are also benefits to running your business from an office environment:
1. More motivation
According to Melanie, "you need a certain sense of willpower to work from home. It can be too easy to watch TV or take a longer lunch, and it's harder to stick to a routine. At my office, I know I have set tasks and times of the day to do them. At home, there can be more distractions. Plus, being on your own all day can lead to boredom, which can turn into procrastination."
Jason agrees: "You can get a bit lost in your own mind when you work from home. If you get stuck on something, there's no one to bounce ideas off, which can be an issue."
2. A sense of community
For Jason, the biggest benefit of running a business from an office space is "the people and community. I'm part of NatWest's Entrepreneur Accelerator programme for scaling businesses, which comes with a desk in a shared workspace. Being around entrepreneurs gives me energy and inspires me. When you're at home, you lose that, which can be demoralising."
While Melanie usually runs things from her own office instead of a co-working space, she also enjoys the sense of community it gives her. "I work in an open plan office, where there are people to talk to and a good buzz and energy. For me, having people of a similar mindset around is important."
3. The facilities
When you run your business from an office, whether it's a co-working space or not, you can usually expect all the facilities you need to be on site. Jason explains: "I get desk space, printing, Wi-Fi and canteen services."
While corporate offices can have a reputation for feeling a bit un-inspiring, this isn't the case for many of the shared workspaces Jason has used: "Some really go to town on what the environment looks like."
So, what's the verdict?
Ultimately, the best location for you to work from will depend on your business needs. This may change over time, for example if you hire new employees or increase your stock, but there's nothing to stop you from splitting your working hours between your home and the office, to give you the best of both worlds.
Your home insurance policy won't necessarily cover your business activities. Direct Line for Business can cover multiple places of work, including working from home, an office, a co-working space and your clients' premises on one business insurance policy. Learn more.
* Consumer omnibus research completed amongst 505 UK SME decision makers between 28 June and 3 July 2018.