BLOG
Will King: How shaving lives became a growth business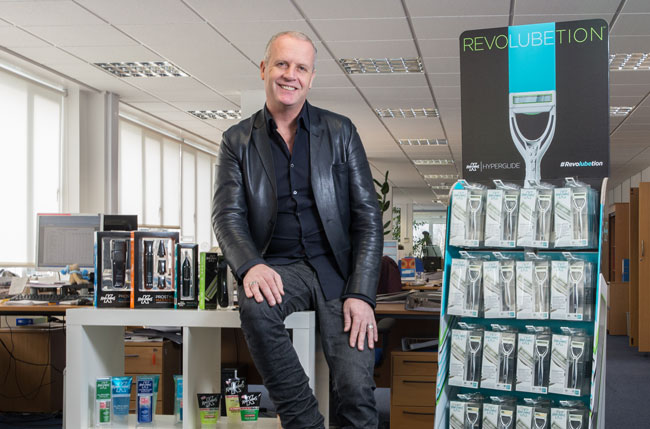 ---
Posted: Wed 16th Dec 2015
Will King founded King of Shaves in his kitchen in 1993 after being made redundant from a marketing job. Today the company has a multi-million turnover and has launched innovative products including Hyperglide, the razor that creates it own shaving gel when immersed in water.
King stepped down as CEO in 2014 and has since launched several new businesses. We met the entrepreneur to get some insights into his story and success.
Will King is a keynote speaker in London at StartUp 2016, the UK's biggest start-up show of the New Year! Taking place in London and nine locations across the UK on 16 January, you'll get to meet top entrepreneurs and attend practical workshops. Get your free ticket here.
How did you come up with idea for King of Shaves and turn it into a business?
Following redundancy in 1992, I wanted to start my own business. I hated shaving so used a natural oil and got no razor burn! I founded King of Shaves. My first stockist was Harrods, followed by Boots, and over the ensuing two decades built the business into the UK's best known men's grooming challenger brand. Along the way, I've signed license deals with Ted Baker and Fish, a London hairstyling salon. Shaving lives turned out to be a growth business!
What were your initial business challenges and how did you overcome them?
Lack of money, obviously; learning about the category, doing everything pretty much myself for two years, hand-filling 10,000 bottles and overcoming lack of awareness. Key to success was persistence, hiring great people, being very focussed on product, growth and innovation and embracing new ways of doing things. We bought shave.com for £18 in 1995!
How has your marketing strategy changed as King of Shaves has grown?
It hasn't really. We try to do stuff that will engage the consumer, and bring a 'humanity' to what's in effect a performance product. We embraced social early (I joined Twitter in 2007) and have used shareable marketing to great effect. In short, we lead, others then follow!
Why did you decide to step down as CEO in 2014?
We had a number of acquisition approaches, and after 22 years I decided whatever happened, I'd probably do something different. I get shown a lot of opportunities, and enjoy advising, working with other talented people. I remain founder, director and the largest individual shareholder. I miss my team, but know they're doing a great job.
Tell us more about your thinking behind your new businesses, The Entrepreneur in Residence Company and Savage and King.
A friend of mine, Simon Devonshire was appointed entrepreneur in residence (EIR) at the Department for Business, Innovation and Skills. I kinda liked the sound of that, so created The EIR Co to work with companies, large and small, and inject a bit of Entrepreneurial secret sauce into projects, ranging from alternative finance to GovTech to FMCG and legal. I'm currently EIR at the London law firm, Memery Crystal, and immersed in a wide variety of projects.
My wife Tiger Savage is one of the world's leading female advertising creative directors, and we co-founded Savage & King, to work with clients that 'dare to do'. Our first client was Ffrees, the digital 'Unbank', which we worked with on a branding exercise and advertising campaign, featuring Jon Morter, the social media maverick who got Rage against the Machine to number one a few years back.
Which other entrepreneurs inspire you and why?
Goodness, tough question. I grew up with people like Richard Branson, Jeff Bezos, Richard Reed (from Innocent) and others. There's no one in particular; I admire anyone in the E space for doing what they do!
What are your tips for business success?
Impossible is nothing, Just do it. Define your business or brand 'singularity of purpose' and focus on it unerringly. Always be passionate and persistent; a 'no' is always a delayed 'yes'!
Register for a free place at a StartUp 2016 event on 16 January here.
Enterprise Nation has helped thousands of people start and grow their businesses. Led by founder, Emma Jones CBE, Enterprise Nation connects you to the resources and expertise to help you succeed.