BLOG
Unlocking the power of self-promotion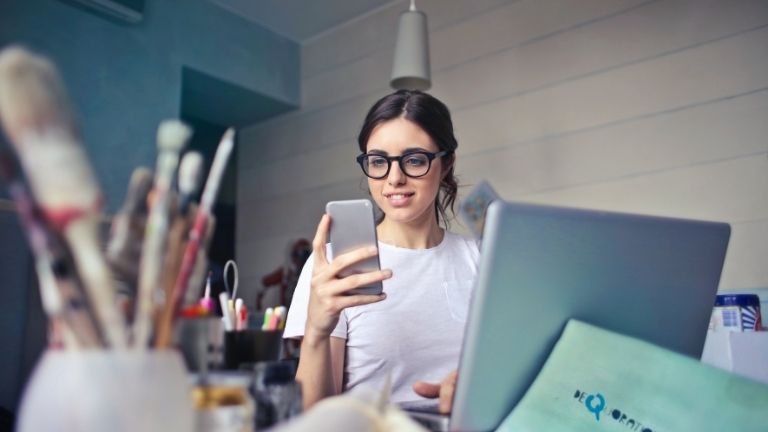 ---
Posted: Fri 26th Nov 2021
Fiona Minett, founder of Boss Your PR, has made a name for herself as one of the best and most popular Enterprise Nation advisers in her sector.
In this blog, Fiona explores how you can unlock the power of self-promotion as a small business owner.
If you like what you see from Fiona, be sure to connect with her today.
---
As unnatural as it may feel, we must be our own cheerleaders and our own best advocates. To do this, we must have confidence in ourselves and our offer. Self-promotion can make many of us feel uncomfortable. It goes against the grain. However, the root to business success is often mastering the art self-promotion.
You can be nailing every other aspect of your business, but if you can't be your number one cheerleader, you may find your business stalling. While many of us are already tackling an element of self-promotion by being present on social media, how many of us can truly say that we have really come close to unlocking the power that great self-promotion wields?
For many serviced based entrepreneurs, you are your business and promotion for you and your business is often one and the same. Raising your profile will draw people to your business. Sharing your expertise and knowledge will increase trust in your business.
The first step is becoming comfortable with your offering. You are your own Unique Selling Point and this is as a result of your own unique combination of experience, knowledge and insight. Avoiding the trap of comparisonitis means accepting what makes up your USP and knowing how to leverage it.
When it comes to leveraging your experience and expertise there are many ways to master the use of your USP in self-promotion; from you directly sharing your knowledge through speaking or writing, being interviewed or profiled in various sections of the media, through to in-person networking and digital social media presence.
So, where do you start?
Get your areas of knowledge down on paper to give yourself both an outline of the of topic areas that your expertise covers as well as to start building a bank of content that you can use for a range of opportunities from owned media (your blog and social media) to earned media (e.g. guest blogs and article contributions).

Start blogging regularly and start sharing this expert content and insight on your social media. When it comes to content, prioritise giving value to your audience. What can they learn from you? Educating your audience not only allows them to better understand what you do and your value, but also that you are THE expert best placed to work with them.

Step this up by approaching like-minded businesses to explore and suggest guest blogging. This allows you to share your knowledge and promote your offering to a new, relevant audience. In turn, sharing these results with the audience you already have is a way of fostering further trust.

A natural progression from this is to go to independent print and digital media (and beyond into broader media) and pitching yourself as an expert. There is a lot of space in the media world for quotes, comment and expertise to be shared. You can proactively pitch yourself as a candidate for these opportunities that could be relevant for you, but there are other ways to access real time opportunities that you can respond to, the most accessible being the Twitter hashtag #journorequest.

Being in the right place at the right time to be quick enough off the mark to respond to a relevant opportunity plays a big part, but ultimately securing an opportunity like this can provide some high-octane results when it comes to self-promotion and positioning yourself as the 'go to' expert in your field.

One of the most powerful ways to prove your expertise and knowledge is to do so through public speaking. Public speaking, either in person or online, presents the opportunity to engage, to teach and to connect with an audience that are often very receptive to what they are being presented.

You never know who is going to be in a room and what opportunities can come from these moments. The beauty of social media also allows your messages to travel further than the walls or digital spaces you might be physically confined by.

From trade shows, industry conferences, consumer events right though to regional networking events, there is an expansive choice when it comes to determining the speaking options that could be right for you. Start at regional networking events to build up your experience then don't hold back on the approaches you make.

Reach out with your overview of discussion topics, why you're a good fit and what you want to bring to the event. Much of self-promotion is about building a cache of credibility. Much like a 'nod of approval' that being placed in the media gives you, a key speaking opportunity will give you innate kudos and respect.
Ultimately, the power of self-promotion is two-fold: the doing, and the sharing. Taking the action, getting the media results, winning the speaking opportunities and sharing your knowledge is the first step, but how well you leverage all of this activity determines the impact that you can make on the audience you have already worked hard to build and attract to you.
Sharing your media wins, sharing your speaking credentials, sharing client results will show your audience how credible and brilliant you are. Leveraging your results through this sharing also turns your social media, website and blog into a comprehensive CV of kudos and credibility that is visible to potential clients and potential collaborators.
Self-promotion is to be embraced, not feared. You and your business deserve to excel. Unlocking the power of self-promotion will help you on this mission.
---
Consumer PR expert providing comprehensive insight, resources and training to ensure that any entrepreneur and business owner can do their own PR in a time and cost effective manner, achieving the same results as any PR pro.