ANNOUNCEMENTS
And the UK's Top Town for Business is… Camberley!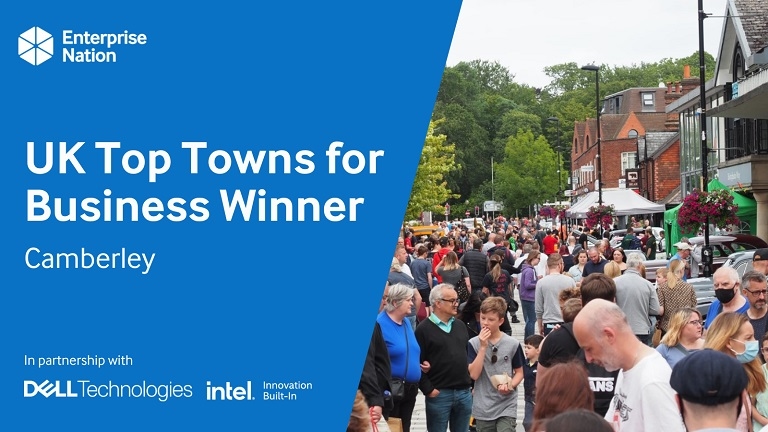 ---
Posted: Tue 26th Apr 2022
Today, we can reveal that Camberley is the winner of the UK Top Towns for Business competition.
The Surrey town was chosen by the public from a shortlist of 12, as part of a national campaign run by Enterprise Nation and Dell Technologies, in partnership with Intel. The campaign's goal was to highlight UK towns that supported entrepreneurs through the pandemic and beyond.
Why Camberley?
Camberley was selected for its outstanding support for entrepreneurial spirit, which has made a lasting impact on the local community and economy.
In terms of facilities, the town has a brand new co-working space, the Login Business Lounge, which comes complete with a street food café, licensed wine bar and entertainment space with a stage and six-metre video wall.
And Camberley is fast becoming a digital playground for technology developers working within retail, who are looking to create products to support the sector's future. It boasts excellent 4G and 5G coverage and its Pop Up Shop Project, run by Surrey Heath Borough Council (and its delivery partners) supports short-term tenants in trying out opportunities in the town centre.
Emma Jones, founder of Enterprise Nation and one of the judging panel, said:
"We felt it was important to look at places that weren't on the usual radar. The motivation was to find the places that were succeeding in sometimes difficult circumstances and try to understand more about what contributes to that success.

"We looked not only at the small business community, but at local amenities such as access to co-working spaces, short-term leases such as retail spaces, and good connectivity, as well as good local leadership from councils.

"Camberley stood out from the crowd."
Councillor Colin Dougan, Deputy Leader and Lead for Economic Development, Surrey Heath Borough Council, said:
"We're delighted that Camberley has won England's 'Top Town for Business' Award, and we thank all of Camberley's supporters for voting.

"We're very proud of how resilient our town has been over the course of the COVID pandemic, not only maintaining the majority of businesses, but also seeing the opening of new and diverse range of commercial enterprises, including cafes, a unique co-working space and independent boutiques."
Jodie MacAndrew, Collectively Camberley Business Improvement District Manager, said:
"For Camberley to win this award is a testament to the strength of the town and the extensive efforts and successful results that, collectively, our businesses and partners achieve.

"As an established BID, our main focus is business support and everything that encompasses that objective. We work extremely closely with our town centre businesses in order to make Camberley a place where people want to visit, live and do business."
Other regional winners
While Camberley was the overall UK winner, and the top town in England, Kirkcudbright was named the top town in Scotland, Monmouth in Wales and Derry/Londonderry in Northern Ireland.
The competition ran from the middle of February and closed on 16 March. The shortlisting process began shortly after, followed by the public vote, which ended on 17 April.
Learn more about the winning towns in our free e-book
To further celebrate those towns that have allowed entrepreneurial spirit to flourish, we've created a free e-book. Download to read more about the efforts Camberley and the three regional winners have made to help businesses and entrepreneurs thrive.
Enterprise Nation has helped thousands of people start and grow their businesses. Led by founder, Emma Jones CBE, Enterprise Nation connects you to the resources and expertise to help you succeed.