BUSINESS NEWS
The Windsor Framework: UK agrees new Northern Ireland Brexit deal with EU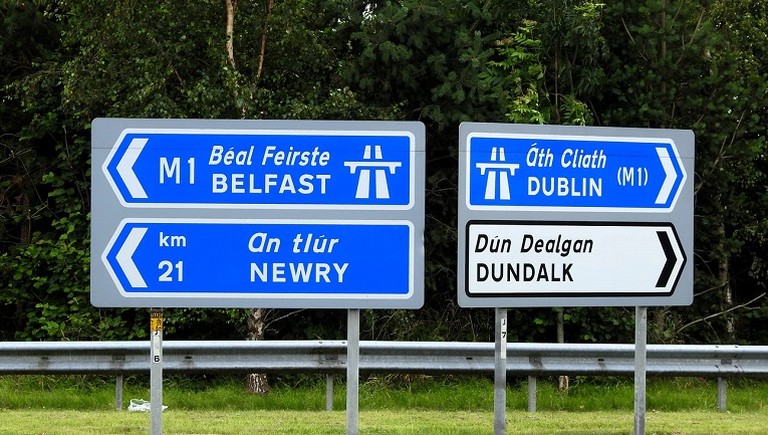 ---
Posted: Mon 27th Feb 2023
The UK government has reached a deal with the European Union on a new system to replace the Northern Ireland Protocol which has led to issues with goods moving through Northern Ireland.
The new Windsor Framework was announced by UK prime minister Rishi Sunak and European Commission president Ursula von der Leyen during a press conference in the Berkshire town.
The Northern Ireland Protocol is part of the original Brexit deal. It means that certain goods have to be checked on arrival in Northern Ireland. As a result, all goods are subject to customs paperwork even if they are staying within the United Kingdom. This has led to delays and complaints from businesses that the arrangement is inhibiting trade.
Announcing the Windsor Framework
Unveiling the new deal, Sunak said the agreement removes "any sense of a border in the Irish Sea". This has been the chief complaint of unionist politicians in Northern Ireland about the Northern Ireland Protocol.
The prime minister added that the agreement "delivers smooth flowing trade within the whole United Kingdom, protects Northern Ireland's place in our union and safeguards sovereignty for the people of Northern Ireland".
Outlining the detail of the deal, Sunak said:
"Goods destined for Northern Ireland will travel through a new green lane with a separate red lane for goods at risk of moving on to the EU. In the green lane. burdensome customs bureaucracy will be scrapped.

"That means food retailers like supermarkets, restaurants and wholesalers will no longer need hundreds of certificates for every lorry and we will end the situation where food made to UK rules could not be sent to and sold in Northern Ireland.

"This means that if food is available on supermarket shelves in Great Britain, then it will be available on supermarket shelves in Northern Ireland."

A government document explaining the green lane says the new system, known as the Northern Ireland Retail Movement Scheme, will be introduced in Autumn 2023.

The other changes are:
the UK and EU has agreed to make permanent a grace period which means people sending parcels in Northern Ireland or buying products online don't have to complete customs paperwork.

the text of the Northern Ireland Protocol has been adapted so when VAT and excise changes are made, they will apply to the whole of the UK.

paperwork requirements on pet travel have been removed.

drugs approved for use by the UK's medicines regulator will be automatically available in every pharmacy and hospital in Northern Ireland.

a new "Stormont Brake" has been introduced. This means that Northern Ireland's elected Assembly can pull the brake for changes to rules for EU goods under certain circumstances and give the UK government a veto.
Westminster MPs will now vote on the deal and the Democratic Unionist Party will need to agree to it. Keir Starmer has said the Labour Party will support the agreement.
Windsor Framework: What it means for small businesses
Experts and business owners share their reaction on what the new deal could mean for small businesses in Northern Ireland:


Emma Jones, founder of Enterprise Nation, said:
"One of the roles of government is to remove friction in the supply chain and be the champion of free and open trade for British businesses on the international stage.
"Today's news will be very welcome if it leads to lower costs and quicker transit times for exporters."

Carole Quinn, operations director of Enterprise Nation member Legacy:
"We are a certified B Corporation that provides sustainable, impactful merchandise for businesses and events. Although our HQ is in Oxford, we also have a branch in Northern Ireland which has seen significant growth because of the Northern Ireland Protocol arrangement.
"The Protocol has had an extremely positive impact on our business as we are able to ship sustainable merchandise to clients across the EU without customs delays or incurring any additional costs, duties etc.
"However, shipping from mainland UK to Northern Ireland was challenging as some UK brands simply didn't want the headache of filling out the paperwork involved (even though the goods being shipped are within the UK).
"The new deal will hopefully reduce the need for arduous paperwork for shipping between mainland UK and Northern Ireland, encouraging businesses to operate the way they did before Brexit.
"We are in a unique position here in Northern Ireland having access to both markets so I hope that this will attract investment and further opportunities."


Mike Wilson, Enterprise Nation adviser member and CEO of Go Exporting, said:
"On the information released so far, this seems to be a breakthrough for businesses in the UK and Northern Ireland. Removing unnecessary customs arrangements for goods moving from the UK to Northern Ireland and vice versa can only be a good thing. E-commerce and food will be particular winners in this new Windsor Framework.

"The green lanes will make goods movements of all kinds faster, less costly and easier to manage for businesses of all sizes but SMEs will particularly benefit.

"The devil will be in the detail and whether UK and Northern Irish politicians can agree, but it's good to see a more positive tone between the UK and EU which can only help iron out Brexit challenges in the future."


Jennifer Cairns, Enterprise Nation member and founder of Rebel World and the Lady Rebel Club® movement:
"We're raising investment for our business and looking at international sponsorship.

"One of our advisors has said that we should seriously consider moving the parent company to Ireland as that will open up a plethora of opportunities for us because of concerns over the UK being boxed in. It has been pointed out that the difficulties with trade would be removed if we go down south.

"Seeing the new Brexit agreement reached is good, but we are still unsure how the political landscape in Northern Ireland will respond and how that might affect our opportunities, which is frustrating."
Government guidance on Windsor Framework
The government has released the following documents to explain the changes:
I'm a freelance journalist and event host who helps small businesses and the organisations that support them. I'm also Enterprise Nation's news reporter and Bristol Local Leader. I have 20 years of experience as a small business journalist having interviewed hundreds of entrepreneurs from famous names like Sir Richard Branson and Deborah Meaden to the founders behind brand new start-ups. I've worked for a range of leading small business publications and support groups, most recently as head of content at Enterprise Nation where I was responsible for the prolific output of content on the company's blog and social media. I now freelance for Enterprise Nation as the website's news reporter and as the host of the Small Business sessions podcast. I'm based in Bristol where I run and host regular events with the local small business community in my role as Enterprise Nation's Local Leader for Bristol. I also have strong connections with other major business organisations in the south west region. In total, I've hosted over 100 events including conferences with an audience of hundreds for international brands like Xero and Facebook and live web chats from inside 10 Downing Street. With my partner, I co-run Lifestyle District, a lifestyle blog focused on culture, art, theatre and photography.