BLOG
Top tips for how to get your food product onto supermarket shelves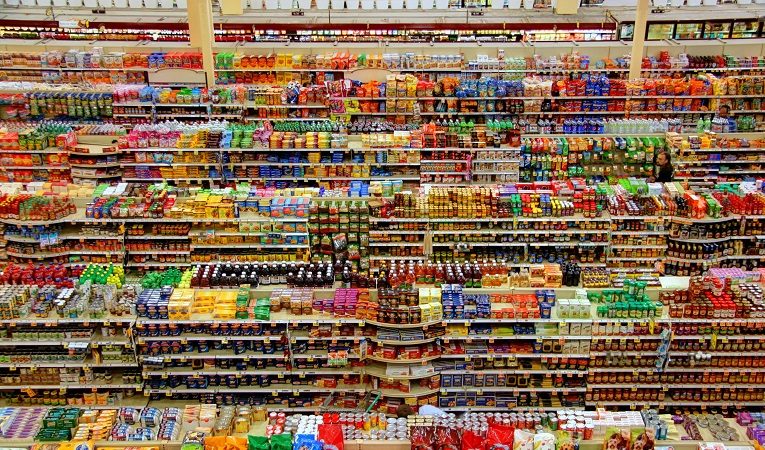 ---
Posted: Wed 10th Apr 2019
_So, you've decided to approach the major multiple retailers with your food product. That's great but you'd better be well prepared because there's a lot of competition for shelf space. In this post published in association with GS1 UK, supporter of the Food Exchange on 12 April.
Enterprise Nation member and food business expert Clive Brazier shares tips to help you focus your presentation._
Why bother with the supermarkets?
There's no doubting that a relationship with any or some of the big supermarket chains can be a passport to rapid growth in brand recognition and consequential sales, just look at the outreach of Sainsbury's and M&S with over 1,300 and 850 outlets respectively.
But getting your products listed and managing the relationship ongoing is not going to be easy.
Don't forget that before you even think about doing business with supermarkets, you need barcodes for your products. The leading supermarkets and retailers all mandate the GS1 Global Trade Item Number (GTIN) as the product identifier you need for your barcodes so make sure you go to an authorised supplier such as GS1 UK.
Have the answers to the buyers' questions
Whilst many of the major multiples have invested resources to connect with smaller food and drink businesses, the reality is that their buyers are busy people.
They are busy driving innovation in their companies, as they look for products that reflect their brand strategy and of course, increase sales. They haven't got the time to help develop your product, that's down to you. And, the likelihood is that you'll only get one shot at pitching your product, so you'd better get it right, first time.
What do you have to consider?
Profit
You need to know how much you are going to earn! As a rough rule of thumb, after the retailers' profit margin and promotional activity, you will probably earn half the retail price.
Resources
A buyer will want to know that you have the capacity and finances to deal with a significant and rapid upturn in sales volume.
Right first time
Whether you manufacture or you partner with a contract manufacture, the systems must be in place to guarantee first class product and service. There's no room for mistakes in modern retailing.
You should be able to prove that product consistency, packaging integrity, labelling accuracy (ingredients, nutrition, bar code, health claims etc.) invoicing accuracy, product shelf life, food safety protocols and product availability will all be managed well.
Even if your product is sensational, a supermarket is not going to risk the potential of bad PR on suppliers that have not got the right controls in place.
How do you present your answers to buyers' questions?
It's best to answer the questions before they get asked. I'd recommend a two layered strategy to impress the buyers.
High level: The first pitch
The best pitches that I have seen have been supported by 10-12 page presentations that clearly set out the reasons why a supermarket should stock the seller's products.
Each subject should be supported by one or two lines of punchy text and some great graphics. You should be ready to deliver more information if asked and then you should be able to refer to supporting documents if needed.
For example, if your product has health claims (e.g. high fibre) you should be able to define this claim in the first pitch and to be able to offer further evidence later.
The detail: Evidence
Each claim that you make in your presentation must be supported by evidence.
If you claim that your product will resonate with time poor, cash rich, Generation Zs then you should be able to provide a report detailing your market research.
If you are claiming that your product is 'premium' then you should have information on comparative products in the market place.
What are the questions you should have answers for?
The list below is not intended to be exhaustive, but it highlights issues that you should consider before you send that first email to buyers.
What's the back story of your company?

Who are you and your team? Businesses buy from people not businesses.

Your brand: What does your business stand for?

What are the points of difference between your products and their competition?

Why should consumers buy your products?

Retail price research: How does your recommended retail price compare with your competitors?

Market research: Who wants your product?

Have you got enough funding to support a product launch and roll out?

Are your products manufactured and delivered under a suitable food safety protocol?

What's your product development strategy?

What are your plans for promotions strategy?

What is your PR/marketing strategy?

Can you show evidence of environmental or social considerations?
And finally…
Be persistent, listen to advice from buyers and don't forget to go into meetings fully armed with all the answers.
GS1 UK is part of the global organisation that sets the industry standards for businesses that make, distribute or sell goods. More than two million businesses using the standards to make their processes more efficient. Find out more here and Enterprise Nation members can access an exclusive offer from GS1 here.
Get more advice from GS1 experts at the Food Exchange, a one-day extravaganza for food and drink businesses in London on 12 April. Book a ticket here.
We deliver help and support across all disciplines to food and drink entrepreneurs looking to grow their business.