BLOG
Meet top digital marketers ready to help small businesses with the big re-open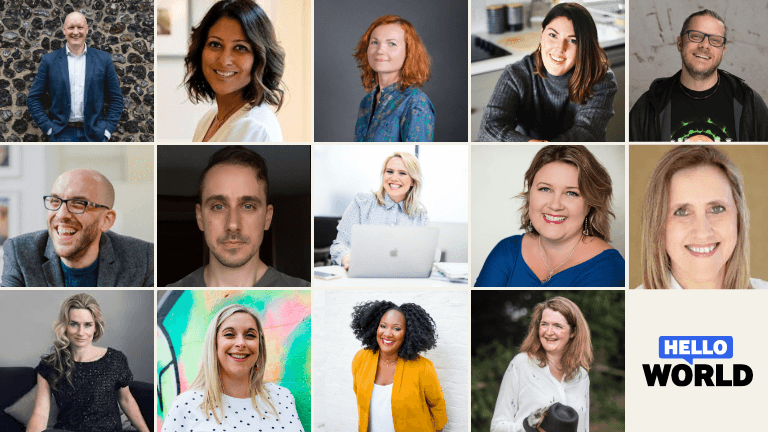 ---
Posted: Thu 11th Mar 2021
Small business owners are sending clear signals that they are ready to re-open, with Enterprise Nation research revealing that 60% of small firms need help with their marketing to make the most of lockdown easing.
Recent findings indicate that recovery activity is well underway and that small firms are investing in their future - but they need extra marketing support to evolve a new omni-channel approach.
So, to help small firms prepare for customers that may be looking for a new blend of experiences - here is a list of marketers on the Enterprise Nation platform that can help!
James Davey - eCommerce expertise
James is a multi-channel & eCommerce director delivering proven marketing strategy, on & offline and is the co-founder of The Armoury, an agency focused on helping brands scale.
Whether you are starting out or running a high-growth venture, James' strategic understanding of the 'customer' and decades of experience working with retailers, food, beverage, FMCG makes him well-placed to get the very best out of your product or service.
Request a free discovery call with James

Aarti Parmar - Brand brilliance
Aarti Parmar believes brand is a vehicle to serve, grow and impact! As a brand strategist, coach and designer, Aarti loves educating and empowering business founders to define and mindfully take ownership of their authentic and meaningful brand.
Aarti can work with you to establish your brand's direction and implementation through a bespoke plan. She'll help to identify where you and your brand and communications fit as part of your business strategy.
Request a free discovery call with Aarti

Monika Varzinskaite - PPC powerhouse
Monika Varzinskaite is a digital marketing consultant specialising in paid media. She is immersed in PPC and ever-changing marketing innovations and trends.
Monika founded monmon digital in 2018 with an aim to deliver transparent, friendly and jargon-free paid media consultancy. Since then, Monika has worked with a range of B2B and B2C brands, such as Zurich Insurance, British Study Centres, Crunch Accounting… and more recently, Enterprise Nation!
Request a free discovery call with Monika
Sarah-Jane Vincent - Social media is her passion
Sarah-Jane is an industry leader in social media and online marketing with expertise in Facebook, Instagram, Twitter, LinkedIn, Pinterest, Google My Business and other popular platforms. She is the founder & CEO of Miss Content Creative, a digital marketing company located in Wexford, Ireland.
Social media is her passion. And her job. She is continuously learning, experimenting and implementing the latest strategies to increase brand awareness, connect with an audience and drive sales for her clients.
Request a free discovery call with Sarah-Jane
Emma Meheux - SEO specialist
Emma is a sales, marketing and SEO specialist and a digital copywriter. She has worked in the digital sector for over 20 years and believes that good planning is pivotal to digital success!
Digital is such a complex and competitive area, that you need to stand out from the crowd. Emma always looks at digital development and marketing from the angle of how it can be done most cost effectively.
Request a free discovery call with Emma

Drew Popple - Strong and smart digital
Drew Popple helps small businesses get the basics right in digital marketing. He demystifies the world of digital marketing with his jargon-free, simple approach.
Drew spent eight years working at leading marketing agencies in London, Stockholm and Rio de Janeiro. He then co-founded an influencer marketing agency and is now on a mission to help small businesses, start-ups and online entrepreneurs create leaner, stronger and smarter digital marketing.
Request a free discovery call with Drew

Dave Holloway - Sales supremo
Dave Holloway is the author of Wonder Leads and has founded an approach that is proved to be nearly 20 times more effective than cold calling at generating warm leads, but most importantly, doesn't require the sacrifice of either time, money or integrity.
Through his work, the drive is to spread positive communication and help people build positive connections with the people that matter to them; if the whole world could do that, then who knows what incredible things we might all accomplish.
Request a free discovery call with Dave
Lucy Hall - Marvellous marketing
Lucy is a jargon-free social media trainer and consultant, a #SheMeansBusiness accredited trainer and founder of SocialDayUK - the UK's biggest social media marketing festival. Lucy is also a director at Avviso Media, a digital marketing agency that specialises in content and social media marketing for B2B and events brands.
Lucy is currently building a community to empower 1+ million women through digital skills.
Request a free discovery call with Lucy
Cara Sayer - Straight-talking advice
Cara Sayer is a straight-talking entrepreneur and inventor. Cara started her business in 2009 based on her need for a product that didn't exist. She wanted her baby daughter to sleep when they were out and about - and she believed that many other parents had this same problem. So, she decided to create a solution.
With no experience in retail or manufacturing, she created SnoozeShade, the world's best-selling range of baby sun and sleep shades. Her brand is recommended by leading baby experts all over the world, has won more than 70 awards, is used by celebrities and royalty and, most importantly, has helped hundreds of thousands of parents worldwide.
Since 2016, Cara has more than tripled her turnover and doubled profit, and her products are Amazon best-sellers in the very competitive baby category. Cara is someone to learn from!
Request a free discovery call with Cara
Amanda Thomas - Picturesque photography
Amanda Thomas is a fashion, beauty and portrait photographer and has been working for over 20 years. She started life shooting rock stars and actors for magazines, and the approach was always to make them dynamic and approachable. This idea still applies today, and she has an editorial style, fashion-led approach to her work.
Amanda loves working with sustainable fashion brands using exceptional photography to create and elevate an emotional connection with style and purpose.
Request a free discovery call with Amanda
Hayley Spencer - Idea machine
Hayley is the co-founder of Sparke Club. She loves all things innovation, with a focus on idea generation through to concept creation. Hayley and her co-founder have over 35 years' experience working with products, development, branding and marketing.
They have worked on products that have been sold in some pretty famous high street stores, in supermarkets, online and some of their fantastic products have even made the trip internationally.
Request a free discovery call with Hayley
Irene Moore - the smiling assassin of strategy
Irene has spent 15 years in brand marketing, which has helped her develop a unique superpower… The ability to help brands unlock that special something that deeply connects them with their most profitable niche and create a marketing plan to get the tills ringing.
From servicing global companies in her digital agency, DM London, to mentoring brand-spanking new founders in her Savvy Startup Club, Irene is your go-to-gal for all things product marketing and your secret weapon to building an epic brand with a bigger purpose.
Request a free discovery call with Irene

Matt Burton - Visual communications expert
Matt is a creative director and visual communications expert. He believes that you shouldn't be on your own trying to solve your marketing problems.
A charismatic people-person, driven by his desire to spread happiness and seek out opportunities. Artistic at heart, he loves graphic design and web UX, and combines all his talents to build awesome brands.
Request a free discovery call with Matt

Rhea Freeman - PR and social media coach
Rhea helps small businesses, solopreneurs and influencers promote themselves better with little to no budget. And as you'd guess, most of this is done around social media and digital.
Rhea runs three Facebook groups, two of which are membership groups, to provide people who want to upskill with additional support.
Rhea can help people get enthused and grow their confidence around social media, the power of digital, and how they have everything they need to get started.
Request a free discovery call with Rhea
Not found your perfect marketing match? There are plenty more small business advisers on the Enterprise Nation platform.
Need support to re-open your business? Attend Let's Get Physical - a free event powered by SumUp on how to re-engage with customers in a physical format.
Head of Marketing at Enterprise Nation. I specialise in community growth and engagement - email and content marketing - social media strategy - and building collaborative partnerships. What do I love doing? Connecting with start-ups and small businesses and shining a spotlight on them.