MEMBER STORIES
Enterprise Nation member of the month: Twoodle Co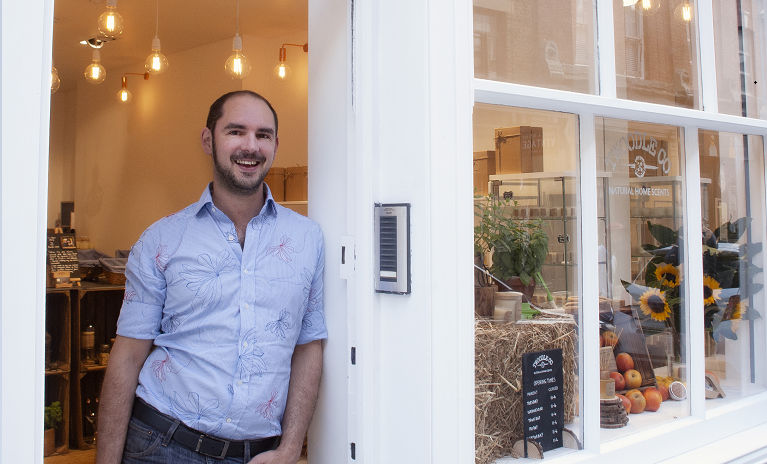 ---
Posted: Mon 7th Sep 2020
The current Enterprise Nation member of the month is Tim Rundle-Wood, founder of natural candles and diffusers brand Twoodle Co.
We first met Tim when he sold his products in several pop-up shops through Clicks and Mortar, a project we ran with Amazon to help online businesses sell their products in-store for the first time.
He was so inspired by his experience that he has opened his own store in London to complement his successful online sales via his website and on Amazon.
We spoke to Tim about Clicks and Mortar, opening his own shop, how he connects with customers online and the tools he uses to grow his Amazon business.
What did you learn from Clicks and Mortar?
My biggest learning was watching how customers shop for my products, allowing me to adjust the presentation in a way that made better sense to them.
I began grouping my scents into their scent types (citrus, floral, woody etc) and this helped customers narrow down their choice rather than being overwhelmed by choices. This is something I have made a big feature in my new shop and it's working incredibly well.
Why did Clicks and Mortar inspire you to start your own shop?
The project confirmed to me that having a physical store was going to be a fundamental part of the growth and expansion of Twoodle Co. The high street is evolving and it has a fundamental part to play in the future of retail, where omnichannel sales platforms work together and complement each other.
My idea for my own retail store was a bakery for candles so customers can come in and see the products being made in front of them and this is exactly what I have done in my store at 10 Cheshire Street in London.
My shop is about creating an experience but it's more than just in-store theatre; it's a genuine way for customers to immerse themselves in the brand and products I have created. It also shows that the products have not been made in some far-off land - they can see they have been freshly made in London.
What are your tips for making sales?
Something that is so often overlooked is consistency. Branding is so much more than a logo and the font you use. It all comes back to your brand values and then every business decision is filtered through those brand values.
For example, one of my values is that no animal has suffered to make any of our products and this starts with having all our products certified cruelty-free and vegan by PETA. We even traced the origin of the glue and ink used on our labels.
Consistency will give you a much higher conversion as more people will buy into your brand and you will attract more of the right kind of customer. A one or two percent increase in conversion can often mean huge increases in sales and customer retention.
It's easier to convert someone who has already bought into your brand. The customer journey is often the main focus of businesses and while that is important, I believe consistency should be up there too.
We make 95% of our buying decisions subconsciously, and our subconscious minds pick up on the tiniest of inconsistencies. That makes customers hesitant, so removing that hesitation will increase sales.
What's your online sales strategy?
The core of my strategy is the commitment to help people, which naturally builds a community and attracts my ideal customers. Building a community begins with your purpose and I think this detail often gets missed.
I began with my 'why'. Our business 'why' is to help improve people's lives. This 'why' then filters through to everything we do and every decision we make including our online strategy.
It translates into the layouts, messaging, images, product descriptions, and the promises we make. Consistency is key here, and we focus first on how our products make you feel. In fact, one of the descriptive elements we use to describe each of our natural scents is how that scent makes you feel.
From a commitment point of view, I came up with the idea of the 'Scent Guarantee' for my business. It's a reassurance that we will pay for the return of any product purchased online. This removes one of our biggest online obstacles of selling scented products.
How has Amazon helped your business and what tips would you offer?
Amazon is unlike any other marketplace I've used before. For this reason, learning how to use it properly will help you get the most from your experience.
I would highly recommend the Amazon Small Business Accelerator e-learning programme on Enterprise Nation – it's been an amazing resource for me. The training is a wealth of knowledge about setting up, running and growing your own business.
---
The free Amazon Small Business Accelerator e-learning programme is advice from more than 30 business experts in 218 bitesize videos.
If you're already an Enterprise Nation member, log in to your learning dashboard to access the e-learning.
If you're not an Enterprise Nation member, you can join the Amazon Small Business Accelerator for free.
With over 20 years of experience in retail management for brands such as Whittard of Chelsea, Tim launched his own natural home scents brand Twoodle Co in 2018. Tim's passion for natural scents started when his dog Henry almost died from toxic shock, caused by synthetic fragrance. After taking part in the Clicks and Mortar project with Enterprise Nation in 2019, against all the odds, Tim successfully opened his first store in London's creative centre - Shoreditch at 10 Cheshire Street in July 2020.