BLOG
Tim Roupell's ten quick tips for business success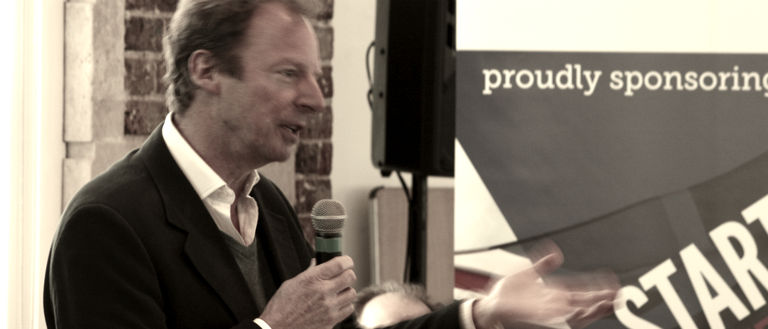 ---
Posted: Mon 25th Feb 2013
After an unrewarding ten years in the City, Tim Roupell started Daily Bread in 1986, making sandwiches himself in the basement of a friend's deli and selling them to his old office colleagues from a basket. He'd never run his own business and had no experience in catering.
Twenty-three years later, Tim sold Daily Bread as a £14 million a year company employing 230 people. he built Daily Bread into a £14 million a year enterprise employing 230 people. As a special guest at last week's StartUp Food event, Tim shared some of his principles for running a successful business.
1. Think bigger
"Some people think they have great idea of what they want to do," said Tim, "but they don't think about how they are going to scale that business. Think about that when you're formulating your business idea."
2. Write down your goals
"Writing down your goals has an extraordinary effect. It's extraordinary how it goes into your subconscious that way."
3. Keep it simple
"KISS is my mantra - 'Keep it simple, stupid'. The thing I always think is 'How can I simplify?'."
4. Be better than the next guy
"Don't be average," stressed Tim. "If you're going to be average, what are you going to sell? All you've got to do is just do it better than the people next to you. In the food industry in particular, quality and service are the big foundations for a successful business."
5. Be confident, but realistic
"Be positive. Not to be confused with being over-optimistic."
6. Listen to people who know
"If there's one characteristic I know of people who have failed with their business, it would be that they didn't listen. Anything you do can always be done better."
7. Mind your cashflow
"Businesses don't go bust because they're not making a profit. They go bust because they run out of cash."
8. Be good to your staff
"When you have staff, appreciation is huge.  Everybody's important in a business and that has to be appreciated. The culture of your business is the main difference between you and your competitors."
9. Don't stand still
"A business is like water. If you're standing still, it'll go stagnant. You've got to keep moving."
10. Look to the horizon
"Something I found very helpful for me when business was difficult is that someone told me if you look at the horizon you can avoid seasickness," Tim concluded. "I thought that was a good analogy for life. To avoid seasickness, look to the horizon." Tim Roupell is the author of Author of Bread and Butter: Lessons Learned Building a Successful Company from Scratch and now spends much of his time helping young people starting businesses.
Get the foodie start-up bible from just £5
Cook Wrap Sell by Bruce McMichael has everything you need to know to run a successful small food business from your kitchen. It's available as a downloadable ebook or a print book from the Enterprise Nation shop - just click on the link below. [product id="56584"] Photo credit: Simon Wicks
Enterprise Nation has helped thousands of people start and grow their businesses. Led by founder, Emma Jones CBE, Enterprise Nation connects you to the resources and expertise to help you succeed.