BLOG
Three ways you can update digital security across your business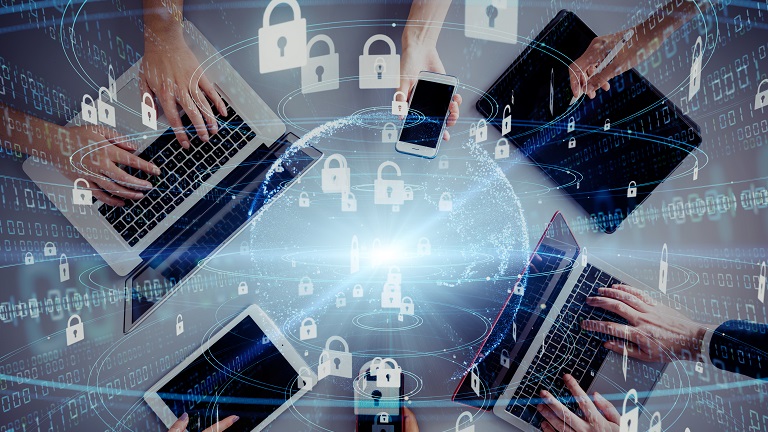 ---
Posted: Wed 21st Jul 2021
Business.connected, in partnership with Vodafone, is an extensive online training programme that will help 800,000 small businesses boost their digital skills. 
The free initiative – delivered exclusively online and consisting of workshops, webinars and e-learning modules – will empower businesses to kickstart digital change, adopt new technology, and stay safe online.
In this blog, Gill Wilson, head of digital at ButteredHost and business.connected adviser, shares why digital security is important for small businesses, and the three things you can put in place to reduce your security risk.
Why digital security is important
"An incredible 65,000 attempts to hack small to medium-sized businesses are made in the UK every single day. Of these, approximately 4,500 are successful. This means that 1.6 million SMBs fall victim to cybercrime every single year." (Source: The UK Domain by Nominet)
With thousands of high-profile hacks, ransomware incidents and data breaches, you need to make sure you've covered all your digital security bases.
Don't think your company is too small or too new to attract the attention of cyber attackers. Hackers are just as likely, if not more likely, to target small businesses. 
As small business owners, this can give us sleepless nights. But the good news is that you can take some simple steps that will go a long way to protecting your digital assets.
Change the way you interact with technology
Do you cleverly hide a password under your keyboard on a post-it note?

Do you never log out and just shut your laptop?

Do you leave your computer on and unlocked while you grab a cuppa?
If you answered yes to any of these questions, know that this can lead to someone gaining access to your computer, especially when you add in working in a remote environment such as a café or shared workspace.
Here are my top tips for improving the way you interact with technology:
Don't use public wi-fi networks when working with sensitive data. These may not be secure and connections are at risk of being intercepted. 

When you're working remotely, be aware of who's behind you and who can see what you're typing on your screen. 

With over 80% of today's data breaches caused by weak, stolen or reused passwords, remember to reset passwords regularly.

Use password managers to store and share passwords. 

Regularly update software on all your devices, and your website. 

Always use two-factor authentication where you have the option.  

If you employee staff or outsource to freelancers, make sure you have security policies and procedures in place and communicate them to the right people.

Implement a clear desk policy so no-one is leaving client data lying around.
Watch Gill Wilson's video workshop on digital security:
Get to know how website security works

Like most businesses, you probably use a website or website platform. It's a good idea to familiarise yourself with these four key areas of a website:
1. Web Application Firewall (WAF)
This sits in front of your website to monitor and protect it. Make sure your site has a firewall installed. If you use WordPress, use a reputable plugin like Wordfence, Ninja or Securi.
2. Server
When you're starting out, it's tempting to go for cheap hosting servers. But poor-quality servers can cost you in terms of security. If someone else's site on the server gets hacked, your site can be in jeopardy as well.
3. Backups
Make sure you back up data and store it off-site. There's no point having a backup on a server that's already compromised as the backup will probably be compromised as well.
Know how to restore from backup and how often. Ideally run a test restore every month or so to check the process still works as expected.   
4. Transactional websites
If you have a transactional website (a shop, membership or news site), get backups every few hours at least. You don't want to be in a position where your customer's order is wiped out after they paid.
Be proactive to digital security threats, not reactive
You've been hacked. What do you do? It's best to be proactive and have a plan in place before this happens, so start today.
Build relationships with professionals who can look after your site, before you need them for an emergency.
Identify a trusted clean-up service before you need it. That could be your usual web maintenance person. If you can afford it, go for their monthly option and maintain your site well.
Don't forget about insurance – think about what a big liability payout would do to your business if your clients were let down.
Free video training, exclusive offers and workshops
The business.connected hub is a free online training programme of workshops, webinars and e-learning modules designed to help businesses go digital, adopt new technology, and stay safe online. Take me to the hub now
Relevant resources
I have been in the Web Development industry for over 20 years and have worked with Charities, Universities and Commercial organisations. I absolutely love demystifying tech-talk and helping my clients understand what is actually going on rather than bamboozling them with technical gibberish. I really believe making a website should be fun for all involved so when a client says to me that they will miss our chats and that they really enjoyed the process, I feel I have done my job well. Buttered Host was formed in 2018 and it became a family business when my daughter, Isla joined in 2020. Isla has over a decade experience in sales, marketing and customer service to the highest possible standard, and I am so thankful that she has joined me in creating a great business.