BLOG
The rise of omnichannel: How your retail business can succeed online and offline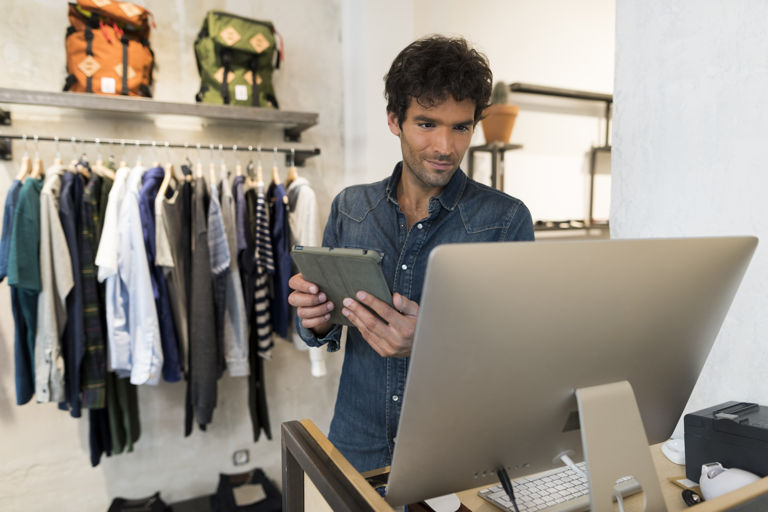 ---
Posted: Tue 26th Sep 2017
When you first dreamt of owning a small business, we bet it was a small shop front you envisioned. A shop floor for eager customers to explore, a window ready to dress and a cash till that never stopped ringing.
It's a good dream to have, but don't be limited by it. Small businesses that want big success need to look beyond just their brick and mortar locations; they need to go omnichannel.
What is omnichannel retail?
Omnichannel, also known as multichannel, is when your business uses multiple channels to offer its goods and services.
This means online shopping as well as your physical shop, whether that's on mobile or PC.
Omnichannel aims to provide a seamless shopping experience, and plenty of opportunities for your customers to engage with you both online and offline.
Many businesses have harnessed the power of omnichannel with the most common means being 'click and collect', allowing customers to browse your store in their own time on whichever device they choose, before making a visit to your physical location to pick up their purchase.
Far from being more troublesome than simply having goods delivered to their door, customers have been found to favour these 'touch points' or physical locations with shops.
In fact, customers who went omnichannel and fully engaged with a brand in-store, online or with the digital catalogues set up in shop branches were 23% more likely to make another purchase within six months.
The rise of omnichannel retail
So, where once online shopping was lauded as a time-saving revolution that would stop us ever needing to queue in a shop ever again, how have we suddenly come to love combining an online order with a visit to our local branch?
The reason seems to be in the psychology of it, and the largest demographic of omnichannel shoppers, millennials.
In seeking a shopping experience rather than a point-click-done purchase, millennials are keeping brick and mortar shops alive, with over 50% of them preferring to shop in physical locations.
The most successful omnichannel retailers have tapped into this mentality, even kitchen pots and pans can now come with a glamorous story, Instagram-worthy style and very millennial-targeted marketing which ticks all the boxes of the omnichannel shopping experience.
And with 44% using their mobile device to browse products to buy either online or in store, don't underestimate the power of the instagrammable product!
How to take your business online/offline
Ready to go omnichannel?
If you're 100% offline, start setting up your online shop asap, and get some social media going while you're at it.
New products coming in? Promote them on your Instagram!
Celebrating the opening of your online store? Let your Facebook followers know!
Setting up an online store is much easier than you think, and with awesome integrated apps like Weebly, Ecwid and Wix, you'll have a fully-fledged e-commerce store up and running in no time at all.
If you've been operating completely online, the transition can be a little scarier. A physical location throws in the worries of rent, staff, fixtures and fittings, etc. But it's a vital part of going omnichannel.
Don't worry if you don't have a year's rent at hand for a shop front, there are plenty other ways to get your presence on the high street without committing to long-term leases.
Appear Here is just one innovative solution, which lets you find the perfect location for a pop-up shop.
Pop-ups are powerful things, with even big brands loving the limited-time-only, exclusive feel they give. Customers connect positively with them too, with 44% of shoppers having visited a pop-up in the last year.
So, whether it's getting your online store and up running, or a first adventure into a physical location, make sure you're ahead of competitors by making sure your products and services are available wherever your customers are looking for them.
Want to start accepting card payments both online and offline? Square's card reader and online app integrations help you accept every way your customers want to pay.
Sarah Harvey, head of UK for Square, will be chairing a panel of retailers sharing top tips on how to grow your sales at the Festival of Female Entrepreneurs in Bristol on 20 October. Book a ticket here.
Enterprise Nation has helped thousands of people start and grow their businesses. Led by founder, Emma Jones CBE, Enterprise Nation connects you to the resources and expertise to help you succeed.