BUSINESS NEWS
The remote working revolution and what it means for your business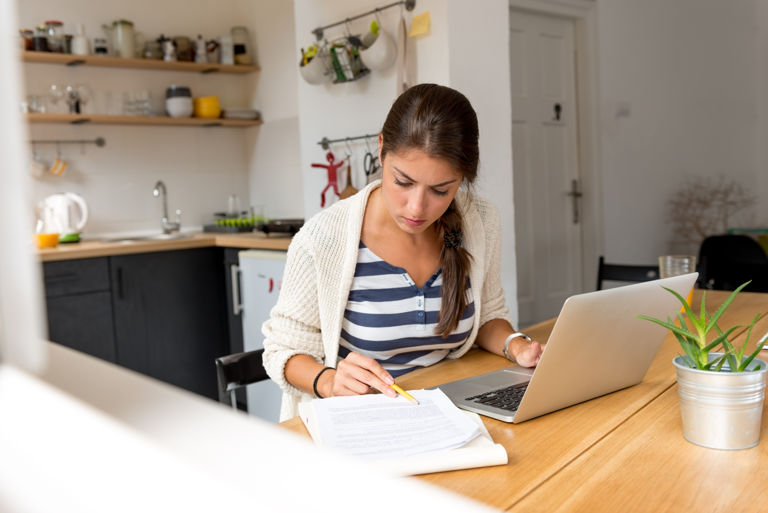 ---
Posted: Wed 15th Mar 2017
In the latest article as part of Enterprise Nation's Go and Grow Online campaign, which helps small business owners build a better company on the web, Alex Beere from campaign supporter Microsoft rounds up the advice and discussion at Microsoft's Future Decoded event about the impact on businesses of remote working and data on the move.
In the Business Anywhere SMB workshop at Microsoft Future Decoded, O2's business director Ben Dowd reiterated words that are spoken often by CEO of Microsoft, Satya Nadella: "Mobility drives the cloud". As long as security is strong on your choice of cloud, the ease with which, - for example, you can manage an Excel document on a Surface whilst a member of staff based outside of the office helps you to complete the piece is unbounded.
Research shows that we spend more time on mobile devices (eight hours 40 minutes) than on sleep (eight hours 20 minutes). Being able to communicate, contact or work anywhere is part of this mobility, which is continuously driving cloud strategy so that we can truly work anywhere. Apps will connect what you do, wherever you do it. Connectivity is real time, synced, stored and safe.
They not only help you to keep business alive at every point of the day, but help you to do anything you like, wherever and whenever you choose.
The cloud allows all people using it to be device-agnostic; it is now the centre of all computing needs. 70% of all small and medium businesses are planning to implement bring your own device (BYOD) across their companies, and 58% say flexible working improves overall productivity. Data, and use of it in any and every way possible, allows front running companies to target customers, but there is still this overarching concern about privacy.
Finding your Brother Orange with data
Following Ben, Ashraf Kamel of LinkedIn shared the story of Matt.
Matt is a man who lost his phone in a bar and subsequently noticed in his iPhone's photo stream, that was still synchronising pictures with the lost phone, that a man in China, who he dubbed 'Brother Orange' was now the proud owner of his phone. Through viral buzz on social networks, Matt was united with Brother Orange in China and treated like royalty across the country due to the media attention that had grown around the story.
The moral of this story, and of using LinkedIn either as a business or an individual, is that it doesn't matter how big you are, what your reach is, or how many customers you have. You can find what you're looking for online if you do it the right way. Essentially "size doesn't matter; it's how you use it."
Ashraf went on to talk about data in its truest form; you can use any form of data to do anything: be it hire people, market to people, or sell. It doesn't matter if you're a small business; just use the right data.
When reaching out to potential recruits, people are 80% passive and 20% active. People who enjoy what they are doing will not be looking for a job. But 80% are open to new opportunities. Whether or not they#re looking for a job at that point, if you nurture the talent you have found you will build a good relationship. And it is all about relationships.
Attracting, recruiting and empowering a new hire are all interconnected. Data has shown LinkedIn that to attract that new employee, you need to be transparent about what your company stands for and why you matter.
The best company mission statements don't become too verbose in 'what the job is', but more 'why the company does what it does'. Vision and values are something that people can relate to. If you happen to generate interest from what you do (and why you matter), it's about recruiting those that have shown interest.
Referrals tend to be a big generator of talent. People talking to friends about why they love their job, and their friends thinking: "I want a piece of that." Once you have successfully employed someone, it is then about empowering that employee to believe in your company, and giving them something they relate to do they don't jump ship immediately.
When selling to a customer, data has shown that cold outreach and cold calling is a failure. 90% don't respond to cold outreach. However, 75% of B2B decision makers are influenced by social. It is, therefore, more important to create a professional brand on social platforms, find the right people to help market this and engage with any insights that come through. This will more accurately show you how to adapt and change to suit your client and in real time. Through this, you will find your own Brother Orange; either to hire, to market to, or to sell to.
Smart tech to scale management
Third in the Business Anywhere talk was minicabit CEO Amer Hasan who spoke about leveraging smart tech to scale management. minicabit was part of the Telefonica's startup accelerator, WAYRA, in 2012, and is a 'Compare the Market for cabs', with the ability to book from 30 minutes to a year in advance. minicabit allows more choice for the customer as well as more business for the local cab operator.
Amer says that they value one thing over all and that is to "log everything, measure everything, upload everything and mobilise everything".
By logging everything, even down to the smallest things, such as how many clicks are made on a button on the minicabit website each month, the business can optimise their website to make it more user friendly. By measuring everything, the bookings company can find out who uses their website and/or app, how often they use it, which trips they make, what they do with their trips, and so much more. This then allows them to refine what they offer each individual to find the best journey every time.
minicabit uploads everything to the cloud, whether it is a base of suppliers, or internal information, as it can be accessed from anywhere comfortably. Hasan's final point, to mobilise everything, means that in having a mobile-optimised website (and an app, of course), it can be accessed anywhere and easily used. The internet doesn't sleep and neither should your company.
Smart tech doesn't just stop there for minicabit. When making as efficient a company as possible, Hasan said that three key questions are in mind when you're building a company. What can you automate? What can you outsource? And who or what do you need to hire or pay for? This can make your company work quicker, smarter, and faster.
For some things, you should let customers tell you what they want. Amer said that customer feedback was extremely important from the outset, and from it came the luggage selector that minicabit has on its site.
Technology defining remote working
The penultimate speaker of the day was Telefonica Digital's Robert Franks, who spoke about the future of technology.
Mobile devices allow shoppers and businesses to seamlessly flit from physical purchases to online and back again. It is important to know your customers. on both digital and physical platforms, engaging them in the right way, at the right time. Data can be leveraged across these platforms to become a source of competitive advantage, meaning that you will know where your customers are in the buying cycle and you can engage them at the right time, instead of all the time.
As part of businesses working smarter as platforms, Franks recommended four important points of approach: always on, mobile-first, a use of software as a service (SaaS) and a 'network of everything'.
O2's way of being 'always on' means that as part of their business platform, as soon as you move into an office, you will be provided with 4G connectivity and once wifi has been installed, the 4G will become your backup for if the internet should ever go down. O2 has a managed tablet solution with a suite of SaaS business apps that are easy to use, meaning that if ever anything should go wrong, your mobile-first strategy will always work. On top of all of this, the software is managed remotely, so that everything is connected. A case study of O2's work has increased productivity by 23% across the board.
Finally, using data in a smart manner that creates a transparent value exchange, where consumers share data to get new products, has been shown to work in the past. An example used by Robert here was AT&T. The company has partnerships across home and office automation. Apps and systems within their operations build a base of data, and learn. This, in turn, educates you over your own usage. By companies earning trust through data like this, with positive feedback to their customers, they will see an uplift in usage of apps or systems to suit their custom.
"Work is now an activity, and not a place"
The final speaker at Business Anywhere was Rachael Helanor, who took us through a demo of a tablet in action, showing how you could truly build your business out of your backpack. An example of this saw her and a colleague working on the same document in real-time, in order to put a mock presentation together ahead of a meeting.
"Work is now an activity, and not a place," said Rachael. In the modern world, we are all able to work more flexibly, whether you're on your commute, at home, or in the office. Wifi's use everywhere and anywhere, the implementation of data and the cloud and mobile devices as a whole mean that it's not just about your work. It's about the need to collaborate with others, both staff and customers, in real time and on the move.
Get 17% off the cost of the essential Microsoft Office tools you know: Outlook (50GB mailbox), Word, Excel, PowerPoint, Skype for Business, OneNote, OneDrive (1TB storage) AND it's in the cloud so you will ALWAYS have the latest version! Claim your discount here.
This article is part of Enterprise Nation's Grow and Grow Online campaign, helping you build a better business on the web. Access content, offers and events here.
Enterprise Nation has helped thousands of people start and grow their businesses. Led by founder, Emma Jones CBE, Enterprise Nation connects you to the resources and expertise to help you succeed.