BLOG
The packaging inserts that deliver delight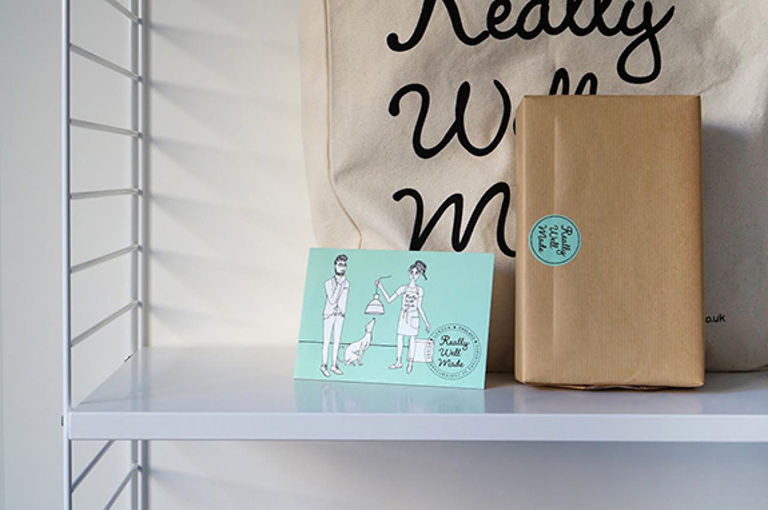 ---
Posted: Tue 15th Mar 2016
There's nothing quite like the feeling of getting post. Not the bills and supermarket catalogues kind; we mean the brown paper packages tied up with strings or perfect boxes filled with never-ending tissue paper and personalised notes. Whether it's an unexpected gift, or even a regular subscription, there's always a little buzz of excitement and anticipation when you realise it's for you.
So if you're in the business of sending those kind of packages, you'll be interested in making that little buzz be as memorable and long lasting as possible.
In the age of online shopping, the 'unboxing' moment is now a powerful and potentially highly emotional experience for customers all around the world. Abbie Thomas from MOO shares some inspiration.
Toby Hextall, MOO's head of product design, is one of the speakers at 'How to perfect your branding and packaging' in London on 4 April. Book a ticket here.
A little thank you goes a long way
Nowadays everyone is used to receiving the standard post-purchase auto-generated email. Why not take your manners offline with a personalised thank you note which comes in the box?
Perhaps you have thousands of customers, so including a handwritten note isn't always possible. But it doesn't excuse crafting a notecard that feels and reads as personal. Here's a tip: when you sit down to write the thank you message, imagine you're writing to your best friend.
Why not take personalisation to a whole other level and send your customers a reward for their loyalty? By tracking their purchase history you can tailor the message just for them. For example, your very first customers could be rewarded for their early and continued support with a limited edition loyalty card to acknowledge the soft spot you have for them. Or alternatively, how about a 10% promo code for someone's 10th order?
Something to keep
A great way to show a customer what you are all about is to give them the opportunity to see more of your products first hand. Online menswear retailer Mr Porter welcomes new customers with a welcome note accompanied by a beautifully packaged embroidered pocket square. This adds a little unexpected delight, and right on brand for them as the one stop destination for modern day gentlemen.
Perhaps a simpler way to gift could be to include a striking postcard with each purchase, something for customers to keep for themselves or send onto someone else. If you were a real estate agent promoting a particular area you might feature iconic images of that location, or a photographer might feature different kinds of photography styles, or a writer feature different written passages on each card.
If you're not in the position to add a free gift, how about an invitation to an event?
Candle maker Jo Malone sends out personalised beautifully designed invitations to in-store events to sample new products and get some pampering. This is a great way to reward loyal customers and encourage new ones to stay in touch for future exclusive opportunities.
Let's get social
Here's a online-offline-online idea: insert some social fun to encourage your customers snap and share images of their purchases with their friends and followers. This sharing helps you get exposure to new audiences and potential customers and will allow you to see and read any feedback on your product or service. In your next delivery run, insert a business card printed with your chosen hashtag and social media handles. The hashtag might be a brand one or it might be related to a campaign you're running such as #XmasOnsie. Then sit back and watch your social networks come alive with mentions!
If you prefer a more traditional approach to social networking, another thing we recommend is inserting something that helps generate plenty of word of mouth is a 'refer a friend' card. These are cards which you give your customer to hand out to their friends or family. Create a unique code so you can track how successful these are, and print on either mini cards or square business cards like the ones used by Lauren Messiah, which makes them small enough for your customers to easily carry.
Make it stick
Luxury skincare brand Lola's Apothecary finishes off the packaging of each tissue-wrapped product with a sticker to give her customers a fully branded wrapping that is as indulgent as her products. "Receiving one of our parcels should be a fabulous event," she explains. "We pack each bundle with love to make our customers feel extra special, and include a card printed with a discount code as a thank you."
Finally, why not have some fun for fun's sake? We add a 'YAY' sticker to every order we send out. Freebies and offers are always appreciated, but don't forget the power of making someone smile ;)
_MOO is one of the one of the world's fastest growing online print and design businesses. Enterprise Nation members get 20% off the company's range of printed products. To access the offer, log in to your account and go to our offers and discounts page. _ If you're not yet a member, join Enterprise Nation today.
Toby Hextall, MOO's head of product design, is one of the speakers at 'How to perfect your branding and packaging' in London on 4 April at 6pm. Find out more here and book a ticket below.
Enterprise Nation has helped thousands of people start and grow their businesses. Led by founder, Emma Jones CBE, Enterprise Nation connects you to the resources and expertise to help you succeed.