MEMBER STORIES
The entrepreneur behind environmentally responsible handbags for women of today who care about tomorrow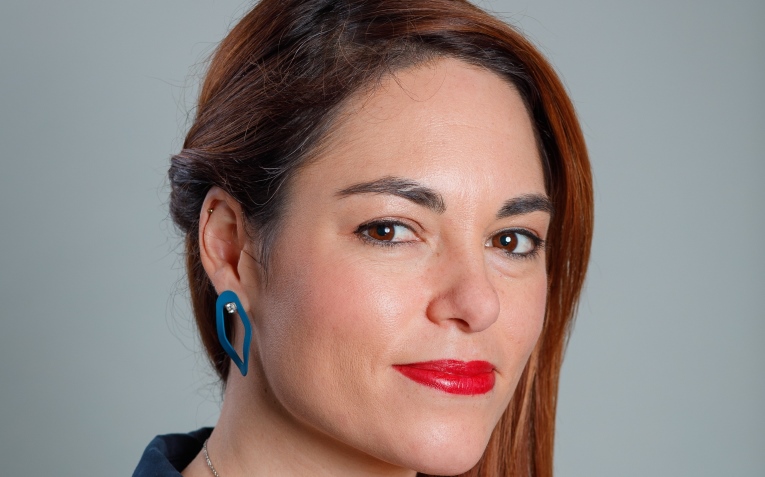 ---
Posted: Fri 17th May 2019
Tatum Diamond makes luxury hand-crafted bags and accessories. Rather than focused on 'fast fashion', the Enterprise Nation member is encouraging customers to join the 'slow fashion' movement. She promotes quality over quantity and pieces that will enhance your wardrobe for a lifetime
How did you come up with your business idea?
My husband bought me a one-day handbag making course. That was it; I was hooked. I've had a life-long fascination with handbags. At their best, they are assurance, art, and armour. An extension of the inner woman, and a companion for life. When the course was over I danced home, my imagination on fire. I was going to start my own luxury handmade handbag company. And that was that.
It's been hard work, trust me. Fighting each day for a dream that no one else can really see. I'm led by my heart, and much more of a doer than a planner. My first move was finding a supplier for my vegetable tanned leather. Then I started experimenting with designs. I couldn't wait to make it, hold it and use it.
It's been amazing seeing my bags out in the world and getting so much lovely feedback. And it's exhilarating, like having the volume turned up to eleven on every win and every setback.
What start-up challenges have you faced?
Handbags have existed in one form or another for centuries. So the market is, understandably, crowded.
Getting noticed has definitely been a challenge. Coupled with the fact that I am new to fashion and my retail experience consists of working in a camping store in my native South Africa as a teen. My learning curve has been steep, to say the least.
What has been your biggest achievement?
Starting!
I've dreamed of starting my own business for years, but life (and my previous career) kept getting in the way. I played with some ideas in the past but taking the plunge with my own label is a whole new world.
Winning the ad break on Holly Tucker's Conversation of Inspiration was also a real boost and validation I was going in the right direction.
I have recently had some really exciting news, but unfortunately, I can't share it just yet.
What is your next big business goal?
World domination? Just joking.
Growing my product range. I'd love to include backpacks, laptop bags and introduce a few pieces for men. And to scale up efficiently whilst maintaining hand-made production. I'd also really like to work with passionate fashion grads and help them on their journey into the market.
What do you think will be your biggest challenge?
Time and juggling all the hats that come with being a one-woman band. I'm building the plane whilst flying the plane.
There is always so much to do and my mind is constantly whizzing with the 'to do' list that I haven't made the time to write down. The key is minimising distraction while also figuring out the difference between distraction and what might be a game-changing idea. Sometimes they can look very similar!
How has Enterprise Nation helped your business?
It's been priceless. I've made some great new friends, found amazing businesses to collaborate with and met people who have been able to introduce me to handbag designers who are more established and happy to share their knowledge and advice with me.
There is also a wealth of business advice that I've found really useful.
Which other entrepreneur inspires you and why?
Julian Richer. After four decades of work and success, and building a business that gives 15% of its profits to charities he announced this week that he was handing the majority of his stock to his staff. It was an extraordinary and beautiful act that will define his legacy.
What are your three tips for business success?
Dive in. You may not succeed, but there's only one way to find out. Great things happen when you put yourself out there, and whatever happens, you'll learn from it.
Passion. It's what drives me. It's hard work and often very lonely running your own business. Without passion, getting up and facing the world and all the challenges it throws at you would be impossible.
Patience. To use a massive cliche, Rome wasn't built in a day, and your business won't be either. Play the long game, for the blood, sweat and tears.
Anything else you would like to share?
Surround yourself with like-minded people, people who want to see you succeed. When you are paid a compliment, accept it at face value.
Don't keep looking for evidence that you're taking over the world, because most days you won't find it. Your time is precious. If someone offers to help or guide you, grabbed the opportunity with both hands, they wouldn't be offering if they didn't want to do it.
We're proud to have entrepreneurs like Tatum as members of Enterprise Nation. Join Enterprise Nation today and become part of an amazing community of small businesses.
My vision is to create beautiful leather bags with impeccable environmental credentials. In an age of "fast fashion", I am determined to show that you can create desirable goods that are ethically sourced and draw upon local materials and resources.  I work with natural grain, vegetable tanned leather, for its memory, sustainability & durability. Natural grain leather celebrates the life lived, it shows the stretch marks, the fly bites and the scars. The leathers willingness to be transformed means my imagination can run wild, a bag, a keyring, a necklace, the opportunities are endless. Most importantly though is its sustainability, leather can last a lifetime, if not longer. Tatum Diamond is environmentally responsible, daringly practical and unashamedly bold.