MEMBER STORIES
The Enterprise Nation members pitching to Sainsbury's, Selfridges & Grocery Accelerator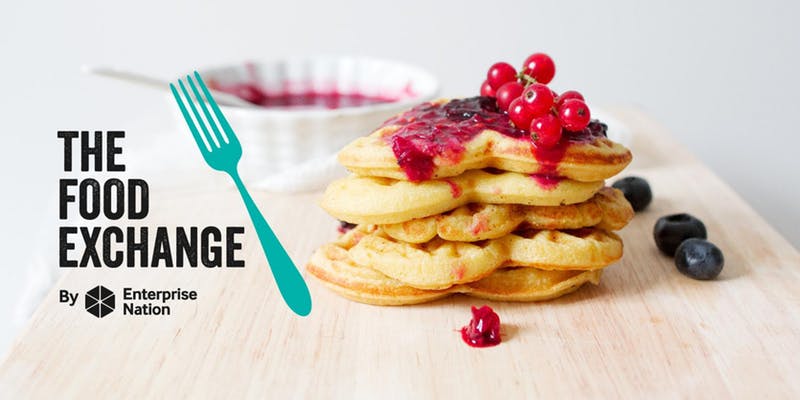 ---
Posted: Thu 11th Apr 2019
Pitching to retail buyers is a massive benefit of Enterprise Nation membership and at this Friday's Food Exchange the four awesome members below will present their products to Selfridges, Sainsbury's and Grocery Accelerator. Good luck to them all!
Tickets are still available to watch the pitches and hear from experts in the food and drink sector.
Describe your business.
Wallaroo makes deliciously satisfying single ingredient premium fruit snacks that come in home compostable packaging.
Why do you believe your product is right for the buyers?
Selfridges:
Selfridges has a strong reputation for fine food. We believe that our range of products would work really well within their healthy eating portfolio and would tick all their boxes when it comes to health, sustainability, and provenance, delivered in a premium format.
Sainsburys:
Mintel research shows that there is a significant gap in the market when it comes to healthy snacks for 7-15 year olds. Wallaroo has been developed with this in mind, and we find that consumers love the branding, the NHS recommended portion sized packs, the home compostable credentials, and the fact that the products are made of single ingredient premium fruit with nothing added, making it a deliciously satisfying snack with versatile merchandising options - wellness zone, free from, healthy meal deal addition, lunch boxes and impulse, to list a few.
What is your vision for the future of your business?
Wallaroo products are based on the underlying ethos that great tasting food doesn't have to be complicated. Aptly summed up in our tagline 'yummy by nature', our customers love that Wallaroo is not only delicious, but also single ingredient, portion sized, convenient and better for our planet.
We want consumers to associate Wallaroo with simple, transparent, no nonsense snacking. From a commercial point of view, we have had small successes across retail, food service and export and we want to be able to work closely with our partners in delivering greater value.
Describe your business.
We create innovative vegan iced coffees that are bold in taste, have three or four natural ingredients and more than double the amount of coffee than other brands on the market with none of the added sugar, thickeners and stabilisers.
Why do you believe your product is right for the buyers?
Iced coffee sales hit £4.1m in the month of July 2018 with innovation in dairy free on-the-go coffee and cold brew coffee helping to drive this. Our products are the only oat drink based iced coffees on the UK market that have no added sugar as well as no stabilisers or emulsifiers. We also use more than 50% more coffee than other RTD coffee brands, giving a bold rich coffee taste that isn't masked by milk or sugar.
Sainsbury's & Selfridges are renowned for their innovative offering that are also focused on healthy eating and we feel our products give your customers something completely new that they can't get anywhere else. Sustainability is at the forefront of our values; we use less plastic in our packaging than the typical ready-to-drink product as well being 100% recyclable and using no plastic straws.
What is your vision for the future of your business?
To make our products more accessible to thousands of taste testers already asking where they can buy them. Become a key player in the growing plant based & RTD coffee markets. Launch multipacks to allow take and drink at home. Innovate in more NPD already in the pipeline to keep fresh within the market.
Describe your business.
A plantain crisps and sweet potato puffs brand making healthier FMCG products that not only taste great and are unique in the market, but give back to the Nigerian community from which they are inspired.
Why do you believe your product is right for the buyers?
We have developed an innovative range of products that appeal to the vegan, free from and gluten free market and stand out on the shelves.
Our target audience is Sainsbury's and Selfridges' customer base and after carrying out surveys with our consumers, these are the stores it is convenient to buy Sunmo products from.
What is your vision for the future of your business?
A percentage of each packet feeds an orphaned child in Nigeria. With our Sunmo Foundation programme we are aiming to partner with more orphanages to supply them with food. To achieve this we are aiming to be on the selves of Sainsbury's and Selfridges by June 2019.
Our 950 square food BRC certified production site enables us to meet their capacity of orders. Our delicious plantain crisps, sweet potato puffs and business story captivate people to buy Sunmo products.
We are a brand that creates new and extremely tasty snacks and we are developing a Little Sunmo range with healthy snacks for children. For these reasons we are retail ready to meet our goals.
Describe your business.
Vieve is disrupting the sports nutrition market with a game-changing new protein drink which is water based, packed with 20g protein, zero sugar, dairy free and superior in taste to anything else on the market.
Our aim is to make sports nutrition more accessible to a mass market audience through our hydrating, on-the-go fruit flavoured protein waters.
Why do you believe your product is right for the buyers?
I believe Vieve presents a unique category opportunity for Sainsbury's to capitalise on the growth within the sports nutrition market. Sports Nutrition has grown from a £60m category in 2004 to £753m today with a historical CAGR +20%.
Over the past five years the category has grown at almost three times the rate of soft drinks and is the fastest growing FMCG category for 2018.  Within that sports protein RTDs saw the highest growth of any segment in 2018 growing +37%.
Vieve is the world's first high protein drink to use collagen as its primary protein source, offering a unique completely dairy free offering within this market.
Coupled with our unique flavourings and brand offering and focus on new category usage occasions such as saiety,  we aim to bring a whole new generation of users into the category to continue the explosive growth that the retailers who backed the category have enjoyed.
What is your vision for the future of your business?
Our aim is to become a £10m business in five years, with a global presence in over 50 countries.
We aim to continue to innovate with new flavour and line extensions on a continuous basis. Our mission is to make the UK a healthier, happier place to live.
Tickets are still available for the Food Exchange in London tomorrow (12 April) to watch the pitches and hear from experts in the food and drink sector.
Enterprise Nation has helped thousands of people start and grow their businesses. Led by founder, Emma Jones CBE, Enterprise Nation connects you to the resources and expertise to help you succeed.