MEMBER STORIES
The Enterprise Nation member turning bread into beer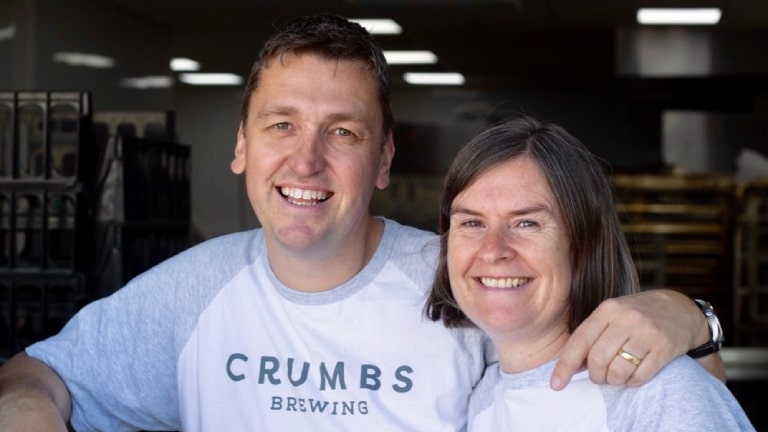 ---
Posted: Wed 14th Jun 2023
Crumbs Brewing was founded by Reigate husband and wife Morgan and Elaine Arnell in 2017.
The duo are on a mission to create beautiful beer using artisan bread that would otherwise go to waste. In Morgan's words:
"Making great beer that also helps the fight against food waste – what could be better!?!"
How did you come up with your idea and turn it into an actual business?
I'd love to say we invented the idea of brewing using bread but it's been around for a long, long time. As far back as early Sumerian cultures there has been an undeniable link between beer and bread. They directly recognised the dual role of baker and brewer in the artisan job 'lukasninda', the man of the beer loaf.
Several Belgian breweries still regularly brew with bread and the excellent Toast Ale set up in London, run by a charity championing the issue of large-scale food waste.
At Crumbs, we wanted to do our bit for the growing problem of food waste but also make the bread the hero of our product. Luckily our baker, Chalk Hills, was as passionate about the idea as we were so before we knew it we were up and running.
What start-up challenges have you faced and how have you overcome them?
The obvious one was how on earth do you brew with bread!? Although I've worked in the booze industry at various points in my career, I was no more than an enthusiastic home-brewer.
We needed real expertise from day one and we were lucky enough to secure the support of a highly experienced brewer and one of the founders of SIBA (Society of Independent Brewers) to help with our initial recipe and process development.
A significant amount of testing allowed us to be confident that we (a) got the most out of the bread, (b) could scale our process up beyond very small-scale brews and (c) had a product that tasted great!
Investing that extra time and money upfront to get the product as good as it could be from the start was key. Beyond that, like many businesses, cash is the biggest headache.
Having never run a manufacturing-driven business before, you don't realise the real meaning of 'cash is king' before you get yourself tied up with too much working capital and not enough steady income.
Crowdfunding went some way to help with this challenge but I'd be lying if it wasn't still a constant challenge as we try to continue to grow.
How did COVID-19 change your business outlook?
The pandemic was a double-edged sword. We benefited massively from the fact that everyone was at home and may have been drinking slightly too much.
This opened up a real opportunity for our direct sales. Since then certain behavioural changes have stuck, meaning our direct sales and to be honest, higher margin sales have remained positive.
On the negative side, it's changed and most likely decimated the trade side of the business. Whether that's pubs or restaurants, that entire environment is still suffering massively from changes in consumer behaviour and also the ongoing pressures of inflation and rising costs.
It's made it a very challenging environment to operate in. The pandemic forced us to look at our business and consider if we were going to scale, how could we achieve that?
For example, we partner with a local baker but he only has a finite amount of "waste". We know our place and the link to a local business is important. So how do we not lose sight of that while growing?
One thing we're doing is building a network of bakers across the country. In that way, we're growing nationally by staying local and not losing sight of our local origins.
What have been some of your biggest business achievements so far?
We launched our Naan Laager this year. It was our first partnership beyond an artisan baker. We worked with a local Indian chef Hari Ghotra, but it was her husband who inspired the naan lager.
We ended up partnering with a manufacturer of naan bread rather than rescuing it at the end of the cycle. It goes back to the beginning of the cycle. So we take misshapen, overcooked or burnt bread from the production process that would otherwise be taken off the line and thrown away and use that to brew.
It has won a few awards but has also opened us up to quite a different marketplace, such as working with South Asian restaurants, chefs and influencers.
The other has been getting our B Corp certification, which forced us to think more broadly. Beyond the fact that we use food waste to brew, it also made us think about the business as a whole and what good stuff we can be doing more widely.
Achieving it has been great but at the same time, it's not the end, it's the beginning. I see the value of the B Corp certification holding us to account, forcing us to think about what we do and how we do it. It's not so much an achievement but a baby first step.
What are your three tips for business success based on your experiences?
Networking: As a local business, we've been amazed by the quantity and diversity of opportunities that have arisen by getting out there and meeting other local businesses at a variety of networking events.
Energy: If you don't love talking about your business and get genuinely excited about what you do, then ask yourself why you're doing it. Your passion is the best-selling tool you have.
Cash: Believe me, you can achieve a lot on little (we've begged, borrowed and stolen so much time and expertise from so many people – thank you!) but that can only take you so far.
Explore the myriad of funding opportunities out there from grants to crowdfunding to more traditional routes and do it early before the lack of cash comes back to bite you.
How has Enterprise Nation helped your business?
It's almost too easy to start a business these days. As a result, it feels like everybody is at it and, more confusingly, there are hundreds of agencies, authorities, funding platforms and, let's face it, charlatans all claiming to be the best choice to help you grow.
Enterprise Nation is made up of a smart, objective, passionate group of professionals who can help you navigate this maze and, even better, inspire you with what you can achieve.
Since we've been a member they have opened our eyes to opportunities and support we may never otherwise have found.
---
Join Enterprise Nation today and become part of an amazing community of small business owners.
Hi, I am Amanda, Enterprise Nation's content manager.