MEMBER STORIES
The Enterprise Nation member making happy herbal tea for kids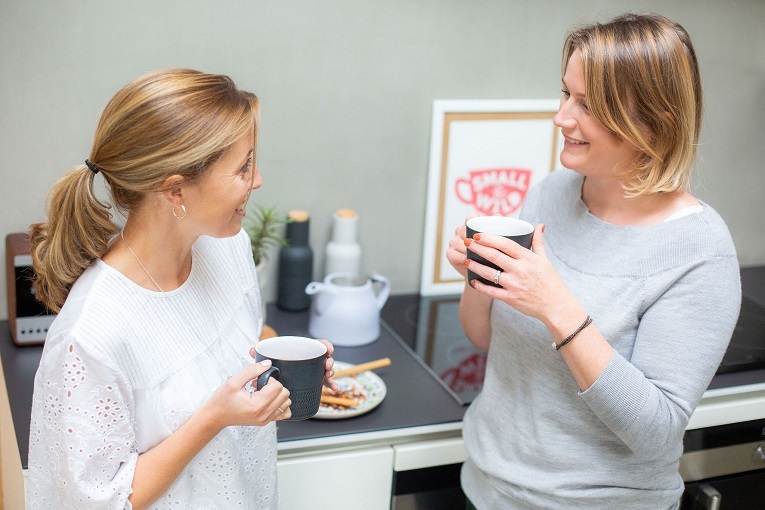 ---
Posted: Fri 22nd Feb 2019
We love seeing innovation in the community and the Enterprise Nation member of the week for this week is certainly demonstrating that. Kate Towers is the co-founder of Small and Wild, herbal tea for children. She shares her inspirational story.
How did you come up with your business idea?
My co-founder Becky and I bonded over our love for a great cuppa when we were pregnant with our second babies. We were also growing increasingly frustrated about the current children's drinks options on the market, and felt like it was often a choice between lots of sugar or artificial sweeteners and additives.
One day the penny dropped and we realised that herbal and fruit teas made for children could provide a healthy, natural and delicious answer to this. So we decided to share our passion for tea with our small people, and set out creating blends that were especially for little taste buds.
We found master tea blenders to partner with, a fantastic design agency for our branding and soon the idea became a business.
What start-up challenges have you faced?
The challenges we've faced have been varied and we're still working to overcome some of them!
The biggest challenge initially was finding a manufacturer as very few would work to the small quantities we wanted to produce in the early stages, however as with many things this challenge because a blessing as we've found a great company to partner with.
There were also challenges like deciding on a name (and then making sure that we would be able to trademark it) and the massive up-skilling required to take our idea to market as this was our first own business venture.
What has been your biggest achievement with your business so far?
The first time we saw our tea on the shelf of a store was fantastic and something we've both always dreamed of.
We're so passionate about our happy herbal blends that seeing them become a reality for little people and their parents to get their hands on was a really brilliant moment.
What is your next big business goal?
We are hoping to secure a listing soon with a retailer that we've had as a target from day one, so our goal will be to ensure this is a successful launch and then build on it with some additional high-profile listings.
![Small and Wild tea](https://enterprisenation.blob.core.windows.net/enterprisenation/5a5406aef235e911a975002248072825/small and wild tea.jpg)
What do you think will be your biggest challenge?
With the larger retailers it seems to be a case of persistence and patience! We're also creating a new market with tea for kids, so convincing traditional tea buyers to give up shelf space for this is always going to be a challenge.
How has Enterprise Nation helped your business?
We attended the Food Exchange event last Autumn which was fantastic. We met some great fellow foodie entrepreneurs there as well as hearing from some excellent speakers that we have stayed in touch with.
Which other entrepreneur inspires you and why?
Amy from Northern Dough Co, who spoke at the Enterprise Nation event, is really inspiring. I love their product so hearing their story was fantastic, and in particular why they chose to maintain complete company ownership. They've also built up the company whilst having young children as we do.
What are your three tips for business success?
Follow your instincts, there's a lot of great advice out there but ultimately you need to follow your gut.
If you can, find a business partner. Having someone to share the journey with is a huge blessing for us.
Always remember why you started the business in the first place. There's a million and one things you can do with and for your business, but it's not going to necessarily be possible to do everything. Try to reflect back on why you started the business, what your initial aims were and therefore what is most important.
We're proud to have entrepreneurs like Kate as members of Enterprise Nation. Join Enterprise Nation today and become part of an amazing community of small businesses.