MEMBER STORIES
The Enterprise Nation member behind the luxury hotel for dogs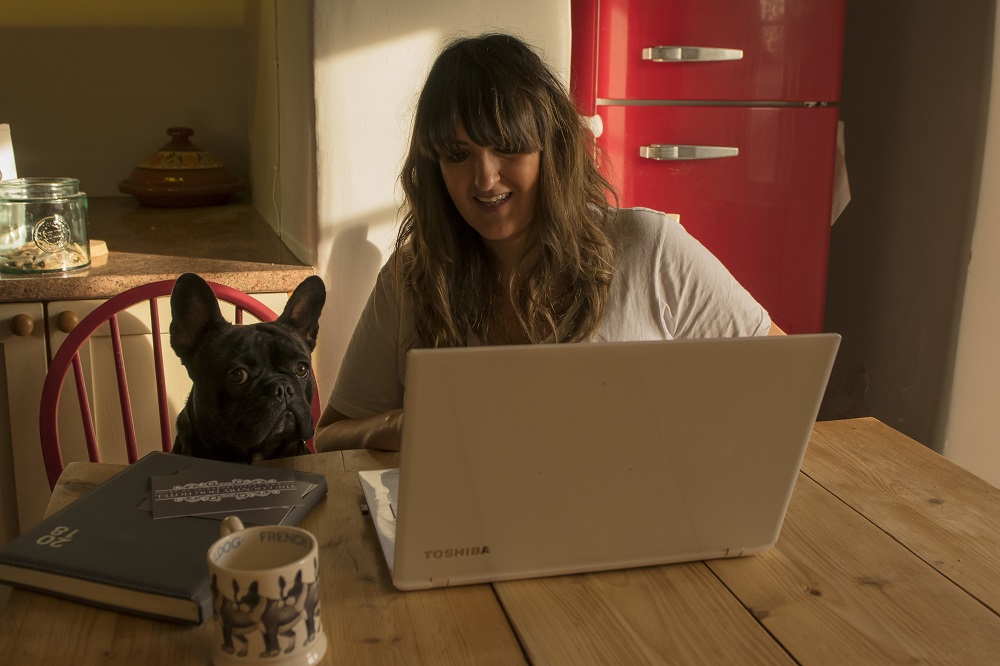 ---
Posted: Fri 13th Jul 2018
This week's Enterprise Nation member profile tells the story of Rebecca Linnell, co-founder of The Country Dog Hotel.
Describe your business in one sentence.
A rural family run five star luxury dog hotel offering a bespoke home from home service for your dog.
What's the story behind your business?
As a single mum at home and looking after the children I wanted to provide an income for my family and be able to continue being 'mum'. I wanted to combine my experience of working for various businesses in a sales capacity and at a kennels with my passion for dogs.
I didn't have much confidence in myself but my new partner Mike kept telling me I could do it! I started to believe it could really happen!
After finding the right home to facilitate the business idea we moved house; myself, Mike, my two young boys, Mike's little girl, my two foster children, my two rescue ponies, my two rescue dogs and our turkey Bernard Matthews. We were off and very exited!
I wanted to offer dog owners something different from the norm and somewhere I would want to leave my dogs if I ever wanted to go away.
I wanted to combine my passion for the countryside, interior design and dogs. Something five star, something luxury, something trustworthy, something different, something that I could be proud of and most importantly something that our dog guests and their owners would love.
With the help of friends and family and pulling in a lot of owed favours we were able to get the house and field ready for our first guests, once we got our licence and insurances in place.
We were blown away by how many enquiries we started to get!
We worked day and night from mopping the floors, walking the dogs, replying to emails and updating our social media.
We have had some great successes but this hasn't come without its challenges including having some unruly guests (urinating in the house, digging up the garden, barking), working 16 hour days, juggling the business with seven children to being on a limited start-up budget and not being able to do everything at once.
However, our successes have by far outweighed our challenges! We have taken over 200 guests, a lot of them with repeat business, and had over 1000 enquiries.
We have great word of mouth in our local community and great interaction on social media with over 50 reviews all with five star ratings.
Being selected to pitch in the final for Enterprise Nation Female Start-Up of the year 2017 was a definite highlight and having our business featured in a eight page spread in the national magazine Country Living this year was amazing.
What are you plans for the future?
Every day I have so many ideas about what we want to do next.
Our immediate goals are to try and secure funding for our dog spa to run alongside the hotel. Dogs need pampering too, right?
We are also really keen to offer a VIP service for the London market. We would love to showcase our 'country dog retreat' to London's finest pooches for that relaxing five star countryside break they may so desperately need.
With having a huge passion for rescue dogs I would love to look into linking our business with a dog rescue charity.I have already approached Battersea.
We really want to keep the family feel to our business but equally want to be recognised for our professionalism and commitment to our values and progressing our business forward as a key player in our market.
How has Enterprise Nation helped your business?
Enterprise Nation you have changed our business!
It has given us the education, the confidence and the enthusiasm to know 'we can do it'. I am so glad I clicked on that membership button.
To the Enterprise Nation team, you are an inspiration. With your help and input you provide us with all the tools we need to continue our success. Thank you.
What are your top tips for business success based on your experiences so far?
Believe in yourself. If I can do it anyone can!
Be prepared to put in long hours and hard-work.
Be prepared to do all aspects of the job, especially at first!
Make sure you are 100% happy with anything that promotes your business before you say yes.
Collaborate with like minded businesses.
If like me you have children, get organised. Write everything down and be prepared to make sacrifices for your business and family. My biggest sacrifice has been my social life.
Although you may not always totally switch off, take time out for your loved ones.
Be honest and be yourself.
_**Join Enterprise Nation today and become part of an amazing community of small business owners.**_
A unique dog hotel based on the Quantock Hills in Somerset providing 5 star care to dogs of all breeds.