MEMBER STORIES
The chocolate brand for people who want to perform their best, feel their best and taste the best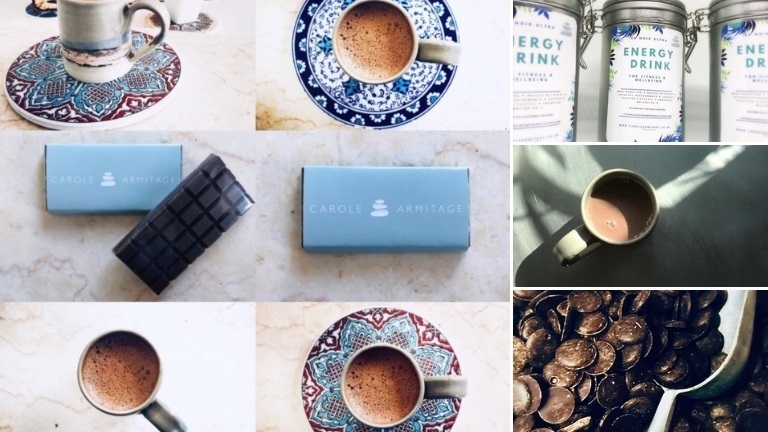 ---
Posted: Fri 10th May 2019
Enterprise Nation member Carole Armitage shares the story behind her brand 80 Noir Ultra, bespoke chocolate made to promote performance, recovery and wellbeing in anyone interested in a natural approach to fitness.
How did you come up with your idea?
I was eight when I found out I had low blood sugar levels and have always used hot chocolate as my 'medicinal source'. I searched the earth to find a good chocolate that isn't too sugary and full of nonsense but couldn't find any so decided to create my own bespoke recipe that I make into hot chocolate for wellbeing, calming stress levels as well as promoting performance when doing exercise.
As I am a trainee ultra runner, I have also created a range of training bars which help pre and post performance and a daily booster bar based on adding natural organic ingredients. It works with our bodies and proves that good quality chocolate in the right quantities can be eaten daily and is an asset to our lives both physically and mentally.
What start-up challenges have you faced?
Having to do this alone and finding the inner strength to not give up when things don't go as planned.
Money restrictions is a huge component of my challenge and understanding what is and isn't feasible whilst trying to balance my expectations and pushing myself past the comfort zone to make changes and positive impacts.
Realising I don't know everything and having to learn constantly and ask for help more than I anticipated is also a challenge.
What has been your biggest achievement so far?
Getting into Women's Running and Tatler magazines, being featured in the Good Food Guide this June and having Paula Radcliffe and Jessica Eddie saying they love my chocolate. I love seeing the positive response from many people and validating my product.
What is your next big business goal?
Getting my product known as a household name for sports events and fuelling. Being featured in many magazines and newspapers highlighting the positive association of chocolate with regards to fitness and wellbeing.
What do you think will be your biggest challenge?
Working out where my strengths are and getting help in areas where I am lacking and know that work is needed, but at the same time finding the right people that can assist without spending a fortune
How has Enterprise Nation helped your business?
I went to the Food Exchange recently and got a lot of information that has answer a few questions and allowed me to move forward.
Which other entrepreneur inspires you?
Charlie Thuillier from Oppo ice cream. Listening to him at the Food Exchange was very interesting. He has a product which goes against the industry norm.
David Hellard from the Bad Boy Running podcast and owner of Caffeine Bullets. He is an established ultra runner and entrepreneur with great enthusiasm that is very inspiring and contagious.
What are your three tips for business success?
Ask for help

Accept that failing is good and makes you learn so much faster than everything going well

Give yourself time off and look after yourself. Your mental health is so important!
We're proud to have entrepreneurs like Carole as members of Enterprise Nation. Join Enterprise Nation today and become part of an amazing community of small businesses.
Suffering from Low blood sugar levels all my life, i turned to Hot chocolate as my go to 'medicine'. I have searched the planet for the perfect drink, one that doesnt contain so much sugar and processed nasties to make the drink, i wanted it to be as pure to the cacao plant as i could so i realised i would have to create my own blend and that is where 80Noir Ultra was born, its a 79.3% dark chocolate, less sugar and more protein than most chocolate and purely coming from the cacao mass. Most importantly it makes the most melt in your mouth, send you to another dream world hot chocolate and chocolate recovery drink out there. When I add natural organic toppings such as brazil nuts, pecans, apples and spices, it also makes a new range of snack/training bars which help promote wellbeing, boost mood, restore muscles from activity and hit the mark so you dont need anymore. Its the perfect size bar and drink to work with your body and mind and where you only receive great benefits derived from premium cacao. Try it to be believe it.