MEMBER STORIES
The business helping other businesses do good for people and the planet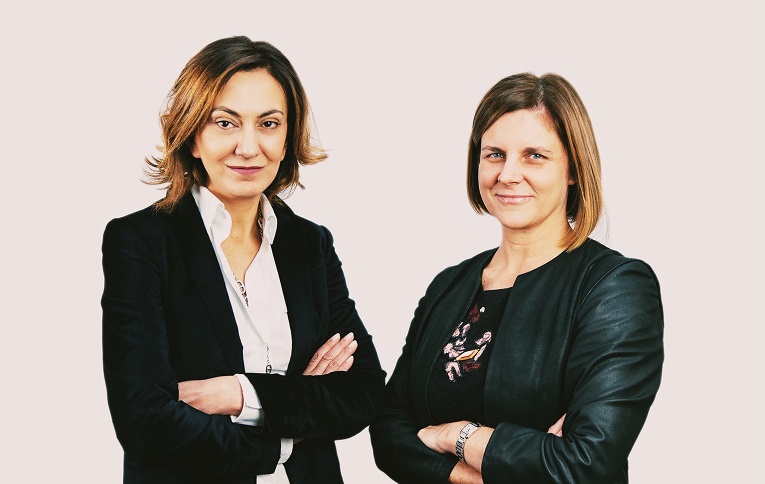 ---
Posted: Fri 5th Jul 2019
Roberta Zaccaria and Sara Mirone are the co-founders of CSR business WeGiveIt. The Enterprise Nation members share their story.
Describe your business in one sentence.
WeGiveIt believes in the right socially responsible match between business and charity and provides a variety of services including digital CSR strategy, social listening, workshops and a unique 'Watch to Donate' tool.
How did you come up with your business idea?
Sara and I founded WeGiveIt with one idea in mind; use digital advertisements for good. The WeGiveIt portal was born to offer an unique 'Watch To Donate' online fundraising tool where users select their cause, watch an ads video and simply donate by watching.
However, the WeGiveIt growing community started to demand support with a variety of key aspects related to digital transformation strategy and partnership strategic plans.
We listened and in response to the demand we created what is now one of our best sellers, the four steps approach to an effective digital CSR strategy (contact roberta@wegiveit.co.uk for more information). It's a process suitable for businesses and charities that can be customised to each client's needs. Also our bespoke workshops are very popular.
What start-up challenges have you faced?
One of the biggest challenges we faced at the very beginning of our adventure was to get businesses and charities to embrace the unique 'Watch to Donate' concept. We tested different ways and messages to communicate to our audience on how to join the platform by analysing the results and adjusting each time. Eventually we found the break through message which was implemented with personalised conversations.
I would say that the next biggest challenge was making sure to invest the shareholder money in the best direction each time the business was taking a step forward.
What has been your biggest achievement with your business?
We consider that starting a business from a simple concept and making it work is an achievement itself.
But on a more tangible level we are very proud of bringing together businesses and charities at our workshops and getting them to openly discuss the implications and challenges of embracing CSR partnerships. This is an achievement that goes behind our expectations.
What is your next big business goal?
Fully implementing artificial intelligence in our four steps digital CSR strategy and creating good purpose/cause partnerships matches generating an engaged and aware audience.
Having profitable companies to look more at the human side of the business and associate their social investment to a cause that can clearly state the benefits from this partnership is key step for our business growth.
What do you think will be your biggest challenge?
Creating more genuine awareness and interest among profitable businesses to invest responsibly in their company growth by looking more at the impact they have on society and be satisfied with their profits.
Companies have to make profits, of course, but it is our mission to guide them in doing it ethically. A loyal customer and audience is a great assest.
How has Enterprise Nation helped your business?
Enterprise Nation is a great asset at your fingertips. It's a platform full of useful and reliable resources that can be used at any time and at an accessible cost for small businesses.
Which other entrepreneur inspires?
We discover a new inspiring entrepreneur pretty much every day so I would say that any business owner who challenges themselves in setting up a sustainable businesses inspires us. One of our favourites at the moment is Nika Diamond Krendel at Paradise Row.
One of the most inspiring talks we have heard is 'The way we think about charity is dead wrong' by Dan Pallotta. If you have 20 minutes spare, it's worth watching.
What are your three tips for business success?
Believe in what you do. If you believe on your business you can also convince others to do so.
Stay positive. There will be difficult moments but positivity and determination can overcome challenges.
If you decide to share the adventure with a co-founder, make sure you complement each other's professional skills and personality.
We're proud to have entrepreneurs like Roberta and Sara as members. Join Enterprise Nation and become part of an amazing community of small businesses.
Co-founder of  We Give Digital Services in 2015 a boutique digital consultancy group working with Brands to optimize their digital presence. My work experience started very early in the fashion sector helping in the family business (fashion retail) and continued working for over 15 years in the Luxury Accessories industry across different departments: Product Development & Production, Merchandising and Marketing. In 2009 I set up my own Brand consultancy company supporting Creative Directors in transforming a concept into a commercial collection and setting up its production. My passion for fast digital transformation and experience in Brand development lead me to co-found We Give Digital Services. We now look after small/medium business' Digital Brand Strategy Digital Presence and much more.