BLOG
The brands popping up in week four of the Hello, World shop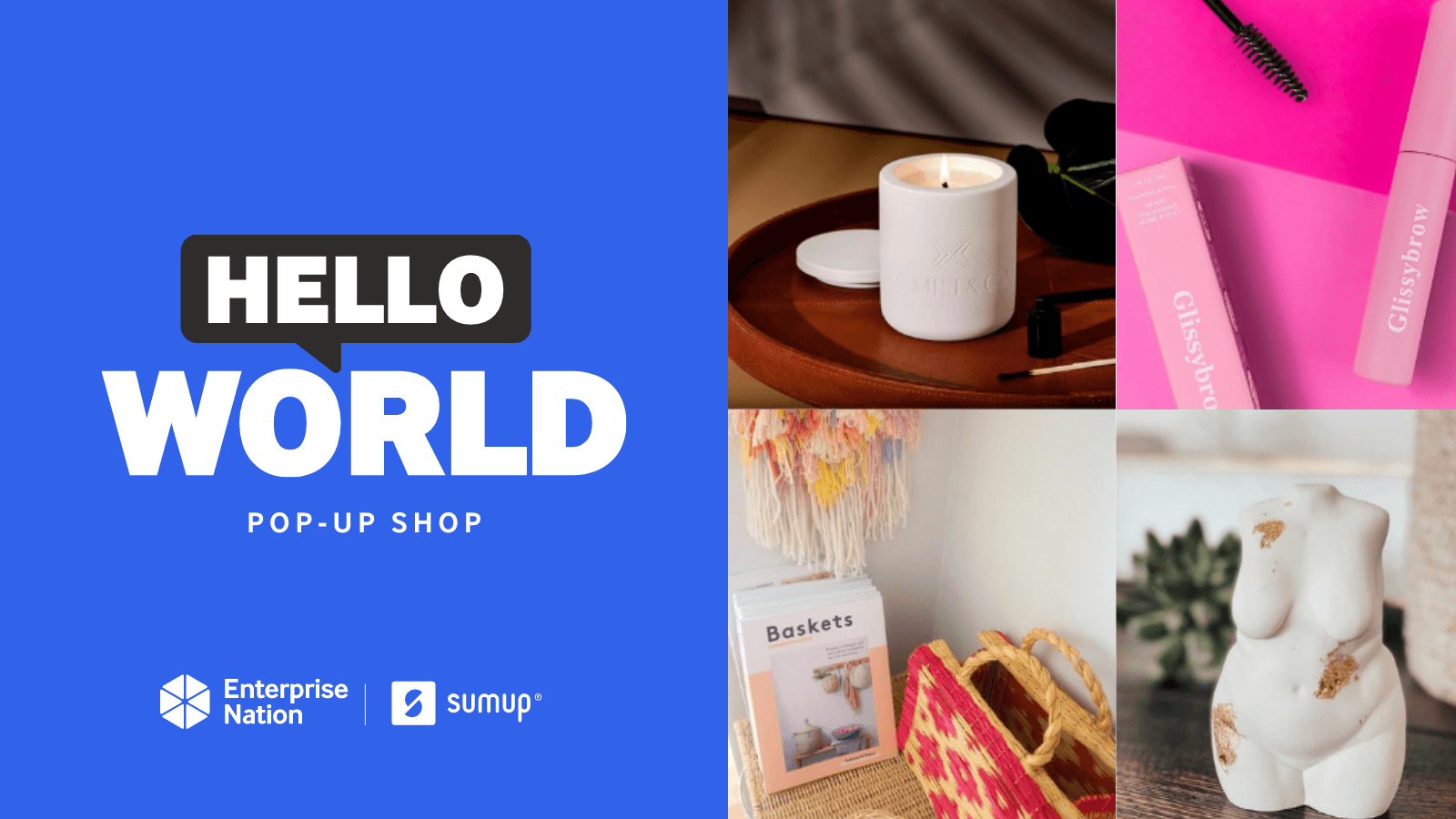 ---
Posted: Tue 18th May 2021
As part of our Hello, World campaign, in partnership with SumUp, we are delighted to announce the opening of a pop-up shop at 58 Oxford Street, London to enable small businesses to say 'Hello' to the world by meeting customers in person and testing physical retail. The shop is open Monday - Thursday from 10am to 8pm.
Meet the brands popping up in week four:
Monday 24 May
Darwin & Gray
A small Derbyshire based design brand that specialises in handmade typographical and illustrative home and giftwares that aim to inspire, motivate or simply raise a smile or two along the way.
Heavenly Homes and Gardens
Heavenly Homes and Gardens was founded by Jade as a side hustle whilst she was a corporate laywer, but it's now her full-time job. Heavenly Homes and Gardens sell a wide range of stylish homewares from cushions to candles and baskets, and their speciality is a wide range of plant pots, rusty stars and hearts and faux flowers and plants.
The Bead Shop
The team behind the friendly bead and craft shop in the centre of Nottingham are coming down to London. The team love teaching workshops, fixing jewellery and sharing their knowledge of beading and jewellery with you.
Tuesday 25 May
Möki Studios
Self love body statues. With Moki's art, you can view realistic body images a little differently from the usual beauty standards the media portrays.
Lola & SiDney
Vintage French and Belgium Homeware. The team behind Lola & SiDney source vintage, quirky and kitsch finds for you to enjoy. Named after two very special house rabbits.
Bundle Bean
BundleBean began in 2011 after founder Emily's own frustration with the mountains of baby 'kit' that seemed necessary when she had two toddlers. Emily realised she had to design something better. Inspired by compact and high-functioning camping products, she designed the BundleBean GO: waterproof, durable, simple to use and totally universal. The range now includes waterproof covers and footmuffs for babys, toddlers and wheelchair users.
Wednesday 26 May
Glissybrow
Glissybrow is aimed for all you babes that desire to have fuller eyebrows and lashes, without using harsh unnatural chemicals. All the products have an entirely chemical-free formula that is all-natural, vegan and cruelty-free!
La Basketry
In Senegal, basket weaving is a tradition passed down for generations to women in rural villages to make extra income. Travelling there as a child, and many times since, Tabara always found these artisans and their craft so joyful. The dedication and community she felt watching them weaving with their children next to them, under a baobab tree, inspired her to launch La Basketry, bringing colour to modern homes whilst supporting the female artisans in Senegal.
Yemisi & Co.
Yemisi & Co. represents the multifaceted woman who understands and embraces who she is today, recognises and accepts where she came from while working towards becoming the woman she admires.
Thursday 27 May
Zac & Bella
Unique, fun and practical clothing for babies and children. Designed and made in Wales by London College of Fashion graduate and Mum of 2 Hayley McGhan.
Young Mary's
The mission at Young Mary's is to help you escape the chaos of modern life
by filling your home with one-of-a-kind scent combinations that transport you across the world.A unique range of handmade home fragrances, inspired by the sights and sounds of Africa.
Wendy Penrose Jewellery
Nature creates shapes, textures, quirks, and irregularities that make each thing unique. This is what inspires Wendy's work. Each handmade piece is an original, designed to be that little bit different, just like you.
Marketing and campaigns manager at Enterprise Nation. Love finding independent places to eat and drink!