MEMBER STORIES
The blogger inspiring people to make their house a home, their kids 'crafty' and their parties sparkle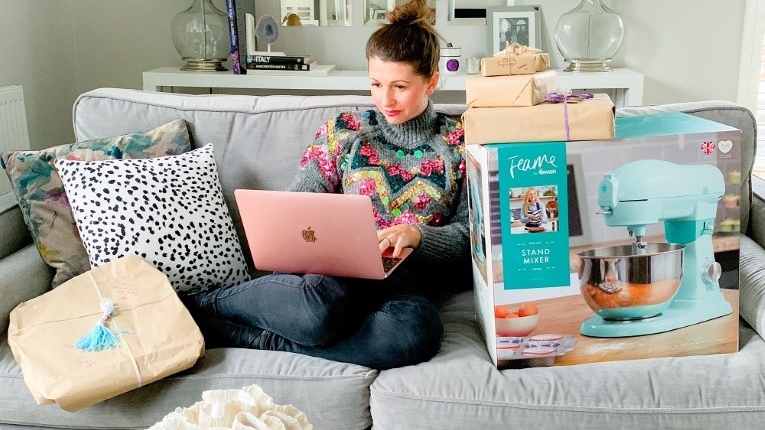 ---
Posted: Fri 1st Mar 2019
Kelly Harmer is a stylist, blogger and content creator in the decor, party and lifestyle niche. She's the Enterprise Nation member of the week and tells her story.
How did you come up with your business idea?
I've adored styling, party planning, DIY and decor since I was a little girl. Being head of events for a large venue, head of marketing for an academies trust and having a degree in English Literature has provided me with wonderful experience which I've applied to Oh So Kel.
But the main reason for setting up the Oh So Kel website was to have a creative outlet and share my passions with the goal of inspiring others above income generation.
It kept me sane during a career I didn't love and gave me the possibility of creating a future where I have more flexibility as a parent and doing something I love.
After a year, I am now starting to firmly consider this as a real business where I can follow my dreams and turn it into an income generating career. After working with some well known brands and being asked to come up with the concept and style a wedding photoshoot, I'm getting there.
What start-up challenges have you faced?
Believing in myself, learning how the blogger industry works and progressing the business with little budget.
Remembering all the positive feedback and 'yes' moments. Joining networks , listening to podcasts, seeing what similar businesses are doing and soaking up as much information as I can.
What has been your biggest business achievements?
Working with well known brands, being featured in Kara's Party Ideas and being nominated for Best Newcomer at the Amara IBAs.
What is your next big business goal?
Establish a regular income and a clear defined route to enable me to do that. Being well known to PR agencies and editors. I'm considering publishing a book on party planning and styling.
What do you think will be your biggest challenge?
Standing out and establishing relationships with the right contacts
How has Enterprise Nation helped your business?
Helpful workshops and the opportunity for others to find out about my business.
Which other entrepreneur inspires you and why?
Ashley Rose of Sugar and Cloth in the US inspires me because she has turned her love of DIY, styling and decor into a successful business, working with well known brands, inspiring others to get creative, and launching her own party range.
I admire that she shares her struggles as well as her success and is a mother too.
What are your three tips for business success?
If you don't ask you don't get. Aim high as what do you have to lose?
Believe in yourself and continually remind yourself of what you are good at.
Network and soak in as much information on your industry as possible.
We're proud to have entrepreneurs like Kelly as members of Enterprise Nation. Join Enterprise Nation today and become part of an amazing community of small businesses.
Oh So Kel covers Interior Styling, DIY and Entertaining. Kel has a background in Events Management and Marketing & Communications which, teamed with her unequivocal passion for being creative at home, has led to her dream of launching a website to share those passions with the goal of inspiring others. Since launching, Oh So Kel has been nominated for Best Newcomer at the Amara Interior Blog Awards and has worked with some wonderful brands including Craig and Rose Paints, Baylis and Harding, Talking Tables and Swan. Kel is a monthly contributor to Living Magazines and a regular contributor for Talking Tables. Her ambition is to continue growing as a content creator and stylist, gain more exposure in the media and potentially publish a book on DIY entertaining.