MEMBER STORIES
The bakers of French fine madeleines with a touch of ooh la la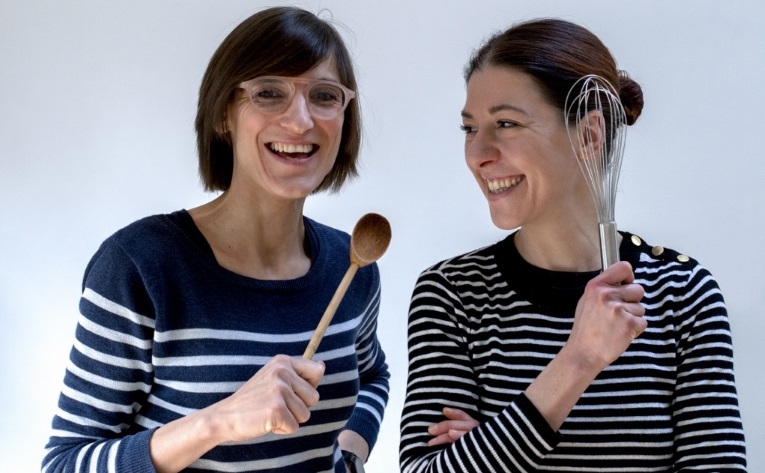 ---
Posted: Fri 24th May 2019
Enterprise Nation members Hélène Bataille and Caroline Coutand-Gavriloiu run BISOU les Madeleines, London's first bakery for the classic French cakes. Caroline shares the entrepreneurs' business story.
How did you come up with your business idea?
BISOU les Madeleines was created by Hélène Bataille, my business partner. It's a family story, and the original recipe of the small shell-shaped madeleines is a well-kept secret!
Back in the 1980s during the summer holidays, Hélène and her cousins used to visit their grandparents in the Lorraine region. They were spending days playing and laughing, and looking after their grandmother's hens: Jeanette and Pierrette. Every afternoon they would run to the hen house to collect the eggs, and proudly carry them back to their grandparents.
Fresh eggs is one of the secret ingredients. As for the entire recipe, it was in Hélène's grandfather's head! A list of ingredients on a piece of paper, no measurements, no instructions, not even a recommended oven temperature!
The recipe was passed on from his mother to him, and in turn, he passed it on to his grand-daughter. This is how Hélène started baking madeleines, paying attention to every single detail in the baking process.
20 years later, Hélène landed in London with one carry-bag, containing her precious madeleines moulds! She kept on baking madeleines and developed new recipes for her lucky friends. Et voilà, BISOU les Madeleines was born!
Hélène started first selling her madeleines on markets in East London in September 2016. This time spent on markets, allowed her to get direct and precious feedbacks from lots of people!
In my family as well, food has always been a great feature, be it for celebrations or everyday meals, focusing on quality, freshness and authenticity. When I met Hélène in 2018 and tasted her madeleines, I loved them so much that I decided to invest my time in BISOU les Madeleines by bringing my experience from a previous food business, with the strong belief that I have joined something special.
We decided to keep the best of both brands and do a relaunch of BISOU les Madeleines with the launch of our new e-shop and the ability to ship UK-wide. BISOU les Madeleines is the first and only fine bakery that can deliver all over the UK!
What start-up challenges have you faced?
Being a start-up means almost always being a small company with limited, not to say scarce, resources whose allocation is paramount. While we would love to be able to undertake all projects or accept all requests, we do not always have the capacity.
We have learnt to be selective and to stick with priorities. Having said that, flexibility will probably be the difference between success and failure. As such, we always work hard and usually succeed in providing answers even to the most challenging demands, be it time, location (our madeleines have learnt to fly overnight for instance!) or customisation.
What has been your biggest achievement so far?
We successfully merged BISOU les Madeleines with my previous food business to keep the best of both and create a stronger business and brand.
What is your next big business goal?
By the end of this year we aim to develop our BtoB channel to stabilise our income with recurring orders/hero retailers.
On the BtoC side, we are constantly working on the enhancement and audience of the brand, to make BISOU les Madeleines the first gift coming to one's mind.
What do you think will be your biggest challenge?
Finding the right contacts to access relevant retailers and catch their attention, in what is a competitive market.
How has Enterprise Nation helped your business?
Meet-ups, one-day events, web seminars, evening events, etc; the variety of events organised by Enterprise Nation is huge, as well as the topics covered. The quality of the speakers or consultants is also top-notch!
As entrepreneurs, we appreciate being offered such access to lots of great insights, advice and tips from very inspirational and motivating people, without having to spend a fortune, which is even better!
Which other entrepreneur inspires you and why?
We love Crosstown Doughnuts and are really impressed by their marketing and communication and the ability they have to roll-out their brand awareness and products throughout London.
In France, we are also impressed by La Fabrique à Cookies. We were lucky enough to meet its founder in London a few months ago and he was very open to share his experiences (both successes and failures).
What are your three tips for business success?
Be positive
Don't get hurt by what others might say. Have convictions and separate the wheat from chaff!
Be focussed. Do one thing at a time, and do it well.
Anything else you would like to share?
Together we are stronger!
With hindsight, we believe that merging our businesses was a great choice. It was not an easy decision for me as I knew that I was letting my brand and products go and retaining only the operational structure and supply chain.
Through the merger, we have achieved a few key goals: significantly higher sales and a vastly improved flexibility to deal with off-the-beat requests. We also left behind us the sometimes lonely road of the sole entrepreneur when doubts, stress or plain fear of doing wrong can creep up from time to time. We both say that this merger has delivered a win-win outcome!
We're proud to have entrepreneurs like Hélène and Caroline as members. Join Enterprise Nation and become part of an amazing community of small businesses.