MEMBER STORIES
Sustainable Small Business Awards: Y.O.U Underwear wins the Sustainable Scale-Up Award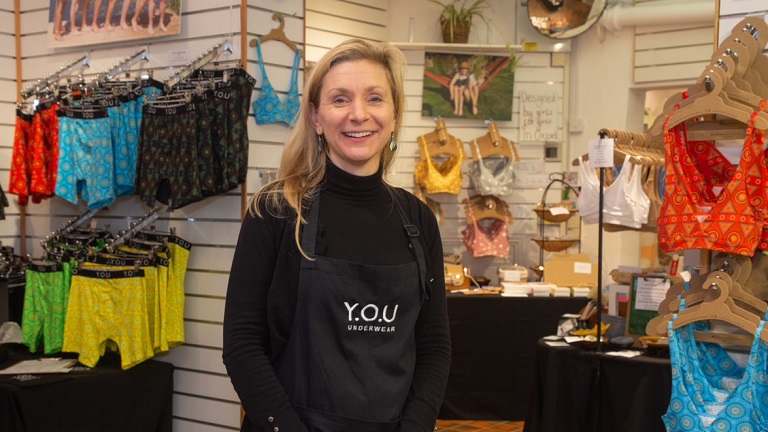 ---
Posted: Mon 14th Nov 2022
At Enterprise Nation, we love to recognise small businesses across the UK that are making a conscious effort to be sustainable. We launched this year's Sustainable Small Business Awards to champion the achievements of our nation's small businesses.
The awards form part of our Plan it with Purpose initiative. This aims to shine a spotlight on businesses that focus on sustainability, and indeed the five winners have demonstrated an outstanding commitment to sustainability and making a meaningful contribution to communities and social change.
The Sustainable Scale-Up Award recognises a growing business that has been running for longer than 18 months and made significant environmental, social and economic changes in an effort to achieve a sustainable future. The winner for 2022 is Sarah Jordan, founder of Oxford-based Y.O.U Underwear.
The idea
When Sarah visited East Africa back in 2016, she was shocked at the number of individuals who didn't have access to a basic need: underwear.
It gave her the idea for Y.O.U Underwear, an ethical and sustainable underwear store that donates free undergarments to communities in need by using a buy-one-give-two scheme.
The scheme has already led to over 23,000 pairs of underwear being donated to women and girls across Africa and the UK.
Becoming the UK's highest scoring B-Corp
Back in November 2021, Y.O.U Underwear became a certified B-Corp. Achieving a staggering 160.5 points in the B Impact Assessment, the company has received the highest score in the UK to date.
Although it's an impressive feat, Sarah explains that her work is only just beginning. She's continuing to make new sustainability improvements each year, with many other exciting projects underway.
"We're the UK's Top B Corp as well as the top fashion B Corp globally, proving our commitment to people and the planet. Our underwear is also Fairtrade, made from 100% GOTS Certified Organic Cotton, and we work with one of India's leading ethical manufacturers.

"We're a registered social enterprise and have formal statements in our company articles to demonstrate and support our social, environmental and governance commitments. This makes us legally bound to being a business for good and donating a percentage of our profits each year."
It doesn't stop there: Y.O.U Underwear was also recognised for its Community and Environment work in the B Lab Best For The World 2022 lists, meaning it's among the global top 5% in its corresponding size group.
Pop-up shops
At the end of last year, Y.O.U Underwear opened its first pop-up shop in Oxford. This allowed the team to not only increase the business's product range, but also its product offering to sustainable swaps from other small businesses. They have since made it a permanent location for Y.O.U.
"Although we initially had to move entirely online, we now have a physical shop in Oxford's Historic Covered Market. It has been a big success financially and has also allowed us to share our sustainable mission with the people of Oxford.

"Our shop gave us the opportunity to diversify our range, through our sustainable marketplace that retails sustainable products from other small businesses."
Planning for the future
Growing over 400% during the pandemic, Y.O.U has donated around 6,000 pairs of underwear and over 200 bras. The business has also planted over 100 trees in 2022 alone.
Over the next 12 months, Sarah has ambitions for Y.O.U to become the one-stop-shop for all sustainable underwear. To achieve this, she has plans to expand their product line, such as introducing other essentials like pyjamas, and increasing their sizing range.
Plan it with Purpose
A programme designed to help owners of small and medium-sized businesses develop a better understanding of environmental and social issues in the UK. Visit the Plan it with Purpose hub
Enterprise Nation has helped thousands of people start and grow their businesses. Led by founder, Emma Jones CBE, Enterprise Nation connects you to the resources and expertise to help you succeed.