MEMBER STORIES
Sustainable Small Business Awards: Red Planet Farms wins the Sustainable Start-Up Award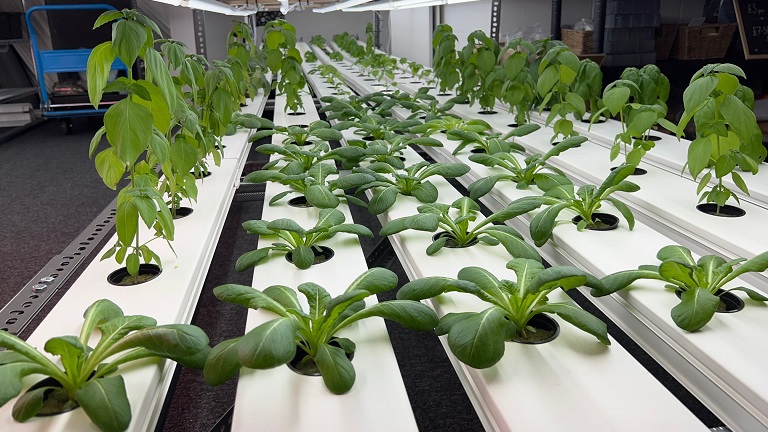 ---
Posted: Fri 9th Dec 2022
At Enterprise Nation, we love to recognise small businesses across the UK that are making a conscious effort to be sustainable. With our partners Aviva and TSB, we launched this year's Sustainable Small Business Awards to champion the achievements of our nation's small businesses.
The awards form part of our Plan it with Purpose initiative. This aims to shine a spotlight on businesses that focus on sustainability, and indeed the five winners have demonstrated an outstanding commitment to sustainability and making a meaningful contribution to communities and social change.
The Sustainable Start-Up Award recognises a business that formed after December 2020 and has since made considerable progress in growing and developing with sustainability at its core. The winner for 2022 is Red Planet Farms, founded by Chris Fisher.
Solving a global problem
With an ever-growing population but the same amount of space, the planet is facing a major problem: there simply isn't enough room to feed everyone.
Red Planet Farms has created a solution. By using vertical farming, you can make a much higher crop yield compared to conventional farming methods. Rather than taking up more land to grow our food – negatively affecting the environment and contributing to climate change – why not grow it vertically?
Environmental impact
Originally from Canada, Chris Fisher has always had a passion for space and off-world colonisation. His initial prototype for vertical farming was designed for growing food in space.
While developing this idea, Chris realised the various issues in agriculture and supply chains much closer to home. As a result, he decided to pivot his company mission to tackle food security in the UK and create the first vertical farm in Manchester.
Chris says:
"The pilot site has been set up for a little over a year. We sell everything to high-end restaurants in the city. We're starting to look at supermarkets too, so it's a great moment to get the award.

"There are two part-time staff to help with day-to-day work and operations. We were supplying 10 restaurants at capacity, alongside some farmers markets. It's all part of the proof of concept."
For Chris, the company's unique selling point (USP) is in its environmental impact. Red Planet Farms strives to reduce land use for food by 99%. It's also the first company in the space to incorporate solar panels, wind turbines and batteries, putting sustainability at the heart of what they do.
Scaling up
Red Planet Farms is currently in conversations with top supermarkets, but communicating the potential of the business hasn't been easy, as Chris explains:
"We went down a rabbit hole of reaching out to buyers, thinking they would understand it and get on board. That didn't work. We were at the minimum viable product (MVP) stage and that made it hard for people to understand the potential.

"We found it better to speak to their sustainability and innovation arms and show them the vision. That's how we got the buyers. It's people who are passionate about their craft and want to make changes."
Currently undertaking a seed round of £5 million, Chris now wants to secure a 10,000-square-foot warehouse in Manchester, which would start supplying larger clients.
With no known premium brands in the vegetable aisle, Chris has ambitions of Red Planet Farms becoming the first high-end food brand. It will be different from its competitors by being sustainably and locally grown, while still using zero plastic.
Set out your ethos
Being an environmental start-up is in no way easy – for instance, your costs can be significantly higher, and you need to convince your customers that your issue is worth it.
Chris found it difficult to compete with those businesses that used cheaper, non-sustainable methods of growing and packaging food. However, he believes that it's entirely worth it, as long as you stick to your guns.
"Set out your ethos from day one. We believe in sustainability at our core, using that as your identity from the first step is really important. People don't want to buy from or invest in companies that change what they do all the time.

"Keep an open door and try to network, network, network. In the first year, there was a lot of reaching out by any means necessary. That's paid dividends. If we encounter problems, issues or concerns, we have someone to ask."
Winning the sustainability award
From day one, Chris has made sure he does things differently from the "big players", committing fully to sustainability and improving the world for the better. Chris notes that being acknowledged for this was truly gratifying.
"It was a big thing to be recognised by someone like Enterprise Nation for our commitment to what we do. Sustainability isn't always the easiest or most financially sound choice, but it's what's important at the end of the day."
Plan it with Purpose: Sustainability discovery tool
Answer a series of questions about your business and get a tailored action plan that tells you where to find the support, resources and advice you need to be more sustainable. Take me to the sustainability discovery tool
Enterprise Nation has helped thousands of people start and grow their businesses. Led by founder, Emma Jones CBE, Enterprise Nation connects you to the resources and expertise to help you succeed.