MEMBER STORIES
Sustainable Small Business Awards: Sue Tonks wins the Sustainability Changemaker Award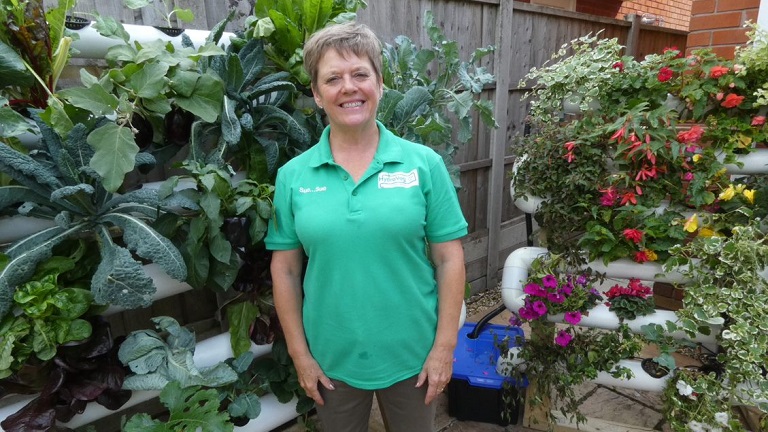 ---
Posted: Tue 8th Nov 2022
At Enterprise Nation, we love to recognise small businesses across the UK that are making a conscious effort to be sustainable. We launched this year's Sustainable Small Business Awards to champion the achievements of our nation's small businesses.
The awards form part of our Plan it with Purpose initiative. This aims to shine a spotlight on businesses that focus on sustainability, and indeed the five winners have demonstrated an outstanding commitment to sustainability and making a meaningful contribution to communities and social change.
The Sustainability Changemaker Award celebrates an individual who is blazing a trail, and standing out for their passion for change, in the world of sustainability. The winner for 2022 is Sue Tonks, founder of HydroVeg Kits.
The vegetable-growing kits Sue has invented can be used season after season. They use 70% less water than soil-based plants and grow 30% faster, allowing customers to grow and pick what they want to eat daily, reducing waste.
HydroVeg Kits: The new way to grow your veg at home
Whether it's to reduce costs, help the environment or simply enjoy the taste of home-grown food, many people want to grow their own vegetables.
However, there are plenty of hurdles along the way. It can be hard to keep plants alive, particularly during summer droughts. Gardening can be tough, physical work that not everyone is able to do. Finally, the biggest hurdle of all: a lot of people simply don't have a garden big enough to facilitate a veggie allotment.
In comes HydroVeg Kits, a system that uses hydroponics to help overcome these challenges. The Royal Horticultural Society defines hydroponics as "the science of growing plants without using soil, by feeding them on mineral nutrient salts dissolved in water".
How HydroVeg Kits came to fruition
The brainchild of founder Sue Tonks, HydroVeg Kits was born out of Sue's desire to grow her own vegetables. Faced with little time or garden space, Sue realised that she had to be a bit more creative if she wanted to grow her own organic food.
"I remember seeing hydroponics on Countryfile. I searched on Google and there was nothing out there to buy – just pictures of things that had been cobbled together. So I drew what I thought I might want, sent it to a friend and they came back with the frame."
Making the first sales
After several years spent refining the design, Sue ran her own test for a year to see what vegetables survived best in different seasons. She remembers family and friends seeing the system and wanting their own, which made her realise there was a market for the product.
The first step was creating a brand, with a new logo designed by her step-daughter. Then, Sue focused on attending events in order to grow awareness and get her first few sales.
"We did local shows and summer fairs. We spent a lot of money going to BBC Gardeners World and The Good Food Show.

"It's tough to connect to customers unless someone sees it and the amount of stuff you can grow in it. When you pull the pot out and you can see the roots, that's what stops them in their tracks."
The other main target market was schools. Sue has found that the HydroVeg Kits systems are great for educating kids and they're often very interested in how it works.
"We take the kits out. If a school is going to buy one, we build it with the children. We teach them about science while we build it. Some have see-through Perspex so we can see everything running through the system."
Winning a sustainability award
With a huge personal passion for sustainability, winning the Changemaker Award was a real source of pride for Sue. She says:
"The fact that it's for sustainability is amazing. It's important to us: we don't like waste, we don't like herbicides, we don't like pesticides.

"Plus, everything in the kit is reusable – all you need to buy is some nutrients. We're always trying to find ways to make it better."
Planning for the future
In four years, the team has installed over 300 kits. But despite their success so far, Sue isn't finished with adapting HydroVeg Kits. Her plans for the future include expanding sales overseas.
One of her projects is focusing on getting the kits out to the developing world. The kit includes a gel that contains both the water and nutrients for the plants to grow successfully. Unfortunately, the trial for this was halted due to the pandemic.
Sue also has ambitions to get the kits working for overseas families, by figuring out an efficient way to collect night water. Currently there are no systems in existence, such as a solar pump, that are powerful enough to do this.
It's never too late to be an entrepreneur
At 63 years-old, Sue is proof that there is no fixed concept of what a start-up founder should be. Her advice is to not let yourself be intimidated into not doing something, especially if your idea is innovative: if you have a great idea, just do it.
"I came up with an idea, and rather than thinking 'wouldn't it be good if someone else did it?', I did it myself. You don't have to be a specialist, because other people will help you. If you have an idea, run with it.

"Someone told me a week ago that my idea is ahead of its time. I can't wait until it gets to its time. You have to run with it and let everyone else catch up."
Plan it with Purpose
A programme designed to help owners of small and medium-sized businesses develop a better understanding of environmental and social issues in the UK. Visit the Plan it with Purpose hub
Enterprise Nation has helped thousands of people start and grow their businesses. Led by founder, Emma Jones CBE, Enterprise Nation connects you to the resources and expertise to help you succeed.