BLOG
StartUp Show: Timothy Armoo on starting at 17, identifying the rise of influencers, and the importance of networking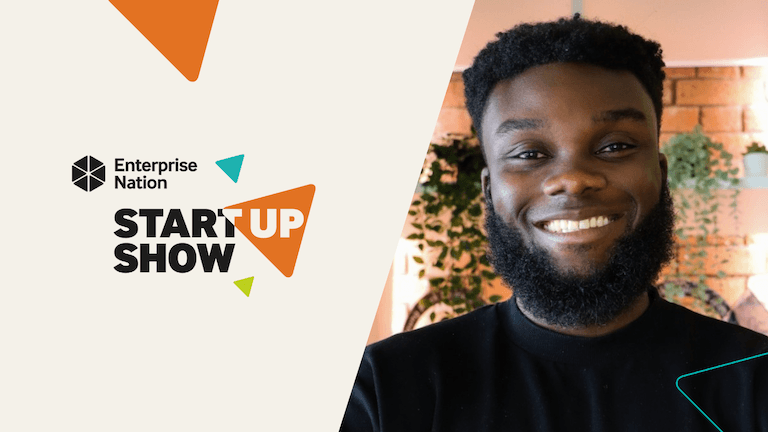 ---
Posted: Mon 21st Nov 2022
StartUp Show returns on Saturday 28 January at King's College London – the first in-person iteration since 2020. It is the perfect opportunity for current or prospective small business owners to hear from inspirational speakers, network with like-minded entrepreneurs or simply get a taste of the enterprising world.
One of the most hotly-anticipated speakers is Timothy Armoo, who built and sold his first-ever business at 17. Following this, he founded marketing company Fanbytes four years later, growing a team of 70 people before a multi-million-pound acquisition earlier this year.
Ahead of his appearance on the Keynote Stage, Timothy sits down with Enterprise Nation to talk StartUp Show and entrepreneurship.
Be sure to secure your StartUp Show tickets today!
---
Let's start from the beginning. You built and sold your first business at 17 - did you always want to be an entrepreneur growing up?
No, I wanted to be a journalist. At some point, I wanted to be an economist. At some point, I wanted to be a magician. But I stumbled into entrepreneurship at a young age, and I thought this is definitely something that I want to do for the rest of my life.
After the small win at 17, I knew I wanted to commit myself to it, and now I'm 27, so it's been an iterative journey.
What were the biggest challenges you faced starting at such a young age?
Probably the biggest challenge is not knowing what you don't know, right? Business is a skill. In the next company I do, there'll be a bunch of things that I know, but there will also be a bunch of things that I don't know.
And those will be things I have to learn on the job. I think it's vitally important that you seek to get that expertise, which is why events like StartUp Show make sense.
Tell me a little bit about the premise of Fanbytes, how did the idea come about?
The idea came about for two reasons. First, after I built my previous company, EntrepreneurXpress, I realised that the thing that was of significant value were the Facebook pages that are grew. So that company was essentially an online blog.
But when it got bought by this American agency, Horizon Media, they really cared about the Facebook pages. I then realised that's actually the thing that they really bought. It wasn't the blog itself.
So, that made me think a lot about social media and how it was growing. At the age when I started Fanbytes at 21, I could see the rise of influencers. I could see the rise of KSI and Zoella – they were deemed as weird people! Now obviously they're not. Seeing the rise of these social media influencers, I thought that this is definitely an opportunity.
Wherever there is this siloed media, there's always going to be some kind of consolidation. My whole thing was we're going to grow and ride the influencer wave because we think it's a big opportunity, and we think it's an opportunity brands would really want to tap into it.
I wanted to focus on building the best possible business in that space, and if we build something of value, somebody will want it – and that's what we did.
Over the next five years, you grew your business to 70 people! What were the most important things you did as a founder to achieve such success?
I think going into this space, I realised that even though there were a lot of marketing companies who did a good job of helping their clients, there were not that many who did a good job of marketing themselves.
Therefore, I over-indexed on that. Fanbytes did a lot of brand promotion and I think that was a very important thing. I also recognised the power of systems, creating repeatable systems, that help you scale. You know, even as 70 people, we did incredibly well, revenue-wise.
But I also realised the importance of a team and that you can't do it alone.
Turning our attention to StartUp Show, at which you're a keynote speaker. What should the bumper audience expect to hear from you?
I think that when people hear the story of how I started this company at 21 and sold it for 10s of millions at 27, people may go: this guy is some sort of superhero!
What I did, it's cool of course, and it's great, but it's not out of reach for a lot of people. Yes, a big part has to do with luck. But also, a lot of hours went into it, with perseverance and determination.
And then there are business fundamentals; spotting the right opportunity and the right market, and figuring out a bunch of things along the way.
I'm hoping that I can share a bit of a blueprint for people to be able to follow because I don't think that what I have done is out of reach for a lot of people.
People build companies every day; people sell companies - it's not unreachable.
I think it's very important to have these sorts of conversations where it feels very tangible, rather than feeling, I suppose, intangible.
How important, as a current or prospective business owner, is it to attend these sorts of events, which have inspirational speakers and networking opportunities within them?
On the networking front, I think one of the things I've come to realise, especially through the Fanbytes journey, is that people are the most important differentiator.
Networking with like-minded people, and bringing them into your orbit and your community is probably one of the most important things you can do as an aspiring entrepreneur.
On the inspiration side, you still have to go and do the work, right? That's great, and it's a good start to be able to see and hear real-life stories. But it's also important afterwards to get to work and go and do the actions, right? Because that's more important. Nobody wants to be a broke, motivated person.
What an event like this really excels at is giving you the inspiration to get cracking, but also, you're going to hear very practical things about how people started. Couple this with the fact you'll be surrounded by a network of people who are also ambitious and smart, and you're onto a winner.
---
Secure your tickets now to attend StartUp Show on Saturday 28 January!
Enterprise Nation has helped thousands of people start and grow their businesses. Led by founder, Emma Jones CBE, Enterprise Nation connects you to the resources and expertise to help you succeed.