MEMBER STORIES
Sophie Tea: The artist disrupting the art industry by making millions on Instagram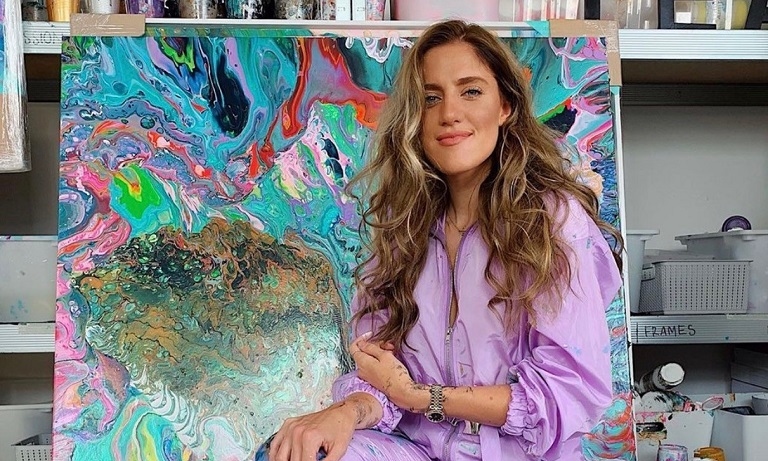 ---
Posted: Fri 15th Nov 2019
Artist Sophie Tea has broken the traditional art gallery route by building her brand on social media.
Her animal prints have garnered huge popularity and she now has three studios, five members of full-time staff and a relentless demand for her work with her works selling seconds after she posts it on Instagram.
When and why did you decide to start selling your art?
I went to India and came across a hostel that had lots of graffiti and asked to paint for a free stay. It was the first time I had painted since school. It was one of those moments and it really made me happy.
Typically an artist makes their money by being represented by a gallery. You have to know people in the industry. You have to build a portfolio, which I didn't have. I just had this one piece in India. Social media was my only option.
I set up an Instagram account and I got everyone I met to follow me. Students, for example, are going to be art buyers in five years time. Everyone is a potential customer. It's an exhausting attitude but it works.
The glitter boob thing helped. My best friend started Shrine was looking for artists to help her. I grabbed any creative opportunity so I started working with her and painting on people's faces.
We went to Coachella and she asked 'would you mind taking your top off and painting your boobs to get some press?'. The picture went viral and I was tagged in all of the coverage.
I got 20,000 followers in two weeks. I had 5,000 before that. I bought 4,000 of that 5,000. I wouldn't dare do that anymore. Convincing people I was a serious artist was a tough task but I had the audience.
For the first year or so it was friends or family buying my work. I posted a picture from that I pretended was for a client. A year and a half in, I started to see people buying who I didn't recognise.
What was it like when you first started your business?
My first employee was my little sister. She's smarter than me. She took the biggest risk on me. We shared a bed. I paid her £1,000 a month.
The entire time I've made myself look bigger than I am. I used to pretend she was a proper employee and not my sister even though she looked the spit of me. I now have three employees and contractors.
I'm still putting all the money back into the business. It's different to other businesses. I can't just reproduce stuff in a factory. The branding has to be strong.
What has it been like building a business that has grown so quickly?
Initially I had a chip on my shoulder. I thought I wanted to build a business and have loads of employees. When it started growing, I realised I was good at strategy, marketing and painting but I was chaotic and not good at managing. You need people who complement what you're good at.
I have a manager called Ella who runs the entire show. I don't do any of the HR management. I just paint and come up with cool ideas of how we can take it to market.
What's your advice to young people wanting to start a business?
I think initially, just make a start. Everyone feels like they have to have a fully rounded idea and that's where it's going to stay. When you start a business you might find your product is s**t or there isn't a market. You need to pivot your way through.
Don't try to do stuff you're not actually good at. Make sure you're investing in stuff you don't like doing. You have to stay up until 3am, so you need to enjoy it. Don't be afraid to spend money to help your business grow.
Never give up. It's a cheesy S Club 7 90s song but reach for the stars!
Read more interviews and member stories on Enterprise Nation
Enterprise Nation has helped thousands of people start and grow their businesses. Led by founder, Emma Jones CBE, Enterprise Nation connects you to the resources and expertise to help you succeed.