BLOG
A small business guide to the government's autumn and winter coronavirus support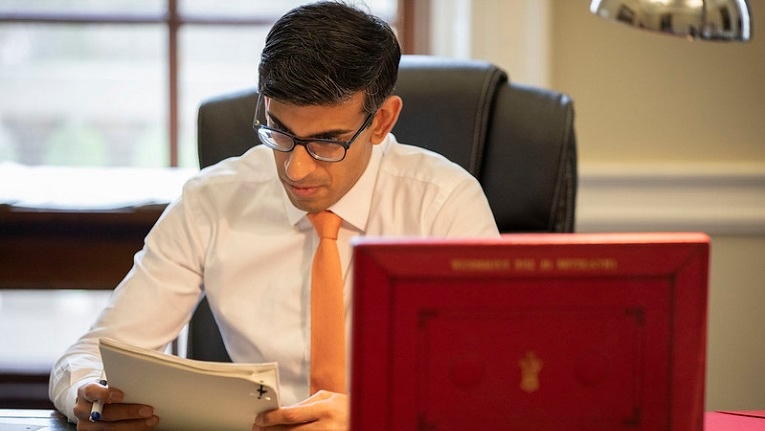 ---
Posted: Thu 24th Sep 2020
Chancellor Rishi Sunak has announced a new package of measures to support businesses with the continuing impact of the coronavirus pandemic. Here's what small business owners need to know. We will keep this post updated as more guidance is released.
Delivering his 'Winter Economy Plan' in Parliament, Sunak said: "The resurgence of the virus, and the measures we need to take in response, pose a threat to our fragile economic recovery.
"Our approach to the next phase of support must be different to that which came before. The primary goal of our economic policy remains unchanged - to support people's jobs - but the way we achieve that must evolve."
Job Support Scheme
The Coronavirus Job Retention Scheme, know as the furlough scheme, will end in October as planned, the chancellor said, but a new Job Support Scheme will be introduced from 1 November in an attempt to to protect viable jobs.
Employers will continue to pay the wages of staff for the hours they work - but for the hours not worked, the government and the employer will each pay one third of their equivalent salary.
To qualify for the scheme, which will run for six months, employees must be working at least 33% of their usual hours. The level of grant will be calculated based on the worker's usual salary, capped at £697.92 per month.
Businesses do not need to have previously used the furlough scheme and companies can also use the previously announced Jobs Retention Bonus.
The scheme is open to employers with a UK bank account and a UK PAYE scheme. Employees must have been on PAYE payroll on or before 23 September 2020.
All small and medium-sized enterprises will be eligible; large businesses will be required to demonstrate that their business has been adversely affected by COVID-19.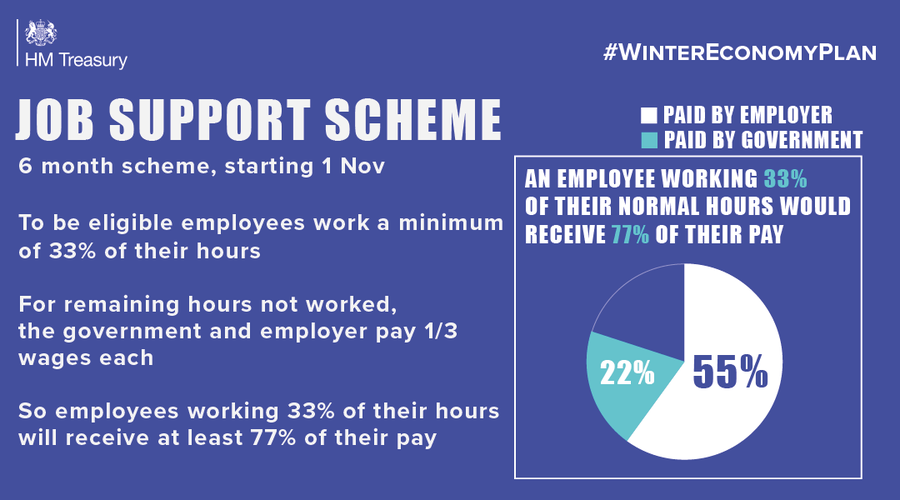 Self-employment Income Support Scheme (SEISS)
The Self-employment Income Support Scheme will be extended until 30 April 2021. An initial taxable grant will be provided to those who are currently eligible for SEISS and are continuing to actively trade but face reduced demand due to coronavirus. It will cover three months' of profits for the period from November to January 2021. It will cover 20% of average monthly profits, up to a total of £1,875.
An additional second grant, which the government said "may be adjusted to respond to changing circumstances", cover the period from February 2021 to the April 2021. The level of the second grant has not yet been set.
Tax cuts and deferrals
The temporary 15% VAT cut for tourism and hospitality sectors will be extended until the end of March 2021. It will continue to apply to supplies of food and non-alcoholic drinks from restaurants, pubs, bars, cafés and similar premises, supplies of accommodation and admission to attractions.
Businesses that deferred their VAT bills no longer have to pay a lump sum in full at the end March 2021 and will be able to make 11 smaller interest-free payments during the 2021-22 financial year. Businesses will need to opt in, but all are eligible. HM Revenue & Customs will put in place an opt-in process in early 2021.
HM Revenue & Customs' Time to Pay service facility gives a 12 month extension to self-assessment taxpayers which means payments deferred from July 2020, and those due in January 2021, don't need to be paid until January 2022.
Business loans
The deadline to apply for the Bounce Back Loans Scheme (BBLS), Coronavirus Business Interruption Loan Scheme (CBILS) and the Future Fund have been extended to 30 November.
A new 'Pay as You Grow' system will also be introduced for BBLS with the length of loans extended from six to 10 years. Businesses will also be able to to move temporarily to interest-only payments for periods of up to six months (an option they can use up to three times), or to pause repayments entirely for up to six months (an option they can use once and only after having made six payments).
UPDATE 05/02/2021: The government announced businesses can now pause repayments entirely for six months without having to make six payments. More details here.
The government will give Coronavirus Business Interruption Loan Scheme lenders the ability to extend the length of loans from a maximum of six years to ten years if it will help businesses to repay the loan.
In his speech, Sunak said the government is working on a new business loan scheme which will launch in January.
The latest coronavirus support information
We are keeping you updated on the latest information on how to access the government's coronavirus business support in Enterprise Nation's coronavirus business advice hub. Follow Enterprise Nation on Twitter too for updates.
I'm a freelance content creator and event host who helps small businesses and the organisations that support them. I have 18 years of experience as a small business journalist having interviewed hundreds of entrepreneurs from billionaires like Sir Richard Branson to the founders behind brand new start-ups. I've worked for a range of leading small business publications and support groups, most recently as head of content at Enterprise Nation where I was responsible for the prolific output of content on the company's blog and social media. I'm based in Bristol where I run and host regular events with the local small business community and have strong connections to major business organisations in the south west region. In total, I've hosted over 50 events; from intimate meet-ups to conferences with an audience of hundreds including events for international brands like Facebook and Xero. I'm also a big fan of podcasts having hosted Enterprise Nation's Small Business Sessions as well as lots of online events including Facebook Live interviews, webinars and three live web chats from inside 10 Downing Street. With my partner, I co-run Lifestyle District, a lifestyle blog focused on culture, art, theatre and photography. I'm here to help. I'm volunteering free advice calls of up to an hour as part of the Recovery Advice for Business scheme, over the next 6 months. Please get in touch to see how I can help your business.