MEMBER STORIES
Small business owners share their victories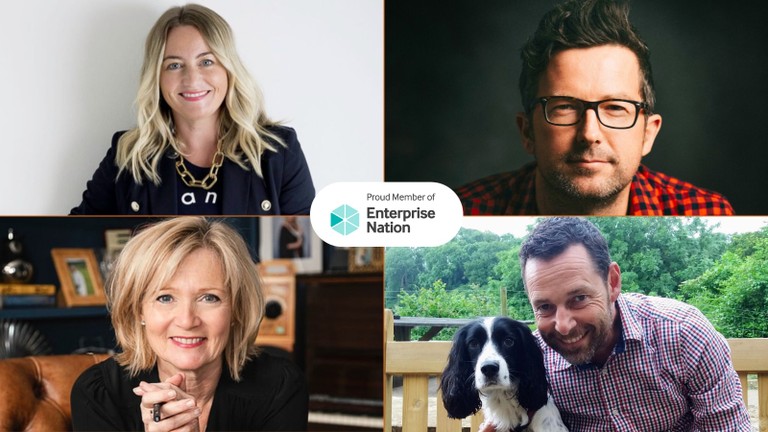 ---
Posted: Tue 23rd Nov 2021
We love it when small business owners share their successes with the rest of the community. Whether it's winning awards, earning rave reviews, gaining new clients, or hitting your sales targets, it's important to pause and recognise how far you've come in your entrepreneurial journey.
Here are 10 more members of the Enterprise Nation community with something to celebrate.
Offering fashionable, affordable clothing for the fuller-bust female, Jayne Lasley has finally created the brand she's been dreaming of for over 20 years.
"It was only during the pandemic that I decided to take the leap," Jayne says. "My aim is to fill the gap for quality, stylish clothing that not only fits well but seriously flatters the fuller-bust figure.
"I'm so proud of how far I've come. Reaching 10,000 followers on Instagram and sending out my 1,000th order were both amazing milestones. I also recently found out that I've been shortlisted for Start Up of the Year for the Business Women Scotland Awards. And I've been selected by The Sun as one of their Kitchen Table Entrepreneurs, and will receive a grant of £5,000.
"The feeling is incredible and makes all the hard work and long hours so worthwhile. But the real job satisfaction comes from the feedback I receive from my customers, when they say my clothing is changing how they feel about their bodies and is giving them back their confidence. This is why I do what I do."
---
After leaving the corporate world behind him earlier this year, Martin Kearvell turned his side-hustle and passion into his full-time profession.
"I make bespoke, personalised homeware items from reclaimed wood and laser-cut materials. I founded the business in 2016 but this year, after 38 years in engineering senior management roles, I made the leap and am now following my dream full-time.
"I set myself and the business several objectives. There was the usual ones such as financial targets and growing audiences on social media. But there's one KPI that I'm most proud of – repeat customer rate. I've just hit 95%.
"To me, that's a testament to the way I do business and the quality of my products. Enterprise Nation has been a huge help to me.
"It's encouraging to see so much passion among the small business community. I've attended a number of webinars. Mike Ferguson's talk on life balance was particularly memorable; it's not all about the mechanics of running a business."
---
When it comes to pasta, The Yorkshire Pasta Company is as passionate as it gets. And while many industrial manufacturers opt for rapid, high-throughput methods, Kathryn Bumby and her team take their pasta back to basics, with no compromise on flavour.
"Using only water and flour sourced from a local mill, we adopt traditional, artisan techniques to create a perfect dough," Kathryn says. "We slow-dry our pasta at low temperatures, which creates the conditions needed to develop flavour.
"We then place the pasta in our specially developed paper bags, which are 100% recyclable. And because we don't use any eggs in our recipes, our pastas are all vegan."
Launched in May 2020, The Yorkshire Pasta Company's products are already stocked in over 300 independent stores across the UK. And the company has just been shortlisted for Small Business of the Year at The Press Business Awards, which showcase success stories across York, North and East Yorkshire.
"I'm still surprised, especially as the awards are for such a diverse range of businesses, not just the food industry. It's amazing to be recognised."
---
After working in the education industry for 14 years, Melanie Thompson felt tired and uninspired. Being made redundant at the end of 2020 gave her the opportunity to re-evaluate her life – and to start her own business.
"I love buying gifts for people and try to put a real effort into it," Melanie says. "I'm also an avid online shopper. So after a bit of soul-searching, I decided to combine my love of gifting with an e-commerce platform of my own.
"I invested some of my redundancy money into creating my website and buying stock and packaging, and the Hamper Pantry was born.
"We specialise in letterbox hampers and gifts. In just nine months, I've launched my website, made over 450 sales through Etsy, reached over 600 Facebook followers and have sold at my first face-to-face market.
"I'm thrilled at how well things have started to take off and excited to see where this new venture takes me."
---
Work for Good is an online fundraising platform that makes it easy for small businesses to donate to charity through their sales.
"Most businesses are unaware of the legal requirements involved in raising money for charity," says Andy Selby, Work for Good's director of partnerships. "Through our platform, you can avoid those headaches. We make the process quick, simple and, most importantly, legally compliant.
"We've been trading for five years now. With over 3,000 small businesses and charities on the platform, nearly £1 million was raised for UK charities last year. And we're incredibly excited to announce the return of our Small Business Star Christmas match funding campaign, helping businesses raise even more funds for charity.
"This year, we have a match funding pot of £50,000 to help make an even bigger impact. Beginning on 1 December, we'll be matching up to £250 per business, for as long as the match pot lasts."
See how you can make a difference
---
Offering a unique range of waterproof sit mats and picnic rugs, Jacwicks Designs has just celebrated its third year of saving bottoms from dirt, damp and dust.
From her home in County Durham, Ruth Jacobs designs and makes by hand a range of products that provide comfort and protection for people when sitting outdoors.
"Sustainability is at the heart of everything I do and I source materials from a variety of suppliers around the UK, prioritising fabric due to go to landfill," Ruth says.
"And to celebrate our third year in business, we've recently increased our range of products by launching our 'Grab Ya Boots Bag', to save your car or home from muddy, wet boots. It's been in the pipeline for a while and it feels great to finally launch it.
"Even though I work alone, being part of Enterprise Nation gives me access to lots of inspiring stories from other entrepreneurs, and tips on how to progress to success."
---
BWD Limited is an interior design consultancy based on the Fylde coast. It refreshes, refurbishes and rebuilds commercial spaces.
"Our strapline is 'bringing spaces to life' and that's what we have been doing for the past 13 years," says Bev Wood, BWD Limited's owner and creative director. "From offices to museums, we're passionate about what we do and have many repeat clients that love our passion and creative style.
"Recently we had the honour of redesigning the world-famous Grasmere Gingerbread shop in Cumbria. Dating back hundreds of years, it's the smallest place we've ever redesigned.
"We're very proud of the new shop refurbishment and customers love that we've kept the flavour of the old design while making the space work better operationally and aesthetically."
---
All About The Cooks is an exciting new online platform that lets you buy authentic and wholesome home-cooked food from talented cooks near you.
Founder Claire Ladkin explains: "Living among us, talented people are making extraordinary food in their own homes. Using our platform, you can find the cooks who make the food you're looking for, near you.
"Each cook has a profile page which tells you about them, the food they create and their delivery and collection arrangements. Once you've chosen, you simply place your order and pay through the site.
"We launched our pilot in Bristol and have had over 700 orders to date, paying over £23,000 into our cooks' pockets.
"Recently, one of our cooks told me she'd bought a new handbag with the money she'd earned through All About The Cooks. She hadn't earned her own money since having her first child five years ago, and it meant so much more than a handbag."
---
Turbine Creative is a fresh, emerging design company founded by Tim Bassford. Having spent 18 years working in the creative industry working with some of the world's biggest brands, Tim saw a gap for a supremely customer-centric design service.
"We're passionate about storytelling and engaging your customers through powerful narrative across multiple marketing channels.
"Earlier this year, we got to work with Team GB on a 'Covid safe' marketing campaign for the Tokyo Olympics. I was so blown away that we'd been recommended for the project. We pitched an idea and won the job!
"The Team GB stakeholders were an absolute pleasure to work with and it felt a real honour to be part of this project. Supporting our elite athletes in staying safe and healthy at the Olympics through the power of visual communication is a brief that builds its own inherent motivation."
---
After struggling with her mental health, Elena Brook-Hart Rodriguez signed up to a volunteering programme in Peru. Shortly afterwards, Handmade Stories was born.
"Our mission is simple: to help communities underserved by society have a better future," Elena explains. "We work with women in rural communities in the Andes who don't have access to conventional jobs so they can have a source of income that's fair.
"Thanks to them, we make beautiful, quality clothing and jewellery using traditional Andean techniques. Each piece is unique and has an extraordinary story behind it. We sell those items through our website.
"It's been a hell of a ride, but so far I've helped women in rural communities get their feet on the business ladder, helped a family of jewellers re-open their workshop, and given jobs to men in prison whose families were struggling.
"And we've just been selected as one of Small Business Saturday 100, a campaign that encourages consumers to shop small by highlighting 100 small British businesses in the run-up to Christmas."
---
Do you have any victories that you'd like to share with the Enterprise Nation community? Let me know.
Enterprise Nation has helped thousands of people start and grow their businesses. Led by founder, Emma Jones CBE, Enterprise Nation connects you to the resources and expertise to help you succeed.