BLOG
Selling in pop-up shops: Six ways to get the most out of it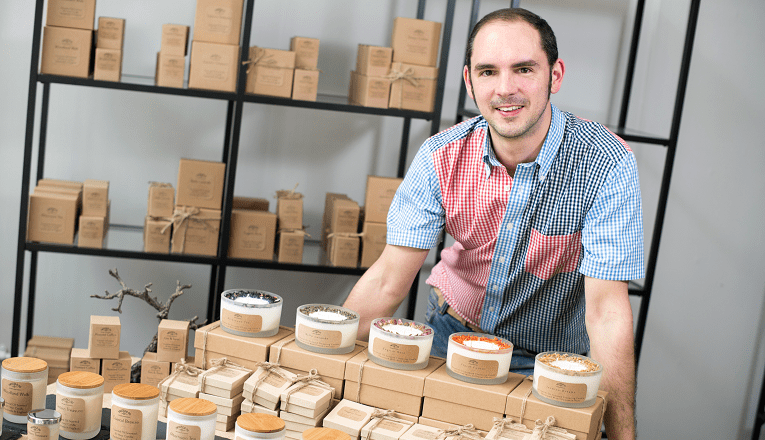 ---
Posted: Thu 11th Jul 2019
Pop-up shops provide a great opportunity for start-ups to promote their products, get feedback from customers and test the demand for what they're doing.
Preparation is key to getting the most out of your pop-up, so we've looked at what you need to think about before setting up shop.
Make sure you promote your pop-up
Pop-up shops let you meet the people who follow you online. The fans you've built up on social media have the opportunity to meet you and share their passion. If they've gone out of their way to visit a pop-up, they're more likely to buy something.
Plan a strategy to promote your pop-up in the run-up to launch. Special offers give people an incentive to visit, while tagging the locations and other companies involved can help build your following.
Timothy Rundle-Wood, owner of natural candles, diffusers and sprays brand Twoodle Co, has sold his products in pop-up stores in Manchester. He says:
"Businesses need to rally their followers. The most successful people are the people who have gone on to social media and done posts every day."
Social media adverts can help with the process and it's possible to target the local area to pique the interest of anyone who's thinking of going shopping where you're based.
In the Manchester pop-up where Twoodle traded, some sellers ran an Instagram competition to give away £100 worth of products. Entrants were encouraged to follow the accounts of all the businesses taking part and to tag a friend. Techniques like this help to spread the word.
Test, iterate and improve your pitch
Timothy Rundle-Wood uses pop-ups as an opportunity to improve the way his products are presented and increase sales. In the Manchester pop-up store, he's experimented with different things like replacing the table he was using with shelves.
He says:
"It's interesting to see how people shop completely differently. People make a beeline for whatever you put at eye level. On a table, people will pick up every one and smell them."
The change has allowed him to direct people towards the scents he wants people to look at – the best sellers that are more likely to convert.
Expect the weather to have an impact
The weather affects what people do in their leisure time – including whether or not they visit your pop-up shop.
Lots of rain or sunshine can cause a drop in footfall, Tim says. He advises using the time for marketing and administration.
You should also think of ways to tempt in those people who do walk past the store. Get some flyers printed and hand them out. People might not decide to visit at that moment but a flyer could remind to come back another time. Considering handing out free drinks or other incentives too.
Understand the different types of retail
Tim Rundle-Wood advises small business owners running pop-up shops to think about the type of retail situation and how that affects customer behaviour. For example, he points out that the footfall and promotional opportunities vary between shopping centres and the high street.
"Each facet of retail is totally different and has different patterns. With shopping centres, rain has a significant effect on improving footfall while sunshine has more of a negative impact."
Try visiting the location of a prospective pop-up to get a feel for the type of customers and how popular the space is. Asking people why they're visiting the site is a good way to gauge whether the audience is a good fit for your products.
Develop a deeper connection with your customers
Selling through a pop-up allows you to build relationships with customers that wouldn't be possible online. It's worth remembering that the person you sell to on at a pop-up might be a lifelong customer, so giving them an opportunity to buy from you again is really powerful.
Tim says:
"Telling people my story, what I love about what I do, has an impact. The scents relate to my happiest memories. People try to find the ones that appeal to them. It can bring a memory alive, that's special to hear and you don't get that online. It's part of that trust factor and you're building lifelong customers."
To help keep these customers coming back, Tim started including "keep-me cards" with products he sells at the pop-up. These include the name and description of the scent and a discount code on the back, which can be used online and tracked.
It's not just about getting sales
Tim Rundle-Wood stresses that entrepreneurs taking part in pop-up shops can't go into it thinking it's just about making sales. Traders get to learn about their customers and products. Long-term relationships can be built and there's an opportunity to promote your business too.
He says:
"Sales should be a bonus. It's about talking to people and getting your brand out there, using the press coverage."
He noted that several of the traders in the Manchester pop-up location got a commercial order. People learn from each other too.
"We help each other. It's the funny little things you don't think about all the time, like when someone needs a bit of Blu-Tac. We've all helped each other merchandise too."
Events help build the community too. For example, in the Manchester pop-up, business advice sessions and knitting workshops have taken place.
Relevant resources
Enterprise Nation has helped thousands of people start and grow their businesses. Led by founder, Emma Jones CBE, Enterprise Nation connects you to the resources and expertise to help you succeed.