BLOG
Six reasons why you should attend an Enterprise Nation online local meet-up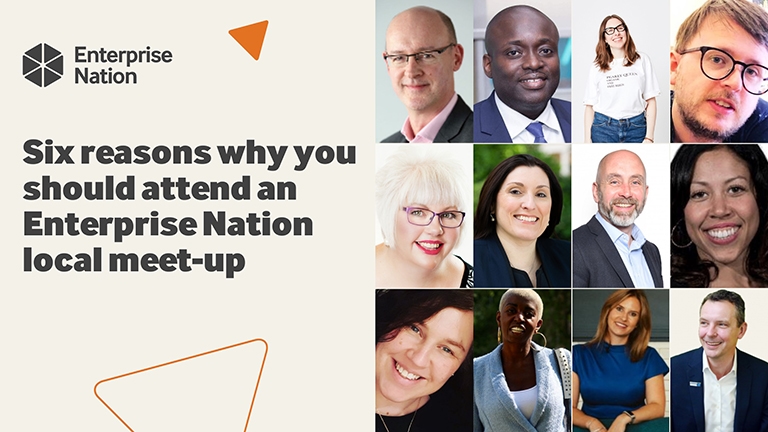 ---
Posted: Mon 15th Aug 2022
Whatever your stage of business, a good network is crucial for your growth. Joining a peer group is the best way to learn new skills, discover opportunities, solve challenges, and unpack how you're feeling with people who genuinely understand – because they've probably been there too.  
Hosted by a network of Local Leaders – small business champions with a passion for their local communities – these events take place across the UK and Ireland and offer a relaxed, informal environment for small business owners to connect with fellow entrepreneurs in their area. What's more, they're completely free to attend.
Here's why attending an Enterprise Nation local meet-up will benefit your business…
Networking opportunities
The word 'networking' can fill people with dread. But connecting and building a rapport with like-minded entrepreneurs can be hugely beneficial for both your morale and your business. It can lead to new customers, new supplier contacts, and potential collaborations.
"I joined the Birmingham local meet-up to establish new relationships and spread the word about my business. Each and every attendee was given the opportunity to share their thoughts and ideas with the group. The Local Leader, Joanna, is a breath of fresh air."

Jacqui Lilley, Birmingham local meet-up attendee
Fresh thinking and inspiration
Sometimes the best feedback and freshest 'out-of-the-box' ideas come from those who are in a different field with no knowledge or presuppositions about your specific area of business.
This also gives you a valuable opportunity to carry out some market research and learn more about your target audience in a live setting.
Feeling of belonging
Local meet-ups offer opportunities to escape the bubble and connect with people who are dealing with the exact same challenges and are eager to share their experiences. Discussing your challenges with others will almost certainly help you to feel less alone in your endeavours.
"Being an entrepreneur can be lonely. I joined the Devon local meet-up to connect with other founders. It's a supportive, welcoming and non-salesy group, and offers a safe space to share knowledge. Through these meet-ups I've gained clients and unlocked speaker opportunities."

Maria Morris, Devon local meet-up attendee
Learning opportunities
In any business, there's always more to learn. Whether it's new knowledge about your product, business skills you need to develop, or innovative marketing techniques, you're bound to come away feeling better equipped to deal with the daily challenges of running your business.
Accountability
All business owners have accountabilities, whether they realise it or not. You're accountable for hiring and managing employees, building relationships with your customers, managing your cash flow, making sure you file your taxes each year, and more.
That being said, it isn't always easy to remain motivated. A supportive peer group can help with that.
"I discovered Enterprise Nation's local meet-ups thanks to my Local Leader, Steve. He knows exactly what questions to ask to facilitate interesting and thought-provoking discussions. There are no uncomfortable sales pitches, unlike most networking events."

Susan Peters, West Sussex local meet-up attendee
Instant advocates for your business
Unlike other networking groups, local meet-ups aren't a place to 'sell' your business. Just by attending one of these sessions, you're increasing your brand's visibility.
And with word of mouth still arguably one of the most effective types of marketing, you'll find that this ready-made support network of business owners will likely recommend you and your business to others as a result of being part of the same peer group.
Would you like to connect with small business owners in your area? Meet-ups are held online, so reserve your place and chat to like-minded entrepreneurs from the comfort of your own home.
Enterprise Nation has helped thousands of people start and grow their businesses. Led by founder, Emma Jones CBE, Enterprise Nation connects you to the resources and expertise to help you succeed.