BUSINESS NEWS
Simplified funding 'could unlock quarter of a million new apprentices' at SMEs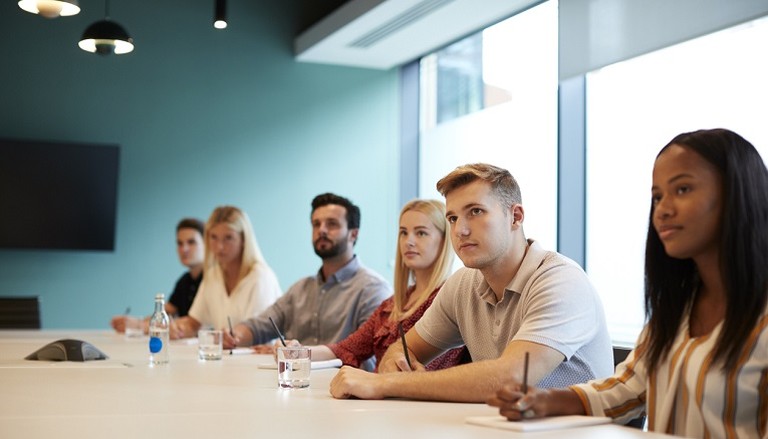 ---
Posted: Fri 10th Feb 2023
Britain's small and medium-sized businesses could hire more than 250,000 more apprentices in the next year if the funding system was less complicated, according to new research.
The study by Multiverse, the training provider started by former prime minister Tony Blair's son Euan, found 60% of SMEs would hire at least one more apprentice in addition to their current plans if extra government funding was available, while 30% would take on two or more trainees - representing an additional 260,000 apprentices joining the labour market.
Government funding does already exist to help small businesses employ apprentices, but the research found two thirds of SMEs were unaware of it.
This lack of awareness and struggles to access the support is underlined by official data showing that the number of apprentices placed at SMEs is down 45% on 2016/17 levels.
Separate research by Vodafone found costs are a problem, with 21% of small businesses saying they can't afford an apprentice.
Almost half of those firms cited higher business running costs due to the cost-of-living crisis as the main barrier, 30% blamed the increased energy bills and 21% said rising staff wages.
Jeremy Duggan, president at Multiverse, said:
"Apprentices up and down the country are joining the workforce and improving how businesses operate, with government figures showing that for every £1 spent on an apprenticeship, more than £28 is put back into the economy. But small and medium-sized businesses have struggled to recruit the volume of apprentices they need, and this needs to change.

"This research shows the huge potential out there to grow the number of trainees in the UK's 5.5m SMEs. From boosting diversity to training young people in the data and digital skills the economy needs for the future, the government urgently needs to act. Simple steps like simplifying the funding system will unlock huge economic growth."
Call for reforms of the apprenticeship levy
The Multiverse research, released during this week's National Apprenticeship Week, follows calls by several organisations for an overhaul of the apprenticeship levy.
Employers with an annual pay bill of over £3m are obliged to pay the 0.5% levy which is then spent on apprenticeship training.
Companies can also transfer up to 25% of their levy payments to other businesses, a system aimed at helping small firms take on apprentice.
But many groups have criticised the levy for being too complicated.
Figures from the Co-operative Group revealed that more than £600m was returned to the Treasury last year because businesses were held back by the requirements for using the funding, while the Association of Employment and Learning Providers (AELP) said the system for transferring funding to smaller employers needs to be simpler.
"For somebody who is a small employer, it's something they will probably just give up on, rather than try to persist with it, because the process is so complicated and also takes a lot of time," Jane Hickie, AELP chief executive, told The Times.

"There are a lot of large employers who would happily engage with the smaller employers to transfer their funds, but it's just too complicated."
A report released last year by Enterprise Nation showed that the apprenticeship levy has not had the impact on training it was expected to have.
It pointed to research that found fewer than one-third of levy-paying employers say it has led them to increase the amount they spend on training. This is down from 45% in July 2017.
The report called for the government to allow employers that pay the apprenticeship levy to transfer even more of their funds to smaller companies down their supply chain, or replace the apprenticeship levy with a skills levy.
Emma Jones, founder and of Enterprise Nation, said:
"We need a fresh plan to incentivise businesses to invest in skills and we need to apply a forensic lens on reskilling the millions of people who are economically inactive.

"The underlying equation is that skills = growth. Without the skills and the available workforce, we're not going to see growth in this decade.

"The government must look to support interventions from the private sector and build on those that work well to create programmes that could be monitored to achieve high standards. This would create a knowledge bank of what works and what doesn't, without the government having to fund projects with weak evidence."
Relevant resources for small businesses
Everything you need to know about taking on an apprentice
Webinar: Why you should hire an apprentice for your small business
Book a free discovery call with an employment expert
Advice on tackling rising costs in Enterprise Nation's Cost of doing business hub
I'm a freelance journalist and event host who helps small businesses and the organisations that support them. I'm also Enterprise Nation's news reporter and Bristol Local Leader. I have 20 years of experience as a small business journalist having interviewed hundreds of entrepreneurs from famous names like Sir Richard Branson and Deborah Meaden to the founders behind brand new start-ups. I've worked for a range of leading small business publications and support groups, most recently as head of content at Enterprise Nation where I was responsible for the prolific output of content on the company's blog and social media. I now freelance for Enterprise Nation as the website's news reporter and as the host of the Small Business sessions podcast. I'm based in Bristol where I run and host regular events with the local small business community in my role as Enterprise Nation's Local Leader for Bristol. I also have strong connections with other major business organisations in the south west region. In total, I've hosted over 100 events including conferences with an audience of hundreds for international brands like Xero and Facebook and live web chats from inside 10 Downing Street. With my partner, I co-run Lifestyle District, a lifestyle blog focused on culture, art, theatre and photography.