MEMBER STORIES
How a toddler's bathroom mishaps inspired a bamboo toilet paper brand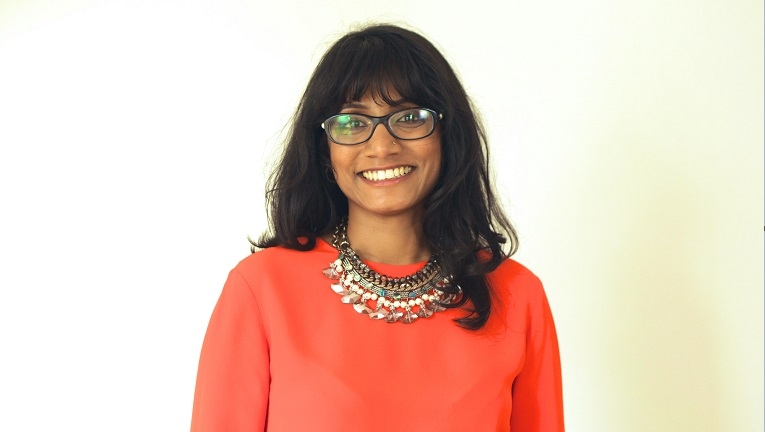 ---
Posted: Thu 13th May 2021
Shamanth Pereira is the founder of Something Organic, the brand behind the Something Cheeky range of bamboo toilet paper.
The entrepreneur's idea for the product was prompted by her four-year-old's constant flushing of full toilet rolls.
She shares her inspiring story and explains how the Amazon Small Business Accelerator e-learning programme has boosted her entrepreneurial skills and prepared her for selling products on Amazon's online store.
The free Amazon Small Business Accelerator e-learning programme is advice from more than 30 business experts in 218 bitesize videos.
If you're already an Enterprise Nation member, log in to your member dashboard to access the e-learning.
If you're not an Enterprise Nation member, you can join the Amazon Small Business Accelerator for free here.
How did you come up with your business idea?
"I fell in love with bamboo while searching for material to make sustainable fashion leggings for another business. I was keen on using bamboo yarns to make seamless compression leggings but couldn't make them work - the yarns that met my performance expectations were too costly. It meant having to nearly double my retail price - that wouldn't work either. Bamboo for leggings were out. But now that I knew about bamboo, I couldn't let it go.
"It was while cleaning up after episode 145 of my then four-year-old's loo roll mishap - he was known for flushing full rolls of toilet paper down the loo - that I had an 'aha' moment. What about using bamboo as toilet paper?
"I had to research it further and what I found was staggering. We cut down 27,000 trees each day just to wipe our bums! With so few players in the space, the opportunity was wide open.
"But I had a big challenge - how to make the product so that it was cost-effective and not wasteful (four-year-olds aren't the only ones throwing too much toilet paper down the loo). With time and testing, I created a product that was less expensive than similar products.
"I wanted to create a product that was sustainable. A product that would encourage my customers to buy well (not more). A product that didn't break the bank and that didn't compromise my values. I couldn't use bamboo for leggings, but I could use it to make planet and people-friendly toilet paper. And that's Something Cheeky.
"Our flagship product is our 100% bamboo toilet paper, and our business offers sustainable essentials that make it effortless and affordable to elevate your lifestyle and reduce your impact on Mother Earth."
What start-up challenges have you faced and how have you overcome them?
"Finding reliable manufacturers. I went through a few factories before settling on one.
"As a start-up founder, you have a million things to do with finite time, so I focused on prioritising one key area each week.
"Overwhelm. Every time I feel overwhelmed, I pause, take a deep breath, and go back to my values. I remind myself of my company values and remove all distractions. Also having a mentor helps immensely, someone who is a few steps ahead of you. I found a mentor that has been of great help to remind me and also align me when I am out of sync."
How has the Amazon Small Business Accelerator e-learning programme helped you?
"I really liked all the content creation modules by Rachel Whittaker. It's about sharing passions/talking boldly and passionately and becoming the go to person and business. The search engine optimisation video was helpful for getting my website ranked on Google with a focus on website speed.
"I have also found all the modules on selling on Amazon to be very helpful. I am looking to sell products on Amazon and these videos have provided a good overview. I also learned about Fulfilment by Amazon (FBA), in particular Pan European FBA. I am looking to offer my products across Europe and Amazon offers easy access to do it without owning any warehouse relationships."
What are your plans for the future of your business?
"I am looking to expand the product offering in the home and personal care space. I am looking for quick wins that can easily append to the existing offering. I have been getting feedback from clients on the types of products they want to see so it's great to see where the opportunities are. I am also looking to expand into Europe, America and Asia."
What are your top tips for business success?
"Build a pre-launch list. Test your idea with pre-sales.
"Persevere! Business is a marathon, so keep at it, whether it's social media or building sales channels. Keep building on it.
"Mindset is crucial. When your sales numbers are not hitting your targets, review your processes and identify gaps and work on improving them. At the end of the day, business is about products and communication. Remove yourself from the equation, and it is just product and communication. When you view it this way, it becomes easier to identify the blocks and work on it.
"Speak to other entrepreneurs on a similar trajectory to you. That way you can share learnings and wins and have a group for throwing around ideas and getting feedback."
If you're already an Enterprise Nation member, log in to your member dashboard to access the e-learning.
If you're not an Enterprise Nation member, you can join the Amazon Small Business Accelerator for free here.
Enterprise Nation has helped thousands of people start and grow their businesses. Led by founder, Emma Jones CBE, Enterprise Nation connects you to the resources and expertise to help you succeed.