BLOG
Seven small business marketing predictions for 2023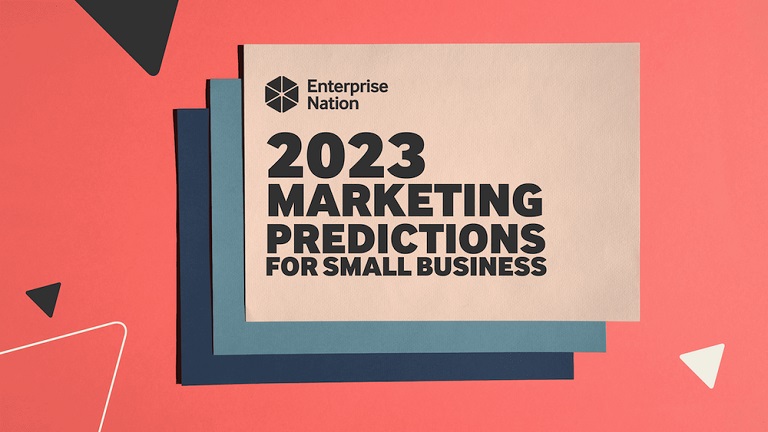 ---
Posted: Mon 19th Dec 2022
You've hopefully arrived at this article to discover what obstacles and opportunities you may need to address with your marketing in 2023.
There's no denying that we're going to need to brace ourselves for what could be a bumpy period. But with a creative mindset, you'll be onto a winning 2023!
To add weight to this forecast, I've leant on industry experts I work with in my role at Enterprise Nation. If you feel we've missed something or you'd like to reflect on the predictions, I'd love to hear from you. Please comment on this Enterprise Nation Group if you're a member. 
1. Marketing purse strings will be tightened 
Right. Let's get this prominent prediction out of the way. There's no shielding the fact that a looming recession is forcing marketers to brace themselves for a lean 2023. 
The Marketer's Toolkit 2023 report published by Warc said:
"95% of marketers expect their planning to be impacted by the recession". 
But how do you ride this, I hear you say? Well, it should encourage you to think outside the box and run a more cost-efficient marketing machine.
Here are four practical steps you could take: 
Invest time in strengthening your SEO
Make sure people are able to find your website organically. The quality of traffic tends to improve: you attract a warmer audience and it's a far more efficient method of attracting customers.
Marketing guru Neil Patel surveyed 8,000 marketers and 68% of companies in the survey said they're increasing their SEO budget in 2023. Generate those clicks in your sleep!  
Pay more attention to your organic social media insights
Do you know which of your posts from this year has performed the best? If so, are there any trends you can leverage? All the major platforms have native analytics that could reveal a huge number of insights to shape next year's strategy. 
Review the effectiveness of your PPC campaigns
You may be in a fortunate position where you don't need to turn down your advertising tap. But regardless, you should be regularly auditing and optimising your campaigns.
This exercise will tell you what creatives, audiences and/or placements are yielding a lower cost-per-acquisition. If so, do more of that next year.
Go and speak with your community and customers
Your audience can give you dynamite insight into how to be a better business. Their feedback could reveal untapped pockets of opportunity to scale your growth, even on a bootstrap budget. If you don't ask, you don't know!  
This leads me nicely to the next prediction... 
2. The need to engage your audience will remain crucial
When was the last time you really engaged with your audience? I mean, a quality two-way dialogue where you learnt good and bad insights about how your business operates.
If you're not having these conversations, how do you know you're not missing a trick with your marketing?  
On this topic, I spoke with e-commerce expert Dan Wilson: 
"I was talking to someone with a subscription business who was experiencing lots of people cancelling. It turned out the monthly fee was just a bit too expensive for many and a slight reduction was still profitable and saw a drop off in leavers. Talk to your customers!" 
Focus groups
Why not join an Enterprise Nation focus group? Take part to have your say about how we can solve the pain points of small business owners and collaboratively work on solutions as a community.
3. Video will continue to be a hot contender
If you're not leveraging video in your business (it doesn't matter whether you're B2B or B2C), you're falling behind. It's as simple as that. 
The growing likeability of TikTok demonstrates that short videos can drive those all-important sales. According to new research by TikTok, hashtags like #smallbusinesscheck (17.6 billion views) and #uksmallbusiness (164.1 million views), have become hugely popular among consumers in search of unique items from independent businesses.
Producing video content
We spoke to Ross Jones, producer and director of BrandFarmFilms.com:
"The explosion of short-form video across TikTok and Instagram Reels is particularly popular with Generation Z, should they be part of your customer base. And small businesses are also using user-generated content more widely.

"We like to mix user-generated footage with our more cinematic footage, creating 'mixed-media' edits. The contrast can be really effective, as seen in our latest video for Enterprise Nation.

"Whether you're producing short-form or long-form video content, if you prioritise the honest, human stories behind your brand, you're on the right track."
4. Collaborating with like-minded brands will yield great results  
Next up is Amanda Perry, a brilliant marketing mentor for me this year, who works with ambitious founders to achieve growth.
Amanda supports up-and-coming product brands and highlights the opportunity for marketers and founders to leverage audiences by collaborating with brands serving the same demographic – but in a different way.
She says:
"I predict that we'll see a huge trend in experimental tactics, joint ventures and first-of-a-kind campaigns as brands fight to stand out in a tricky and ever-changing market.

"A great example of this is the latest OOH campaign from Wild deodorant and Surreal cereal brand. The collaboration was shared on social with their usual dose of self-deprecating humour (ex Innocent Social Lead John Thornton's signature style), adding a third dimension to the campaign. 

"This kind of marketing takes some creative strategy, but is accessible to smaller businesses too, by borrowing relevant audiences on social through joint venture campaigns."
5. Automation will still be prevalent and dominant 
Embracing but also understanding how to harness automation is key in a busy market, to stay ahead and have the edge over your competitors, says Joe Miles, head of Performance Marketing at Silvertip Digital.
As Joe explains, "70% and rising of advertisers are now using automated bidding, but less than 5% are using techniques that can optimise the smart bidding system".
Are you ready to start using automation?
Embrace it: Automation isn't new, and it isn't going anywhere. It has many benefits, not least by improving your performance and freeing up time for you to concentrate on other aspects of your business.

Be pessimistic: New campaigns like Performance Max may be automated, but they can't be set up and left to run. Advice from outside actors and the channels themselves can often be overly simplistic and self-serving.

Get the edge: Content, first-party data, good conversion set-up and other signals are key to feed the AI and machine learning to get the most out of automation. Bidding tools need to know what success looks like to your business.
6. There will be more investment in first-party data capture 
To continue from Joe's insights in prediction five, he adds that:
"The cookie-less future is coming. Focusing on the human side of PPC, understanding your customer and getting your data in order will be even more important in 2023." 
So, what actually is 'first-party data' and how do you capture it? 
First-party data is data that you and your business own and have collected. This could include email addresses from your customers.
How to acquire more first-party data
Here are three questions to ask yourself that can help you acquire more first-party data in 2023:
Where are you capturing data? Are the methods you're using to acquire emails really working? Do you need to adjust the copy or the placements to improve the opt-in rate?

Which incentive are you using? What value-add are you offering to encourage users to leave their email with you? Is it a discount code or a free how-to guide? Make sure there's something in it for them.

What's the follow-up? What are you then doing with those emails to make sure the users engage with your communications and ultimately buy from you? Remember – automation is your friend here to ensure you remain frequent and top of mind.
7. More marketers will make the move to GA4
GA4 is the latest version of Google Analytics, which is one of the most fundamental marketing tools. It's a platform that tracks users who visit your website; their engagement; the content they visit, and, ultimately, conversions.
Hopefully, you're aware of the developments. But if not, you should know that Google is ending Universal Analytics in May 2023. And this is causing much distress among its users.
It's incredibly important if you use GA (and if you're not, why not?) to make the switch to GA4 or engage with an expert to support you.
The benefits of GA4
Improved user tracking across both your website and app

The use of artificial intelligence to predict user behaviour trends

Customisable reporting dashboards tailored to your needs
Thanks to the power of the YouTube community, there are thousands of helpful GA4 videos to support you with the transition.
Thank you for getting to the end of this article of marketing predictions for 2023. As a reminder, head here if you'd like to share your feedback or any different predictions.
I wish you all the best with your marketing in 2023!
Lorna Bladen is the Head of Marketing at Enterprise Nation. Lorna has over ten years of experience working in marketing. Previous roles include: Head of Marketing at Escape The City Head of Partnerships at Moneypenny Working as a freelance marketing consultant. Lorna is based in Brighton, West Sussex and is open to supporting small businesses across the UK. Lorna's mentoring experience Lorna has over ten years of experience working with small businesses at a senior level. She is excited to use their expertise, along with their leadership and management skills to support a small business to grow. Lorna has also recently undertaken training with the Association of Business Mentors. How Lorna can help your business Lorna can help you with social media, digital marketing, content production and partnership building. Lorna has experience working with small businesses across a number of different sectors - including fashion, homewares, food and service-based businesses. Lorna will act as a sounding board and guide you through 1:1 mentoring. Lorna will be a good listener, ask the right questions, and be passionate about helping you achieve your business goals.