BLOG
Seven inspirational moments from the Festival of Female Entrepreneurs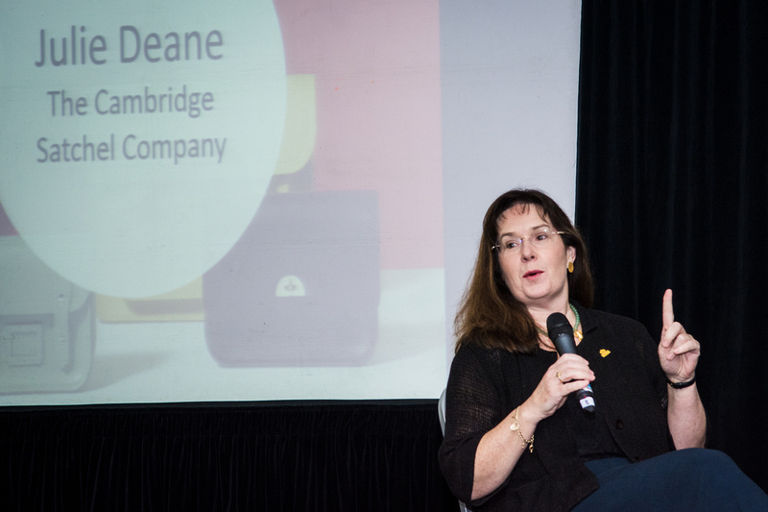 ---
Posted: Mon 24th Oct 2016
During the eight hours that was the Festival of Female Entrepreneurs 2016 there were many, many inspirational moments; too many in fact to list in one post. But we've picked out some of our favourites from the stellar line-up of female business owners who took to the stage and wowed the audience of 300 in Bristol on 21 October.
If you were there, tell us your best moments using #FFE16 on Twitter or commenting below. Replay our live blog from the event with lots more inspirational quotes here.
Julie Deane: You need to wear many hats
The festival started very strong with Julie Deane, founder of The Cambridge Satchel Company, leaving the audience spellbound with her incredibly honest and at many times entertaining story of how she went from starting a business with £600 so she could move her daughter, who was being bullied, to a new school to creating a £40m turnover global company.
Nice people don't win, some people say, but Julie completely and utterly debunks that as a myth!
From taking inspiration for the colours of her designs from the back of an old WH Smith notebook to setting up her own factory after meeting a manufacturer who had ripped her off and turning down an investor because their office was too messy, Deane is one of the most inspirational entrepreneurs we've ever had on stage at an Enterprise Nation event.
Her 30 minute interview with our founder Emma Jones was jam-packed with outstanding anecdotes such as "don't be mediocre. Be brave" and commenting on being told by new investors to recruit senior management: "when someone has a C in front of their job title it just means they're not going to do the job themselves". But it's this one, that we caught on video below, which stands out the most.
Asked to share her own ultimate business tip, Deane recounted how while talking to her daughter about a time when the business was floundering and her marriage had broken down, she said: "I'm ok because I wear a lot of hats. I'm an only child and we lost my dad when he was only 56 so I try to be a really good daughter to my mum and take care of her. I try to be a really great mum to my two [children]. I try to do a fantastic job for Cambridge Satchel as founder.
"There are all of these different hats that you wear and I got through it because when one of my hats fell off, I still had loads of other hats and so it was ok.
"I think if you invest everything in just becoming a one hat person and then that hat goes, you're in trouble. Don't sacrifice everything for your work and likewise don't put all your life into your children because, the swines, they do grow up and leave. If you've got enough things that make you happy and enough hats then you can lose a hat and still be ok."
Rachel Clacher: Treat others well
Moneypenny co-founder Rachel Clacher set up the telephone answering service with her brother. The business now has over 500 staff and is Wrexham's largest private private employer.
Emma Jones has known the company for a long time and while interviewing Clacher on stage commented how Moneypenny employees always sound extremely happy when she calls. How has that culture been created? "Treat everyone like you want to be treated yourself", the entrepreneur said. All Moneypenny staff get access to a £2,000 interest free loan, a subsidised, and sometimes free, on site pub, and everyone gets a say in the running of the business.
Clacher recently met with all 500 of her staff in small groups to get feedback and whenever a new person is recruited, all people involved have a say on whether that person should be given a job. "We actively recruit on attitude", Clacher commented, adding that she always looks for people better than her and her brother because they're "generalist entrepreneurs" and need experienced people in specific roles. With an attitude like that it's not surprising how incredibly successful Moneypenny has been.
Alex Depledge: The power of word of mouth
The founder of cleaning service Hassle.com sold her business last year for £32m so she knows a thing or two about marketing. But despite all the money you can spend on the latest technologies and solutions to promote your business, one of the most powerful, she said, is people.
Speaking during our Tech tactics panel, Depledge said: "Deliver a solution to a problem better than anyone else and people will do your marketing for you." The entrepreneur did exactly that with cleaning and made millions out of it. What big problem are you solving?
Rosie Wolfenden: Keep loving what you do
Jewellery designer Tatty Devine began life on a market stall because, as co-founder Rosie Wolfenden said on stage at the festival, "our ambition was to just not have a proper job and be artists". But almost overnight that changed with the company's products stocked in retailers such as Urban Outfitters.
Tatty Devine is now a global brand that has collaborated with major organisations including Selfridges and Tate. Despite all that Rosie remains a wonderfully down to earth entrepreneur and when asked by Emma Jones what has changed she said: "I wanted to do something I loved. 16 years later, nothing's changed. The love is still there." Something for us to aspire to.
Rosie also echoed Alex Depledge's advice about the power of word of mouth explaining that during Tatty Devine's first year, with co-founder Harriet Vine, she held monthly parties in the company's small shop. People left "a little bit drunk" but loving the products and went out in to the world to tell their friends. Are people talking about your business?
Debbie Wosskow: We need to change the conversation
We had some financial heavyweights on stage for the Female appetite for risk panel including Debbie Wosskow, who has raised £12m in funding for her sharing economy business, Love Home Swap.
Wosskow had strong advice about how to secure funding and its role in business growth, but she also shared powerful comments about the need to even the playing field when it comes to female entrepreneurs raising finance and the number of women investors handing it out. "10% of investment is in a business with a female in the management team," she said. "I'm sick of it. We're not at the table. We need to change the conversation. We need a culture shift and to create confidence in women that they can build a business."
Festival of Female Entrepreneurs is playing a part in making that change.
Helen Walbey: My business turned my life around
The founder of Recycle Scooters may have been late to the stage due to traffic problems, but boy did she make up for lost time!
In a breathtaking account of starting her business, Helen Walbey explained how she was facing homelessness, had no electricity and was living in a house with a temperature of four degrees. But while looking on eBay she spotted some old motorcycle parts and wondered if she could buy them and sell them on. She did and the rest is history. Walby now operates from a massive site, exports globally and is the only woman to run a motorcycle scrapyard in Wales. The personification of the power of entrepreneurship.
Female of Female Entrepreneurs 2016 was powered by:
Enterprise Nation has helped thousands of people start and grow their businesses. Led by founder, Emma Jones CBE, Enterprise Nation connects you to the resources and expertise to help you succeed.