MEMBER STORIES
Sarah Naylor means business with her new Meta Business Suite skills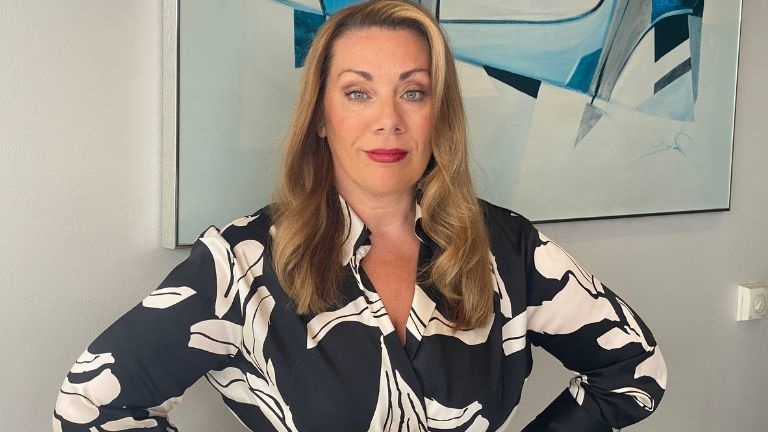 ---
Posted: Fri 16th Sep 2022
Dublin businesswoman Sarah Naylor made big changes to her business during the pandemic.
Previously Sarah ran a busy hair and make-up business for bridal parties, events, TV and theatre work. But when that pipeline closed when events were postponed or cancelled, she took action. 
Sarah shares with us how she used the skills she learned through #SheMeansBusiness to transform her business.
During the pandemic, you changed your business from Angel Hair and Make Up to the Sarah Naylor Academy. How did this change come about?
I was lucky enough to be awarded a grant from Meta as part of the #SheMeansBusiness programme.
This enabled me to stay afloat and educate myself further, which in turn helped me pivot my business from a service-based business to an educational one. As part of the grant, I was also given €1,500 ad spend and access to a Facebook marketing expert.  
When I sat down with an expert from Meta, he explained to me that I really needed to get my message clear and be more consistent with my messaging. The whole experience was invaluable to me, as it helped me grow both personally and in business. 
What kind of service does the Sarah Naylor Academy provide now?
I set up a business teaching all the practical skills of hair and beauty but also the business skills as well. I felt that the students were coming out of colleges with the skills to be workers, but they were not being taught to understand the costings of it all, and how to run a business. 
The Sarah Naylor Academy empowers students to be able to start their own business once qualified, if they want to. I am passionate about helping women in business and giving young women, or those from disadvantaged backgrounds in particular, the opportunity to earn money through starting their own business. 
Have you used many of the courses available on the Enterprise Nation platform? 
To date, I've taken part in many of Enterprise Nation's Lunch and Learns and Zoom classes as well as trainings on the Meta platforms, both recorded and live. I can say hands down I would not be where I am today without the help, guidance and support of these platforms. 
During the pandemic, I scrambled to find my message that would resonate with people. Since last September, I have been consistently on topic and I have seen a huge increase in my reach, conversions and business. I regularly use Facebook ads to sell my courses and I can say with confidence that is where 90% of my business comes from. 
Have your new skills had an effect on your business? 
Since I began streamlining my message across all my social media platforms – specifically on Facebook and Instagram – every time I do a post about my services I get a WhatsApp message asking me to tell them more about my courses.
Last year, I operated at a loss and to date, in the first six months of this year, I turned over more than I did, prior to the pandemic, in a full year. I believe this is down to the consistency in my message, the learnings I have availed of during lockdown, and a resilience that I never knew I had. 
Are you part of any business networks? 
I surround myself with like-minded people through learning platforms like Enterprise Nation, joining groups on Facebook and being part of women in business networks.
I am the current vice president of Network Ireland Dublin, Ireland's largest female business network. It is a role I would never have dreamed I was capable of doing had it not been for the exposure I got through online learnings from programmes like #SheMeansBusiness.
Relevant resources
Enterprise Nation has helped thousands of people start and grow their businesses. Led by founder, Emma Jones CBE, Enterprise Nation connects you to the resources and expertise to help you succeed.