MEMBER STORIES
How a 15-year passion for making samosas turned into an award shortlisted business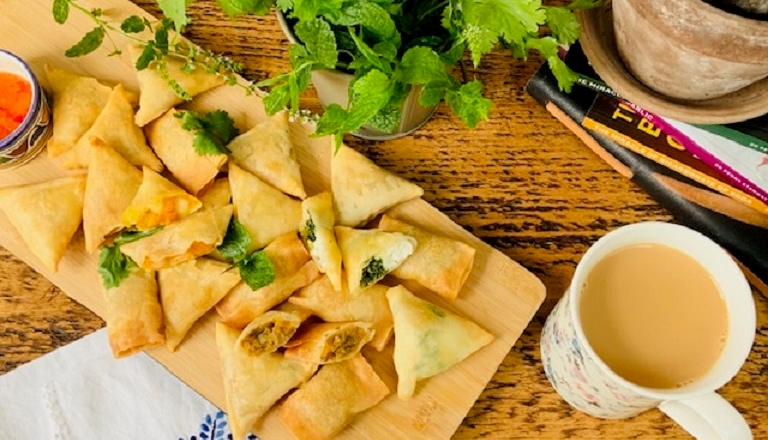 ---
Posted: Fri 25th Oct 2019
Enterprise Nation member Rukia Begum shares the inspirational story behind her samosas businesses, MIXED THAL.
How did you come up with your business idea?
During the 15 years that I was making my own samosas, setting up a business would often cross my mind, especially when the samosas became a conversation point amongst friends and families. The conversations usually included "mmmmhh" "yammmm", and "ooooh I think I'll have another one". Though these were encouraging words to hear but I often dismissed it as just polite gestures. Somewhere deep within me I feared failure.
That lingering feeling never died down though and every time I saw a new brand of samosas in supermarkets, it would revive my passion and I knew that the longer I left it, someone else would get there before me.
In 2016 as a new year resolution I challenged myself to go to a local business hub with the idea, and so began my long tentative research and preparation in to opening a business.
In 2019, I set about contacting local Asian shops, restaurants, and caterers and approached them with my samples. On the request of one vegan restaurant, I created my first completely vegan samosa with butternut squash and vegan cheese. It became an instant hit.
Realising that the demand for vegan/ vegetarian product was on the increase, I wanted to capture this market, as I genuinely felt that there was a limited choice in the market.
The inspiration for my samosas comes from my love of London's multi-cultural food, incorporating the flavours of Eastern and Western cuisines. Bringing a taste of something new to traditional samosas, I've created a range of samosas suitable for vegans, vegetarians and pescatarians with:
Butternut squash and vegan cheese samosas

Feta Cheese and spinach samosas

Tuna and sweetcorn samosas
I've named the brand MIXED THAL. The word 'thal' means 'tray' or 'plate' in Bangla.
Realising my own struggles with setting up a business, I have also set up the Dhee Dhees (sisters) venture, providing catering and event planning service through collaboration with women start-up businesses.
What start-up challenges have you faced?
The biggest challenge so far has been finding a manufacturer that was willing to take on my products.
Most did not want to do anything other than traditional fillings, and almost all did not like the idea of making bite size samosas, claiming it was too time consuming.
Manufacturers in London were too expensive, and manufacturers in the north, though little more affordable, was too far for me to travel.
Wanting to be closely involved with the production, eventually I settled with a manufacturer based near Birmingham, close enough for me to make a round day trip.
Like most things in life I followed my gut instincts. It was important that I felt comfortable with my business contacts, and with the added re-assurance the manufacturer understood small businesses and was willing to support through flexible terms and conditions.
What has been your biggest achievement so far?
Seeing people's genuine reactions after they've tasted my products will always be the most fulfilling personal achievement.
But so far, for a kitchen-table start up, and relatively new business which launched in March 2019, being shortlisted for the Foodservice Quality Food Awards 2019 in vegan/vegetarian category has to be the 'jumping for joy', 'screeching', 'shout from the roof top' biggest achievement for MIXED THAL samosas.
What is your next big business goal?
My next big business goal would be to supply MIXED THAL samosas to mainstream supermarkets.
What do you think will be your biggest challenge?
Getting supermarkets to try my products.
How has Enterprise Nation helped your business?
Enterprise Nation helped me to realise that if you have a business dream, you can make it a reality with hard work.
I attended my first business networking event through Enterprise Nation which helped me connect with business professionals.
Which other entrepreneur inspires you?
Fish Bazar and the partner brand Quality Bites. It started with just a small grocery shop serving the Bengali community in East London, now they have their own branded products and several shops employing local people.
I also admire that Patak business and TV's Property Brothers for their unrelenting belief and sheer dedication of hard work.
What are your tips for business success?
Have a positive mind set.
Believe in yourself and your product.
Network like it's your party.
Anything else you would like to share?
I've always loved hosting, cooking and creating new recipes, and secretly dreamt of doing business with it as far back as I can remember, but something within me stopped me so I knew I had to work on myself first.
In 2016 I challenged myself to go to a local business hub with the idea. I remember cancelling my first appointment at the last minute from a bout of last-minute nerves. Reprimanding myself, a month later I attended the next appointment armed with my cooked samples of samosas
At first the business adviser did not seem all that impressed with my business idea, but once presented with the samples, his reaction had confirmed that I must share them with public.
Looking back it seems like a long time to conduct research for a business, but in that process, aside from slowly obtaining information on running a food business, along with maintaining a job in marketing, most of my time was spent correcting my headspace, battling with my own demons of self-doubts, lack of self-beliefs and there I admit occasional bits of depression.
I like most people did not understand my own thinking and was embarrassed to go to doctors to talk about it. I knew I had to be the one to help myself.
I spent a good part of two years giving myself small challenges. On a daily basis I read motivational quotes, and displayed them all around the house, distanced myself from negative talking, immersed myself in my crafts, interior décor, making my own clothes and creating new recipes.
I challenged myself to phone up high profile restaurants and caterers and offered to meet them with samples, asking for honest feedback however harsh and booked myself into networking events. I went head first into entering competitions and contacted Enterprise Nation to attend the Food Exchange event in April 2019.
I still have a long way to go with my business and myself but, as someone once said, 'what have you got to lose?!'.
We're proud to have entrepreneurs like Rukia as members. Join Enterprise Nation and become part of an amazing community of small businesses.
Founder/ Director of MIXED THAL samosas Catering and events through Dhee Dhees (sisters) Venture. Supporting women start- ups in East London. Supporting charities challenging inequalities and poverty around the world. Employment history- Banking, Marketing, Social Housing, Charity Organisations, , Interior Design, Event planning services. Passion- Women Projects, Interior Décor, Fashion, Crafts, Outdoor Supper-clubs.