MEMBER STORIES
Roni Bandong: 'Believe in your product. Believe in yourself. Surround yourself with positive people'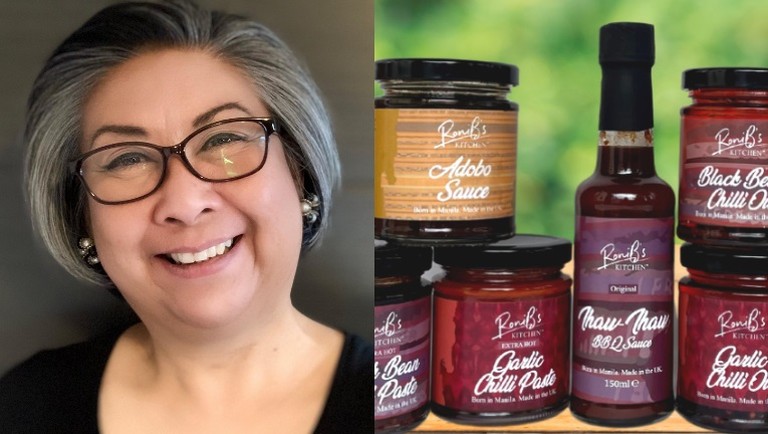 ---
Posted: Fri 20th Aug 2021
Roni Bandong started RoniB's Kitchen after spotting an opportunity to sell Filipino sauces and preserves based on her family recipes.
She had a thriving business that was driven by selling at markets, but then the coronavirus pandemic hit. Roni listed her products on Amazon's online store and due to the surge in online shopping, she saw the orders roll in.
To learn how to grow her business, Roni joined an exporting Bootcamp for food businesses and watched e-learning videos as part of the Amazon Small Business Accelerator.
She shares her story.
The free Amazon Small Business Accelerator e-learning programme is advice from more than 30 business experts in over 200 bitesize videos.
If you're already an Enterprise Nation member, log in to your learning dashboard. If you're not an Enterprise Nation member, you can join the Amazon Small Business Accelerator for free here.
How did you come up with the idea for your business?
"The idea came about in 2016 after I realised that Filipino food was a relatively unknown cuisine in the UK. Other Asian cuisines like Chinese, Japanese and Thai were plentiful and thriving. At the time, Vietnamese food was becoming popular but as early as 2012 Filipino was dubbed as the next emerging cuisine by many chefs in the US. It became my driving force behind the business to build a market for Filipino food in the UK."
What start-up challenges did you face and how did you overcome them?
"I had many challenges because it is an industry I had no knowledge of. I had to start from the basics; the how, what and where.
"How do I go about sourcing the ingredients? How do I bottle them safely? How do I price my products? What do I need to start a food business? What documents/licenses do I need? Where will I make my products? Where can I sell my products once they are done? These are just a few of the questions I faced when I was starting.
"How did I overcome it?
"Firstly, I tried to look for experts who could help me.
"Second, I spent time researching and cross-referencing materials online.
"Thirdly, I looked for business groups online and in my local area where entrepreneurs come together to share experiences and help each other."
How has COVID-19 affected your business?
During the first lockdown when everything shut down, all our market trade was lost. But we were lucky that early in the pandemic, we listed our products on Amazon where we saw a surge as everybody was buying products online. This helped replace our lost sales from markets."
Why did you decide to join the Amazon Bootcamp?
"I decided to join the Amazon Bootcamp because I needed to understand how I can trade internationally by selling on Amazon now that new rules have come into force after Brexit. The rules are confusing and the documentation to be able to sell internationally is daunting. We were looking for a way to leverage Amazon to grow our business in other countries."
What were the key benefits of the Amazon Bootcamp for your business?
"The Bootcamp has given us fresh ideas on how we can grow the business based on the experiences of other producers. By building the brand on Amazon, we can also use it as leverage to get the attention of physical retail buyers.
"We learnt how Amazon Brand Registry gives us the flexibility to create various versions of the store and the ability to add videos which will help increase awareness and sales.
"The sessions on how the Department for International Trade can help businesses export were useful. We are looking into the E-Exporting Programme and selling online overseas tool."
What's your advice for making a success of selling on Amazon?
"A good listing helps. Keep it fresh by updating it regularly.
"Tag Amazon when posting on social media platforms to help reach their followers
"Run short, targeted ad campaigns. I do this because I have a very limited marketing budget but if you have a big budget, then keep them running for longer.
"Be a brand owner because this opens up Brand Registry and you can create your own mini website within Amazon. It creates credibility and gives customers' confidence.
"Price your product right so that you make a profit."
What tips have you picked from the Amazon Small Business Accelerator e-learning programme?
"These two e-learning videos were particularly useful:
"How to match your marketing with your growth needs:
Spending on ads has always been a very tricky exercise for us because of limited resources. We have some money on ads but saw no return on investment. This is likely due to our inexperience in understanding the mechanics. I learnt from this video that the first step is to understand what we did wrong in the past, break it down to its component parts and reconfigure future ads. I will put in place the advice in the video and keep working on it to gain the return we need.
"Brand building for growing companies:
"This video has helped me realise that growing a community is important in building a brand. We've always struggled with how to do that but this video showed we need to think about creating social media content that will make people want to keep coming back to us."
Which other entrepreneurs inspire you and why?
"All the food producers who are with us at every market we go to. These people, who come from a whole myriad of backgrounds including engineers, chefs, business consultants, finance directors and biologists, all share a passion for their food and drink products. The wide age group spanning from people in their 30s to 70s illustrates that it is never too early or too late to start doing something you love. The energy is palpable and you just know the hard work that goes on behind the scenes; that driving force that pushes everyone beyond their limits to go for success."
What are your top tips for general business success?
"Believe in your product. Believe in yourself. This will help you get over the obstacles and rejections that will come your way.
"Seek like-minded people who will help you thrive in your business. Collaborate with them and share success stories.
"Surround yourself with positive people; those who truly wish you success."
The free Amazon Small Business Accelerator e-learning programme is advice from more than 30 business experts in over 200 bitesize videos.
If you're already an Enterprise Nation member, log in to your learning dashboard. If you're not an Enterprise Nation member, you can join the Amazon Small Business Accelerator for free here.
My name is Roni and I started RoniB's Kitchen in early 2017 after winning the best "Alternative Christmas Dish" at a popular TV show aired on Channel 4 in December 2016. My working career of over 25 years has been in sales and marketing from various industries and currently I am still in full time employment while running RoniB's Kitchen.