BUSINESS NEWS
Rishi Sunak pledges numeracy and innovation boost in vision for UK economy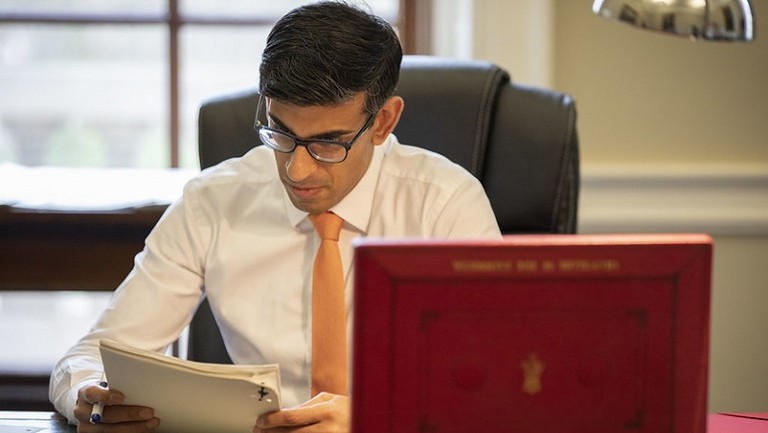 ---
Posted: Wed 4th Jan 2023
In his first major speech as prime minister, Rishi Sunak has promised to ensure all pupils study maths until age 18 and make the UK economy the most innovative in the world.
Speaking in East London, Sunak said the UK is one of the few countries in the world to not require children to study some form of maths up to the age of 18.
"Right now, just half of all 16–19-year-olds study any maths at all," he added.

"Yet in a world where data is everywhere and statistics underpin every job, letting our children out into that world without those skills, is letting our children down.

"So we need to go further. I am now making numeracy a central objective of the education system.
The prime minister said the policy "doesn't have to mean compulsory A level in maths for everyone", but the government will "work with the sector to move towards all children studying some form of maths to 18".
'The most innovative economy in the world'
Sunak said for the economy to thrive, "we need...to put innovation at the heart of everything we do". He added:
"Some people think innovation is about gadgets and geekery – a nice to have, peripheral to growth compared to the traditional levers of tax and spend. That's exactly the mindset we need to change.

"Let me tell you why innovation is so important. Over the last 50 years, it was responsible for around half of the UK's productivity increase.

"New jobs are created by innovation. People's wages increased by innovation. The cost of goods and services reduced by innovation. And major challenges like energy security and net zero will be solved by innovation.

"The more we innovate, the more we grow."
Sunak said the government is currently encouraging innovation in several ways including "increasing public funding in R&D to £20bn", "seizing the opportunities of Brexit to ensure our regulatory system is agile and pro-innovation" and "making sure entrepreneurial and fast-growing companies get the finance they need to expand".
To further boost the economy, Sunak said "as soon as we can, the government will reduce the burden of taxation on working people". He added:
"It is staggering that at a time when businesses are crying out for workers, and when so many people are working so hard, a quarter of our labour market is inactive.

"So our growth plan will look again at how we can support those who can, to move back into work – including through the welfare system.

"All of this innovation will make this country a beacon of science, technology, and enterprise and lift our productivity, raise our growth rate, create new jobs for decades to come."
'We hugely value public sector workers'
On the various strikes currently hitting the UK economy, Sunak said "there's a lot of misinformation" about the government's position. He added:
"We hugely value public sector workers like nurses. They do incredibly important work.

"That's why we want a reasonable dialogue with the unions about what's responsible and fair for our country.

"And in the coming days we will update you on the government's next steps."
Rishi Sunak's five promises
The central point of Sunak's speech was five promises. He said:
"First, we will halve inflation this year to ease the cost of living and give people financial security.

"Second, we will grow the economy, creating better-paid jobs and opportunity right across the country.

"Third, we will make sure our national debt is falling so that we can secure the future of public services.

"Fourth, NHS waiting lists will fall and people will get the care they need more quickly.

"Fifth, we will pass new laws to stop small boats, making sure that if you come to this country illegally, you are detained and swiftly removed."
Concluding his speech, Sunak said:
"I guarantee that your priorities will be my priorities. I pledge that I will be honest about the challenges we face.

"And I will take the tough but necessary decisions to ensure our great country achieves its enormous potential.

"I will only promise what I can deliver. And I will deliver what I promise."
Watch Rishi Sunak's speech in full:
Opposition party reaction
The UK's opposition parties criticised the prime minister's speech.
Labour's shadow foreign secretary David Lammy tweeted:
"Rishi Sunak's lecture on the importance of maths rings hollow because his government has missed its target for new maths teachers every year since 2012.

"Our children need more teachers, not just words. That's what Labour's plan to end tax breaks on private schools will deliver."
I'm a freelance journalist and event host who helps small businesses and the organisations that support them. I'm also Enterprise Nation's news reporter and Bristol Local Leader. I have 20 years of experience as a small business journalist having interviewed hundreds of entrepreneurs from famous names like Sir Richard Branson and Deborah Meaden to the founders behind brand new start-ups. I've worked for a range of leading small business publications and support groups, most recently as head of content at Enterprise Nation where I was responsible for the prolific output of content on the company's blog and social media. I now freelance for Enterprise Nation as the website's news reporter and as the host of the Small Business sessions podcast. I'm based in Bristol where I run and host regular events with the local small business community in my role as Enterprise Nation's Local Leader for Bristol. I also have strong connections with other major business organisations in the south west region. In total, I've hosted over 100 events including conferences with an audience of hundreds for international brands like Xero and Facebook and live web chats from inside 10 Downing Street. With my partner, I co-run Lifestyle District, a lifestyle blog focused on culture, art, theatre and photography.