MEMBER STORIES
Right royal recognition: Enterprise Nation member wins Queen's Award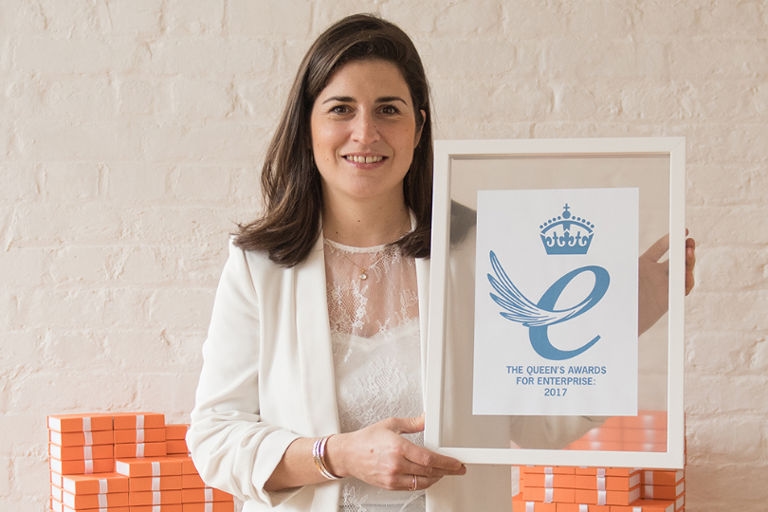 ---
Posted: Fri 21st Apr 2017
Merci Maman, the personalised jewellery company favoured by the Duchess of Cambridge, has been awarded the prestigious Queen's Award for Enterprise for international trade.
Founded in 2007 in London by French entrepreneur Béatrice de Montille from her kitchen table, the business is now a team of 22 who send jewellery across the world. The company has increased overseas earnings from zero to almost 35% in just three years, helping it to generate £3m in sales.
Merci Maman, a member of Enterprise Nation and regular attendee at our events, joined our Go Global trade mission to Berlin last year where we introduced the company to local experts and helped the team explore the German market to grow their international presence.
Recognised as the most prestigious award for British businesses, the Queen's Awards were established in 1965 and allow winning firms to use the esteemed Queen's Awards emblem for five years and attend a reception at Buckingham Palace.
"We are so honoured to receive this award and to be recognised by the Queen," de Montille said.

"Born in France, I launched Merci Maman 10 years ago in London and have since been amazed by the encouragement of the UK, allowing our business to grow both across the country and internationally.

"I never imagined that the Duchess of Cambridge would wear one of our necklaces and to receive this award really is the royal seal of approval!"
Commenting on how Enterprise Nation's trade mission benefited the business, de Montille added:
"The mission to Berlin has put me in contact with so many valuable partners, but it also gave me exclusive insights into how to grow our business in Germany.

"I loved meeting other great entrepreneurs who joined the mission, as well as Emma Jones, the founder of Enterprise Nation. The whole experience was truly inspiring and I am glad we were a part of it."
A total of 176 businesses have been recognised in the Queen's Awards for Enterprise today, the Queen's 91st birthday.
Successful businesses include 11 winners of the sustainable business award, 57 winners of the innovation award, 102 winners of the international trade award and six winners of the new promoting opportunity award which recognises initiatives that support people from disadvantaged backgrounds.
Enterprise Nation has helped thousands of people start and grow their businesses. Led by founder, Emma Jones CBE, Enterprise Nation connects you to the resources and expertise to help you succeed.