MEMBER STORIES
Rebecca McCormick: 'I wanted to create products that captured the essence of self-love'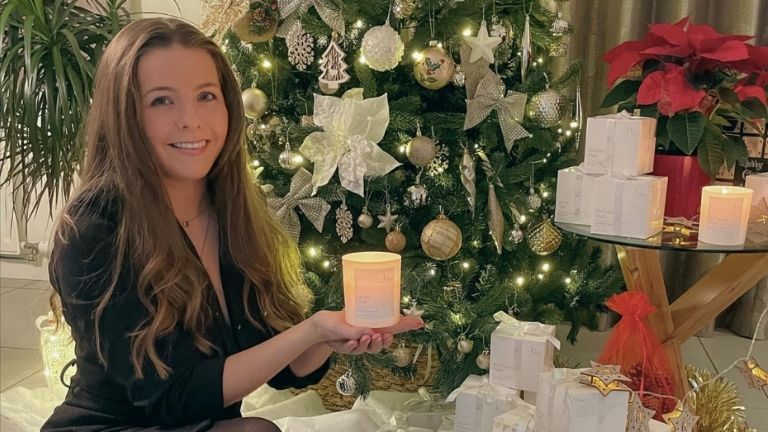 ---
Posted: Fri 11th Feb 2022
Rebecca McCormick, founder of luxury home fragrance brand 38th House, is relatively new to the world of business.
With February being the month of Valentine's Day, who to speak to than an entrepreneur driven by the essence of self-love?
If like Rebecca you want to enjoy Enterprise Nation's vast bank of resources with a view of growing a young business, sign up for free today!
---
Did you always want to be an entrepreneur?
"I've always loved creating things. When I was little, I'd make and sell homemade rose perfume to neighbours, so business has also interested me! I knew one day I would start something I'm passionate about.
"Having a healthy work/life balance is very important to me; we spend so much of our lives working so we need to make sure we love what we do!"
Tell me about 38th House.
"I started selling in October 2021, so the business is very new.
"I aim to create a conscious luxury home fragrance that comforts and inspires. I make all my candles and wax melts by hand and have more fragrance-based products in the works.
"From the testing phase, I knew I wanted to create products that captured the essence of self-love, with a focus on a slow-paced and wellbeing-embracing lifestyle. Selling products that are non-toxic, vegan, and sustainable is a big priority for me."
How do you manage the increased demand at this time of year?
"It's still early days and I feel like I'm learning so much as I go.
"It's been interesting to learn first-hand about how to prepare for certain launches, especially for dates like Valentine's Day. I've kept on top of things by being very organised and getting family involved when I need extra help.
"I believe many new business owners will agree that it's easy to think you've planned and prepared for everything, but things change constantly!"
Why did you start making candles?
"Home fragrance has always been a favourite of mine; I look at it as the finishing touch to my personal space - it ties everything together by setting the desired mood.
"However, I struggled to find scents as I don't like the overly fake fragrances found in most candles. Out of curiosity, I researched what goes into mainstream candles and I was shocked by how harmful some of the ingredients are.
"That's when I started experimenting with creating my own candles and fell in love with the process. I find the whole experience very therapeutic and rewarding."
Which scent is your favourite?
"It's hard to choose a favourite because each one is amazing in its own way.
"The first one that I became obsessed with when making is 'For the Thrill'. Coconut and ginger are always my go-to scents, it's such a vibrant blend that you can't help but feel your mood be uplifted by it. It's like summer in candle form!"
What's next for 38th House?
"I'm currently testing new products that I can't wait to launch and expand my product range. I also have a few collaborations that I'll be working on.
"This is something new for me so it will be an amazing learning experience. With the collaborations, I'm aiming to work with brands with similar values as mine, to help them create their own signature scent alongside 38th House."
---
Be sure to check out 38th House if you're looking to find that perfect scent on Valentine's Day.
Finally, if you're a small business owner and hoping to take advantage of the wealth of learning resources on the platform, become an Enterprise Nation member for free today.
I'm Enterprise Nation's content manager! If you're an adviser who would like to write a blog post and feature on our website, please get in touch.