PODCAST
Podcast: How Julie Deane grew the Cambridge Satchel Company from a £600 start-up into a £40m business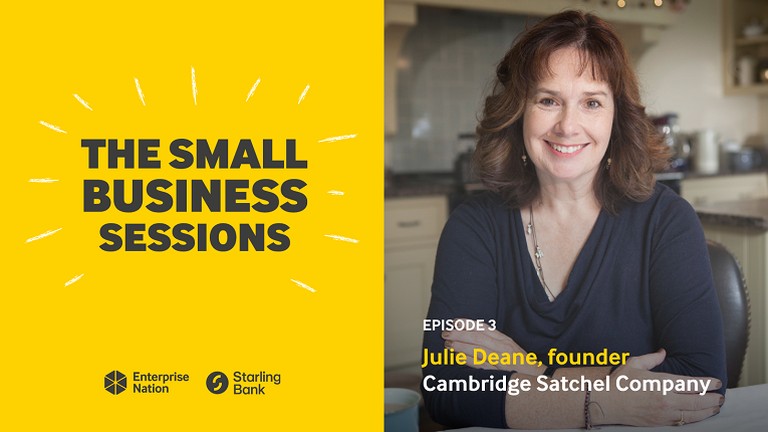 ---
Posted: Wed 30th Jun 2021
It's time for episode three in series five of the Small Business Sessions, Enterprise Nation's podcast sponsored by Starling Bank.
Why did you start your business? For Julie Deane CBE, it was to pay for her children to go to private school because her daughter was being bullied. She invested £600 to get her idea off the ground and just five years later, the Cambridge Satchel Company was valued at £40m.
The entrepreneur joins journalist Dan Martin to share her super inspiring story. This one is a must listen!
Listen to the podcast
You can also listen on Apple Podcasts, Spotify and other podcast platforms. We'd love to know what you think so don't forget to rate, review and subscribe.
This week on the Small Business Sessions
There is so much inspiration and loads of lessons for small business owners in this week's show. Among the insights Julie Deane shares are:
how celebrities including Sophie Ellis-Bexter have boosted her business

why she took control of her own manufacturing after problems with a supplier

the impact of the coronavirus pandemic on her physical retail outlets

why she is still learning despite being such an experienced founder
Listen, subscribe and review on:
I''''m a freelance content creator and event host who helps small businesses and the organisations that support them. I have 18 years of experience as a small business journalist having interviewed hundreds of entrepreneurs from billionaires like Sir Richard Branson to the founders behind brand new start-ups. I''''ve worked for a range of leading small business publications and support groups, most recently as head of content at Enterprise Nation where I was responsible for the prolific output of content on the company''''s blog and social media. I''''m based in Bristol where I run and host regular events with the local small business community and have strong connections to major business organisations in the south west region. In total, I''''ve hosted over 50 events; from intimate meet-ups to conferences with an audience of hundreds including events for international brands like Facebook and Xero. I''''m also a big fan of podcasts having hosted Enterprise Nation''''s Small Business Sessions as well as lots of online events including Facebook Live interviews, webinars and three live web chats from inside 10 Downing Street. With my partner, I co-run Lifestyle District, a lifestyle blog focused on culture, art, theatre and photography.