PODCAST
The Small Business Sessions (S5E6): The eco-founder behind a thriving plastic-free marketplace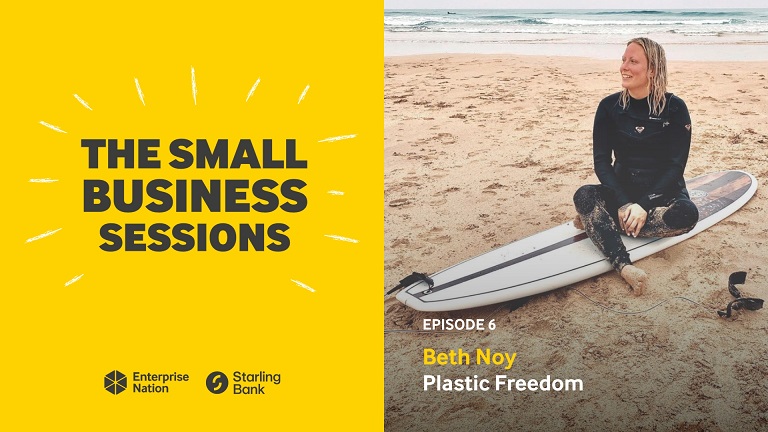 ---
Posted: Wed 21st Jul 2021
It's time for episode six in series five of the Small Business Sessions, Enterprise Nation's podcast sponsored by Starling Bank.
The statistics are shocking:
One million birds and 100,000 marine animals a year die from plastic pollution.

Eight million pieces of plastic end up in the oceans every day.

For every mile of UK beaches, there are 5,000 pieces of plastic.

Plastic production is predicted to grow by 60% by 2030.
It was figures like that which drove Beth Noy to launch Plastic Freedom. What started as a £300 investment to sell some of her favourite plastic-free products is now a booming online store with over 3,000 brands. She's also built an Instagram community of 200,000 followers.
Beth joins journalist Dan Martin to share her hugely inspiring story of turning a side hobby into a successful full-time business that tackles one of the great problems of our age.
Listen to the podcast now
On this week's Small Business Sessions podcast
In this week's must-listen show, Beth discusses many subjects, including:
her motivation to launch the business and tackle the problem of plastic waste

growing from a spare room start-up to a business with staff and a warehouse

why she decided to move from Stockport to Newquay in Cornwall

how she's organically grown an Instagram following of over 200,000 people

how she selects the plastic-free brands to sell in her shop

what the government should be doing to help businesses be more sustainable

her tips for entrepreneurial success
Listen and subscribe on your favourite platform

You can also listen on other platforms and Enterprise Nation.
I'm a freelance content creator and event host who helps small businesses and the organisations that support them. I'm also Enterprise Nation's Local Leader for Bristol. I have 19 years of experience as a small business journalist having interviewed hundreds of entrepreneurs from billionaires like Sir Richard Branson to the founders behind brand new start-ups. I've worked for a range of leading small business publications and support groups, most recently as head of content at Enterprise Nation where I was responsible for the prolific output of content on the company's blog and social media. I now freelance for Enterprise Nation including hosting the Small Business sessions podcast. I'm based in Bristol where I run and host regular events with the local small business community in my role as Enterprise Nation's Local Leader for Bristol. I also have strong connections with other major business organisations in the south west region. In total, I've hosted over 100 events including conferences with an audience of hundreds for international brands like Xero and Facebook and live web chats from inside 10 Downing Street. With my partner, I co-run Lifestyle District, a lifestyle blog focused on culture, art, theatre and photography.