BLOG
Office Pantry has kept staff working by pivoting to a home delivery service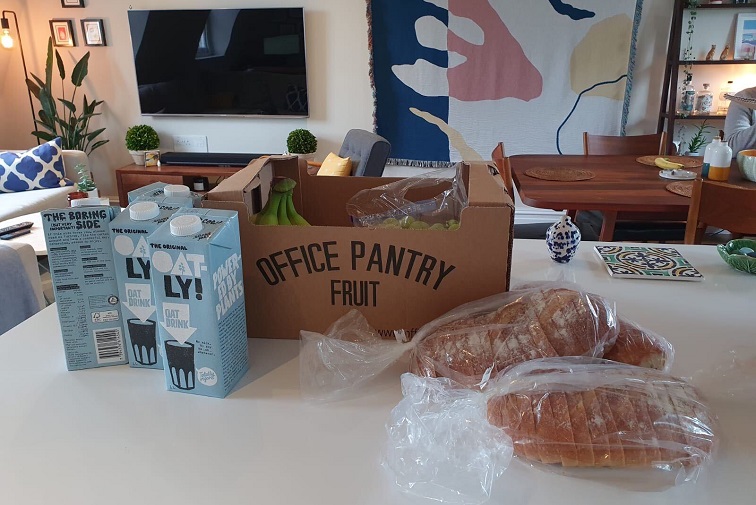 ---
Posted: Wed 22nd Apr 2020
As the name suggests, Office Pantry's business is predicated on delivering food to offices. The lockdown meant losing 90% of its income. Instead of shutting up shop, they pivoted, launching home deliveries overnight.
Co-founder Giles Mitchell shares what the last four weeks have been like and how they turned a crisis into a new business venture that will continue after the lockdown ends.
The speed of the downturn in demand
Four weeks ago, Office Pantry had a team of about 40 staff helping deliver food to over 1,000 customers, including well-known brands like HSBC and Tiffany & Co.
"We were growing 5-10% month on month. Pretty much overnight it went from full growth mode to full reversal and we went down to about 10% of our customer base," Giles said.
They established a coronavirus policy on 4th March, three weeks before the UK went into lockdown. Customers had begun to encourage staff to work from home and Office Pantry's trade was falling in response.
There was no discussion of furlough from the government at that point, so the team scrambled to look for other options to survive.
They got a home delivery service up and running in 24 hours, with people calling in to make orders from a menu on their website.
"While that was going on, we were building the Home Pantry webpage. It was workable in four to five days and plugged into our back office system. Opening the floodgates means you have to be able to cope with managing stock and deliveries," Giles said.
While opening Home Pantry has helped, the loss of business meant furloughing half the team.
Managing staff during the coronavirus outbreak
The pivot to home deliveries rapidly changed the processes staff use. Drivers had to get used to routes changing every day and working different hours. Packers had to be aware it wasn't business as usual. They also had to make sure everyone was safe.
"The most pressing thing was that there's no one to turn to when the world's panicking. It's almost reassuring because you know no one knows what's going on. There's no definitive way to tackle this and make sure every single person on our team is protected. There was no certainty, so we had to think very carefully," Giles said.
At the start of the crisis, concerns quickly shifted from whether staff members or their families had been to certain countries to spacing in the workplace and doorstep delivery. They also needed to make sure staff didn't break the rules for convenience.
Marketing a new offering
Home Pantry took more than 100 orders in the first 24 hours. Giles said marketing was simple because demand is so high: "People are crying out for what we're doing."
Initially, 80% of traffic came through Facebook, with people sharing the service and posting it in coronavirus isolation groups.
Looking to the future
Giles expects offices to reopen on a phased basis. Staff can be brought back off furlough in similar fashion to cope with increasing demand.
Could the launch of Home Pantry mean they need extra staff?
"If it turns out we need a team and a half, fantastic. There's going to be lots of people that have been unfortunate through the process that are looking for work," Giles said.
However, he noted that demand for home deliveries is likely to fall when the lockdown ends. The question is whether consumer habits change because of the experience.
"There's no investors breathing down our neck and we're deliberately not giving ourselves any expectations," Giles said. "If no one orders from Home Pantry in a year's time, oh well. It was a fantastic opportunity. Had there been no furlough scheme this would have been it, so it was fantastic to have a safety net."
What is Giles's advice for other businesses trying to cope with the situation?
"Maybe it's cliche, but don't beat yourself up about this. If you ended up having to make a tough business decision or a bad one, everyone is in the same boat," he said. "Just keep doing the right thing and backing yourself to make good decisions."
Chris has over a decade of experience writing about small businesses and startups. He runs Inkwell, a content agency that helps companies that sell to small business owners grow their audiences through content marketing. You can find him on Twitter at @CPGoodfellow.