ANNOUNCEMENTS
New features on the Enterprise Nation platform: Search for the perfect workspace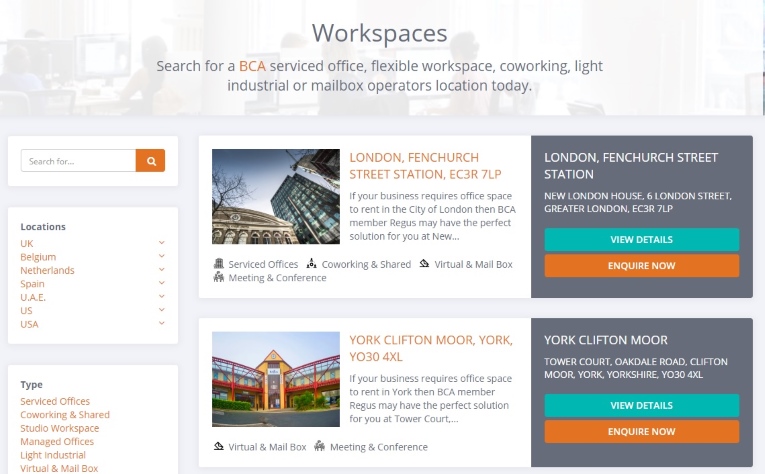 ---
Posted: Wed 29th Aug 2018
This month's round-up of the latest features to boost your business on the Enterprise Nation support platform.
Workspaces
The issue of finding an affordable workspace is something we hear about a lot, in fact it has been raised by members at three of the sessions we've run at 10 Downing Street this year with the prime minister's small business adviser.
We wanted to do something to address this important issue and are proud to announce that as part of our partnership with the Business Centre Association (BCA), you can now search for the perfect workspace near you directly from the Enterprise Nation site.
From Acton to Aberdeen, there are over 1,000 workspaces available to search from; whether it's a creative studio, a managed office or just a meeting room.
Head over to the new workspaces section and take a look.
Performance
We've been listening to your feedback and have invested a lot of time this month to ensure that the website is running faster for you.
All search pages have now been optimised to give you quicker results and we will continue to fine tune for an even better performance.
VAT invoices
VAT invoices are now available to make it really easy to include your Enterprise Nation membership in your end of year accounts.
To access your invoices, simply log in to your member dashboard, head to the billing area and scroll down to the bottom of the page.
What's next
Listening to members' feedback is vitally important and that's what we have been doing over the last month.
We've shaped up some exciting plans which I will be sharing soon.
As I mentioned last month, work continues on making your Enterprise Nation experience more tailored to your needs and you will see the first results of this project during the next few weeks.
Don't forget that you can always leave us feedback about the platform here.
Not yet a member of Enterprise Nation? Learn more about the full range of benefits available for your business.