MEMBER STORIES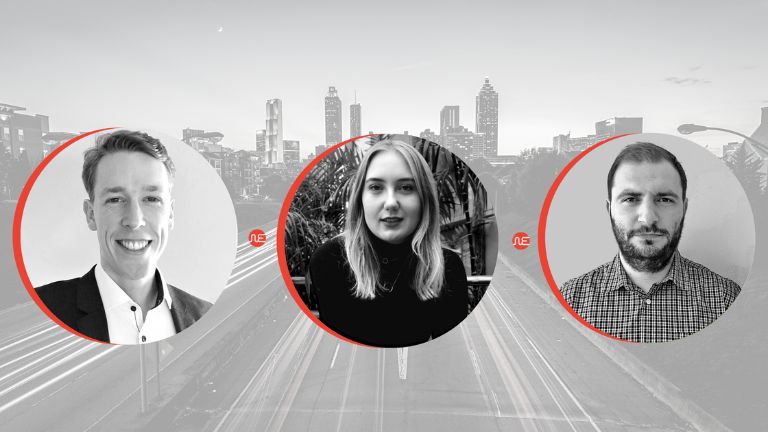 ---
Posted: Wed 10th Aug 2022
Sarah-Marie Rust moved from Germany to Dublin to attend a entrepreneurs' master's programme in Trinity College in 2019 and has now founded the e-mobility intelligence platform EVE.
Having gained experience in the automotive industry back home, and becoming acutely aware of the climate crisis, Sarah-Marie felt there was more she could do to improve the efficiency of fleets on the road.
As part of Enterprise Nation's Access to Finance programme, we asked business founders to tell us about their experiences of getting funding. Here, Sarah-Marie kindly shares EVE's story, in conversation with Fiona Alston.
What is EVE - Electric Vehicle Ecosystem?
We've built a mobility intelligence platform where we analyse the charging transactions of electric vehicles, both from a cost and emissions perspective. We provide AI-based recommendations on how to improve charging behaviour to make it cheaper for companies to electrify. Because, obviously, they're spending a lot of money to do that.
More significantly, we look into how we can reduce those emissions that are tied to the electricity that the EV is using to charge. Electrifying your fleet and switching to EV is great, but if you're still using non-green electricity to power your electric cars, you still have emissions attached to that.
Our goal is to use what's available on the market to help organisations charge vehicles in the most sustainable way.
Did you need funding from the offset?
Being a tech company and needing to build something to show customers, we definitely needed money in the beginning. We applied for LaunchBox and got into the pitching part of it.
In the end, 10 companies are selected to be part of the accelerator. Once we were accepted, we got €10,000 and onto the programme – that's when it started to become a lot more real. We very much needed the €10,000 in order to do initial validation.
We applied for a Silicon Valley-based tech accelerator, Alchemist, which is specifically for B2B companies. We got into that, and they provided us with €75,000 investment.
An accelerator in Silicon Valley must have opened a few doors for you.
It was good for us to get introductions to that market. It was all done remotely, which worked out well. But it was annoying because we didn't get the full Silicon Valley experience, though we did save a lot of money. The funding gave us the opportunity to bring our CTO, Doru, on board and also to work on other stuff.
The introductions from the programme gave us access to investors. We raised a total of €200,000 with Alchemist and angel investors, all on the SAFE basis. That gave us the budget to build the product, do initial testing, get initial customers, and do a pilot and an MVP phase.
Do you include the team in your investment decisions?
They are as much involved as I am. Even before we began the seed round, we would discuss who we feel comfortable with, and it was the same with the angel investors we were looking into. We all believed they were the best choice to bring on board – you want to make sure you bring in people that make sense for you. We closed our pre-seed funding in early July last year.
Raising funds sounds exhausting and constant. How do you handle this in a small team while still building a company?
It's very difficult – I try to manage my time smartly. We still get emails from VCs saying that they found us through Alchemist or we've been recommended to them and they want to know more. I will definitely take those calls.
I've relied a lot on the team to do more of the business side, because I can't really be in two places at the same time. Sometimes I've felt like I wasn't even involved in the company anymore.
When I first met with investors, it was very interesting . Maybe I went in a little bit naïve: you learn about it, people tell you about it, but then you're standing in a room and you're talking about your company, and it almost feels like they are attacking your baby.
I had to learn that if someone questioned something we were doing, it didn't necessarily mean that what we were doing was bad. I took feedback that they gave us very personally – now I see it's a bit more nuanced. You have investors who are very knowledgeable about the space and have a very valuable input.
Have you ever been made to feel aware of your gender while going for investment?
It's sad how often I've felt it. It was interesting when I spoke to other male founders; they didn't have the same feelings about investor meetings that I had.
From what I could tell, especially from male investors, they wouldn't get asked certain questions. Sometimes I go into an investor meeting – we've raised a pre-seed round and we have a product in the testing phase – and a male investor asks me, 'Have you done market research?' It really takes a lot for me to not just say, 'Why wouldn't I have done it? Why would you ask me that?'
Sometimes it can be hard, but not every male investor is like that. I'm a very young founder at 25, and I founded the business straight out of college. I'm working in a very male-dominated space, which automatically puts me in a more negative spotlight.
I'm always a lot more relaxed if I have a female investor in front of me. They're very rare, but you don't have to fight against questioning why you're there, or why you're in the position you're in.
I've told our COO Ryan that I'll exploit him for being a man and I'll use him if I need to get through a locked door where he can confidently sit at the table. We agreed if there's a point either with a customer or an investor where we feel gender is an issue, Ryan will do the work.
Because there's no point in me trying to exhaust my capabilities making somebody believe in something. If Ryan, just by being Ryan, is automatically believed. We're fortunate to have a mixed team to do this.
This is very sad to hear. Are you comfortable sharing your experience?
Yes. I believe if nobody's talking about it, how will we change any of it? Every time I meet other female founders, and I get validation that my experience isn't just my experience, we're all going through the same struggles.
Sometimes you get out of a meeting and you wonder, 'Why did that just happen?'. I think it makes it easier to know that, unfortunately, it's because we're women.
I know there are other founders out there who face a lot more struggle because of who they are. But it's good to know that those other women are there and this is something we're fighting against. Especially in Ireland, there are a lot of female founders really pushing towards the equality of founders or making spaces more accessible for female founders.
Where are you now with EVE?
We're still in our MVP phase, testing what we call version 0.9 of the product. We do have a customer, so since the beginning of this month we're officially revenue-generating. That was a big step for us.
Our goal would be at end of Q3 to wrap up the MVP phase, look at what we've learned through customers engaging with the product and then focusing on what are the most important chapters. We have a product roadmap, but it's flexible and it'll change depending on which parts customers engage in.
Ryan is very focused on expanding to the US and getting customers there. Laws in the US are currently very favourable for us to enter that market.
How's the seed round coming along?
Initially, we thought we'd close by the end of the year at the latest. But we didn't account for what was going to happen this year – the economic downturn, a lot of start-ups laying off staff, and US investors really stopping their investment.
I've heard from advisers and other VCs that early-stage start-ups aren't affected as much, especially in the sustainability sector. They know it's a less risky sector because it's becoming more and more important. I think that's good for us.
We might look into expanding our runway a little bit by making smart decisions and just trying to cut costs where we can, but not cutting manpower. We might potentially try to extend it for another quarter.
We're trying to prepare ourselves to be more flexible. But I'd still hope that by the end of the year, we could close just to make sure we can start 2023 fresh with maybe an additional two people.
Tell us your funding story

If you would like to share your funding story, email Nicola Woods at nicola@enterprisenation.com.
Enterprise Nation Ireland has teamed up with a range of finance partners to show you which funding options are available and help you gain access to them.
Take part in interactive workshops, e-learning modules and free in-person consultations to move your business to the next level.
Enterprise Nation has helped thousands of people start and grow their businesses. Led by founder, Emma Jones CBE, Enterprise Nation connects you to the resources and expertise to help you succeed.