BLOG
Moulded out of sheer determination: How Emma Bridgewater built a £20m business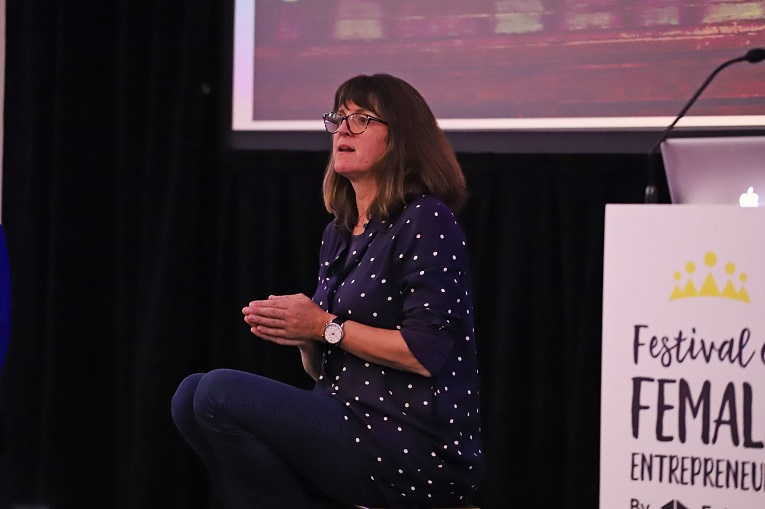 ---
Posted: Wed 31st Oct 2018
What does it take to build a pottery company to 300 employees and help impact the fate of a town? Emma Bridgewater's self-titled pottery brand is moulded out of sheer determination.
The ceramics entrepreneur's interview at Enterprise Nation's Festival of Female Entrepreneurs 2018 received a standing ovation. The emotional talk touched on everything from scaling manufacturing to ambition and dealing with stress.
A rocket ship start
The Emma Bridgewater business began in 1985 after its founder tried and failed to find a birthday present for her mum. The brand took off from the beginning. But that doesn't mean Bridgewater knew what she was doing.
"There's nothing like ignorance and naivety," she told Enterprise Nation founder Emma Jones.
"I had this naive idea that if I found a factory where they knew how to do it it would all be easy. Predictably it's been a lot less straightforward than that."
That said, Bridgewater did create samples quickly after meeting a manufacturer in his "grubby little shed".
The brand then received a huge level of interest from stockist. She warned that if a product business doesn't receive this kind of "feeding frenzy" at the start it's going to be tough.
"When we started people were literally pushing and shoving. You're gambling and you're betting on yourself. You don't want to do it without the back-up of demand," she said, adding they approached 120 stockists, getting listings in 110.
Today, the business has a £20m turnover.
Purpose in business
Bridgewater has been phenomenally successful but that doesn't mean the journey has been easy.
"There are awful times in a business when you have to decide whether your project matters more to you than some very precious things.
"You have to be doing something you really care about. You have to believe that what you're doing makes a difference to people's lives. If you're not making a contribution through all that effort and sacrifice you will wake up one day and ask 'what the hell am I doing?'", she advised.
Emma Bridgewater's factory's in Stoke-on-Trent where the company employs 300 people. UK-based traditional manufacturing is a core part of the brand and the company describes the town as "the home of British pottery".
Employing people is a big deal to Bridgewater.
"For me, it's always been about Stoke-on-Trent. Keeping that thing going. One of those old factories. Those 300-odd jobs. I absolutely know that's a good thing," she said.
Bridgewater added the country's approach to growth may be misleading and lack sustainability. She called on businesses to think more about the social capital they're generating, rather than focusing purely on profit.
What growth do you aspire to?
Bridgewater stresses the need to think about what kind of business you're building and the level of growth that's healthy.
"It's about finding your sweet spot. To feel that you're only in it because you're growing is totally cuckoo. If you don't have a plan and keep revisiting it there's a great danger that you will just work. That you'll wake up one day and go, who, why?," she said.
Bridgewater recommends new businesses have a pact to revisit their plans at the end of their first year. To think about why they want to run the business, where they're going to take it and how that fits with your life plan.
Having a clear line between your home life and business helps reduce stress.
"The day divides clearly into three parts. There's work, family and sleep. Work should take you out of your comfort zone." she said. "That family time. The 'me' time, the eight hours, you must come home. You have to come back to yourself every day.
"When you go for growth you're putting yourself straight into that zone of unreasonable stress. I'm not saying don't do it. But do it mindfully," summarised Bridgewater.
Tickets for Festival of Female Entrepreneurs 2021 are available here.
Chris has over a decade of experience writing about small businesses and startups. He runs Inkwell, a content agency that helps companies that sell to small business owners grow their audiences through content marketing. You can find him on Twitter at @CPGoodfellow.