MEMBER STORIES
More Enterprise Nation members share their small wins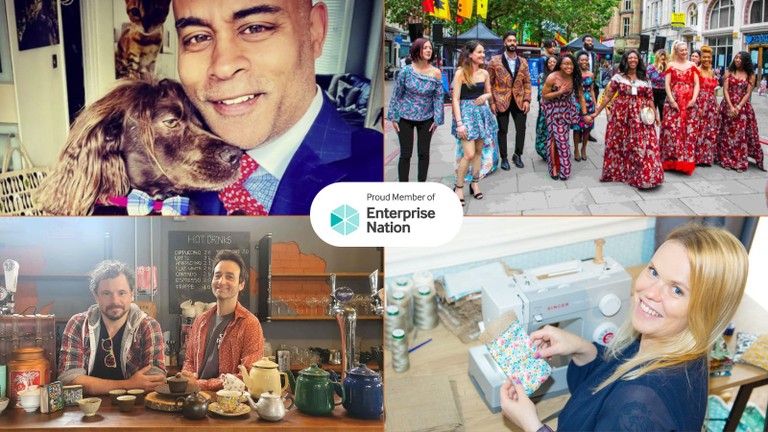 ---
Posted: Tue 6th Jul 2021
We've been asking you to share your small wins with the rest of the community; the little victories that add up to major accomplishments.
We think it's important to celebrate those wins and to recognise how far you've come in your entrepreneurial journey. So over the next few weeks we'll be publishing a series of blog posts doing just that. In case you missed it, you'll find the first in the series here.
Meanwhile, here's 10 more members of the Enterprise Nation community with something to celebrate.
"Scrubbies are a reusable, washable, durable, and – more importantly – compostable cleaning sponge alternative. They're made from naturally antibacterial bamboo lining, hessian, and 100% organic cotton thread.
"I make and pack every single Scrubbie in the front room of my teeny Welsh miner's cottage. The recognition I've had this year has blown me away. At The Small Awards 2021 I won not only the 'Sole to Sole' ward, but also Small Business Of The Year!
"I also made the shortlist at The Great British Entrepreneur Awards 2021. Mind. Blown. Just two years ago, I didn't dare think beyond making enough money to afford food."
---
---
"We're passionate about tea. We love it. So we decided to write a book about it to help other tea lovers dive right into their passion. We're collaborating with awesome indie brands from across the UK to bring together loads of ingenious recipes and projects to try at home.
"We'll show tea lovers how to make mega cocktails and iced teas, ridiculously good doughnuts, amazing meals, Earl Grey soap, and even tea beer. We've found a publisher already – Sheffield-based cookery book specialist Meze Publishing – and we've just successfully smashed our crowdfunding campaign target of £7,000 to get started."
---
---
"Learning to read is a big part of a child's education. My award-winning children's adventure book, 'Captain Satsuma has Landed', is a fast-paced story crammed with fruit and vegetable characters, humour and healthy messages. It encourages children to have a balanced diet and promotes healthy choices and an active lifestyle.
"Not only has my book received amazing reviews, but I recently won both the 'Best in the UK' and 'Best in the World' prizes in the self-publishing category at the Gourmand World Cookbooks awards."
---
---
"Are you fed up with your phone battery always running out? We were too, so we did something about it. Our power bank chargers can keep you powered up all day and night.
"Subbytech was chosen as a Small Business Sunday winner by Dragons' Den star Theo Paphitis, and we've also just been awarded Best Emerging Personal Tech Retailer (Northern Ireland) at the Annual UK Enterprise Awards 2021.
"Even more exciting, Apple has just MFi-certified our charging cables. This means the cables are officially approved for use with any Apple device."
---
---
"On a mission to share the immense beauty and talent that Africa has to offer the world, my sister Ronke and I left our jobs in law and IT to launch luxury fashion brand, Cultureville. We specialise in hand-crafted clothing and accessories that feature bold African prints in contemporary designs.
"We pride ourselves on sourcing our fabrics exclusively from African suppliers and having production teams based in Nigeria and Ghana, led by African women.
"Last year, we celebrated our first time on live TV as part of Channel 4's Packed Lunch. And earlier this year we were delighted to feature in Hello! Magazine's edit of black-owned fashion brands to shop on Black Pound Day."
---
---
"In 2012 our daughter was diagnosed with a malignant brain tumour. Surgery, chemotherapy and radiotherapy saved her life but left her with some life-changing disabilities.
"After trying to navigate our way through a world that isn't always designed for children with disabilities, we created We Can Access, a website where people with disabilities, their families and carers can find support, share ideas and discover ways to access the world around them.
"We've recently been invited to give a presentation to students at one of the world's leading business schools. Our resources are also being used in schools in the UAE.
"By working and learning together, we make the world a more accessible place to live for future generations. I'm also an Enterprise Nation adviser. Connect with me to find out more."
---
---
Pauline Clarke, KooKee
"Kookee is a family-run artisan business established in 2009, specialising in high-quality cookies. Based in Ireland, our products range from freshly baked cookies, frozen uncooked dough for restaurants and delis, and a dry mix for home baking.
"Three of our cookie mixes were recently stocked in ALDI, right across Ireland, for two weeks. We're delighted that customers all over the country have been able to enjoy our delicious treats."
---
---
"This year marks a big anniversary for me. My paint and varnish remover, for which I won the British Female Inventor of the Year award in 2002, has now been in production for 20 years. It's a truly magical milestone.
"You can use this specialist product to clean whiteboards, remove grease and ink, strip paint and varnish, restore wood grains and ceramics, and even detach fake fingernails."
---
---
"I'm an award-winning tailor, creating shirts and suits for executives and rising stars. Because of COVID, most of our clients have been working from home so it's been increasingly difficult to reach them by traditional methods. We use social media to offer daily style tips and inspiration, so that's helped us keep in touch.
"Enterprise Nation's Lunch and Learn webinars have helped me to navigate the social media minefield. In February, though, we launched 'Tailoring Talk', our very own podcast. This has been really well received and has given us a new way to connect with new and existing customers."
---
---
"We're an organic, plant-powered skin care brand with a passion for pure ingredients and a desire to protect the environment. In just four small bottles we've created a natural, healing product range that will moisturise, rehydrate, balance and tone for radiant and youthful-looking skin.
"I'm thrilled to announce that all of our own-brand products have just been approved under the globally recognised Cruelty Free International Leaping Bunny programme."
---
---
We'll continue to publish your small wins. If you'd like to share yours with the rest of the community, complete this short form.
Enterprise Nation has helped thousands of people start and grow their businesses. Led by founder, Emma Jones CBE, Enterprise Nation connects you to the resources and expertise to help you succeed.